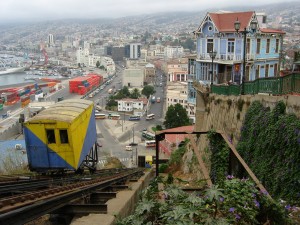 We talk to Gareth about the city of Valparaiso in Chile, once referred to as 'The Jewel of the Pacific' by sailors. Gareth runs Senderos with Simon Heyes. Senderos is a Latin American travel representation company that helps to promote some of the most beautiful and interesting parts of Latin America and represents many hotels, estancias and tour operators in Chile and Argentina, the Galapagos, Peru, Brazil, Colombia and Ecuador and even Antarctica.
Valparaiso, also known as Valpo – is located 120 kilometres from Santiago. Chile's main port and industrial city is full of bohemian character too, and UNESCO has recognised the cultural significance of this university city by naming it a world heritage site.
What is your favourite thing about Valparaiso?
The city is full of surprises: tree-lined, cobblestone streets with colourful houses of different architectural styles oozing character and clinging to the many steep hills; elegant 19th and early 20th century mansions stand alongside ramshackle, corrugated iron houses with pretty flowers in window-boxes. Other houses are adorned with impressive murals, while the numerous hills offer fantastic views to the Pacific Ocean.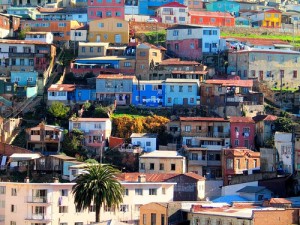 What are the top 10 highlights in Valparaiso?
1. Museum Casa La Sebastiana www.fundacionneruda.org (in one of poet Pablo Neruda's 3 houses)
2. Heritage walk
3. Travelling on a trolley-bus
4. Bars (Cinzano, La Piedra Feliz, Errazuriz, El Irlandes)
5. Enjoying the Sunset Terrace from a restaurant terrace like Casa Higueras www.casahigueras.cl
6. Taking a boat tour of the bay
7. Visit museums Cielo Abierto (open-air museum) & Mirador Lukas www.lukas.cl
8. Learning to cook (www.cookingclasseschile.cl)
9. Travelling up and down Valparaiso's many hills (there are 45!), such as Concepcion, Alegre and Bellavista,  by funicular, lift or endless stairway. Take the Artillería Funicular, which was built in 1893 to transport the staff of the old naval school. Its upper station lies in the 21 de Mayo Promenade, one of the most emblematic spots in town. In the old days, it used to be the largest funicular, capable of transporting over 30 passengers. At the top you'll find the blue Calfulafquen Restaurant (see photo) high in the hills of this beautiful city.
10. Eating chorrillana (a traditional dish of sauteed beef strips and onions, fried eggs on a bed of chips) at J. Cruz restaurant.
What's the best way of getting there?
From Santiago airport get a bus & coach to Santiago bus station Pajaritos, then another to Valparaiso. The journey by car along route 68 takes about 1½ hours. Trains and buses run between Valparaiso and the casino beach resort of Vina del Mar, taking 10-15 minutes.
What do you recommend doing in only 1 day?
Heritage walk and visit Casa La Sebastiana, a museum in Pablo Neruda's house, plus a boat trip in the bay, a drink while watching the sunset before joining in the rich nightlife.
Swoop offers an 18-day trip which allows you to see the highlights of Patagonia and gives you a day in Valparaiso and Vina del Mar: https://www.swoop-patagonia.com/chile-end-end/
We also offer a 14-day trip in the Chilean wine region, Lake District and Torres del Paine National Park which starts off with a day in Valparaiso: https://www.swoop-patagonia.com/chile-vineyards-peaks-and-fjords/
What you recommend doing if you had two days?
Take your pick of the remaining top 10 attractions, or choose from others like St Paul's Church, the impressive official buildings of the port area, Prat Wharf or Dock, visit the Central Market.
Name a couple of things you would do if you had a longer break in Valparaiso
I'd first of all visit the vineyards in the Casablanca Valley (between Valparaiso and Santiago off route 68) then see Isla Negra, Neruda's coastal home and the place where he was buried. Finally the neighbouring city of Vina del Mar is a lovely place to visit and I'd spend a couple of days there soaking up the sun.
Which hotel would you recommend staying at?
We represent Casa Higueras, www.casahigueras.cl which is perched on Valparaiso's steep hills ( on Cerro Algre) with spectacular views over the bay. It has real character, delicious food and a pool, spa and sauna. A lovely base for exploring this fascinating Chilean port and surroundings.
A slightly cheaper but nice place is the Robinson Crusoe Inn, www.robinsoncrusoeinn.com on Cerro Bellavista. It is decorated in the style of a vintage wine cellar with antique furniture giving it a feeling of history and grandeur.
To find another hotel in Valparaiso, and check availability for your dates please click here>>