We were very excited indeed when, in early December, Laura and Tim Moss contacted us about their plans to walk all the way across Patagonia from the Pacific to the Atlantic. Not an everday request at all, but for Tim and Laura this expedition is the latest in a
long line of extraordinary adventures
.
I was lucky enough to meet them in Bristol and look through the maps with them, however many places on their itinerary were new even to us. It was a pleasure to help out such bold explorers, and I'm delighted that Tim has taken a moment to share his story here.
————————————————————————————————————–
The word "Patagonia" will mean many different things depending on who you ask but I suspect in any game of free association, it wouldn't take long before the words "beautiful" and "mountains" sprung up.
So why then had we decided to spend our precious time in the region marching along a dirt track away from those beautiful mountains?
Well, because beauty is in the eye of the beholder.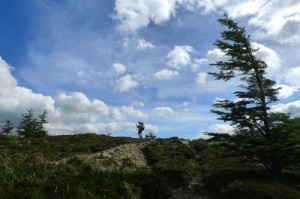 Or, for a less trite explanation, it's because I enjoy approaching things from a different angle to get a novel perspective. Let me give you some examples:
After living in London for many years, my now-wife, Laura, suggested that we explore some new areas of the capital by following the route of all the London Underground Tube lines. We did it by running (above ground!) and not only did we get to visit new parts of the city and connect those coloured dots from the map, but we formed many new memories for places already familiar.
A few years prior, I went on a climbing expedition to Bolivia – a country with four major mountain ranges. Rather than going for the biggest and best mountains, we deliberately picked the smallest and least popular of the four areas because we knew no Britons had been there before. As a result, we were the first team to wave a Union Jack on their summits (metaphorically speaking, you'll be pleased to hear).
Then, last January, my wife and I set out to walk across Patagonia. We didn't know anything about the area. We selected our start point – Rio Bravo – not because it was a well known tourist destination with things to see and do (on the contrary, no one seemed to have heard of it) but simply because it was the only way we could reach the Pacific coast without crossing the ice cap.
It's a pretty boring place – nothing more than a single building and a dusty trail – but it was disproportionately exciting for us as the start line for our adventure.
Similarly, we spent many days slogging alongside roads that could just as easily have been driven at 20 times the speed. Sometimes this was debilitatingly demoralising, undermining any purpose for being there. But it also provided a challenge and a sense of achievement at the end of each day as we rose to it.
We weren't completely blinkered though. We did see some of the better known areas. We diverted our route to spend the first week walking parallel to the mountains on the recommendation of others and spent a few days in the stunning Torres del Paine National Park too – some truly beautiful areas. But it was nice to add to these well-known beauty spots, a few memories of our own, wild camping and walking on paths less trodden.