Alain volunteered with Conservacion Patagonia from 8th October 2011 til 6th November 2011, which is the beginning of spring in Patagonia. We asked him about his experience of volunteering and what he did to help make a difference.
If volunteering is something you'd like to do, find out more about Volunteering in Patagonia.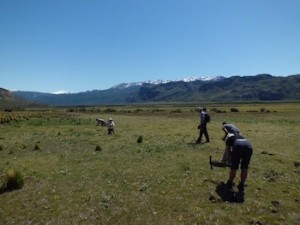 Volunteers doing invasive plant species removal work in Valle de los Guanacos
What made you want to volunteer in Patagonia?
I heard of Conservacion Patagonica and their effort to create a National Park in the Chilean Patagonia through the documentary 180 Degrees South. I admire the conservation work done throughout the world to create and maintain wilderness areas and visit them regularly in my spare time. Unfortunately in most places we tend to be just users, but Conservacion Patagonica lets you take part in the creation stage of a national park and exposes you first hand to all the hard work and complex social and logistical challenges that must be overcome in such an ambitious project. It being set in beautiful Patagonia is a nice plus. I had also heard you could drink the water from the local streams without needing any purification and I had to see it to believe it. Any place left on earth where that is still true was a place I had to experience, and it was certainly true.
How did you conduct your research?
CP does a superb job of preparing future volunteers for what they are to expect, what to bring, how to get there, etc. Besides that, web travel forums were a crucial source of opinions and suggestions from fellow travelers and volunteers.
Was the cost an issue for you?
I was backpacking for a few months throughout South America so cost was definitely an issue. CP charges volunteers US $20 per day, which goes towards your food, utilities, in-park transportation, etc. I wanted to make sure it felt like a volunteer opportunity and not just a paid work-cation, but after being in Chile for a while and seeing the logistics they take care of for the volunteers this definitely seemed reasonable.
What made you choose CP and would you recommend them now?
See above for the answer to the first part of the question. I would definitely recommend CP without hesitation, as it provides a deeply memorable combination of hard work with tangible progress, stunning natural scenery, and unforgettable interactions with the locals that are collaborating along the foreigners as one big family. However I would make it clear to potential volunteers that the work is physically strenuous, many times tedious and frustrating, and in the highly volatile Patagonian climate. It's important to want to be there and to understand why you are there.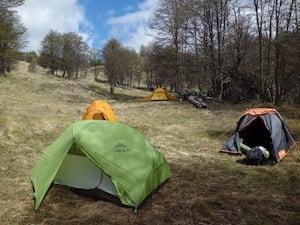 A typical back country campsite
What were the other volunteers like, many foreigners?
During my stay of one month I saw three different groups of volunteers rotate through, most of which were foreigners and evenly composed of Americans, Europeans and Australians. The volunteer corp is capped at ten at any one time plus the volunteer leader, whom is a season long intern at the park. The small group definitely makes it feel like a small family and you typically end up spending an entire month with those that arrive on the same weekend as you do. That said, during your work you get to interact closely with many other locals that are employed by the park to perform more permanent jobs, such as park rangers.
What could have improved your experience?
Staying longer! Valle Chacabuco is a place where time slows down and life becomes beautifully simple. I definitely wish I could have stayed longer. They wanted me to but I was due back home, alas! I can't recommend any stronger to learn at least basic conversational Spanish before you head in, as this will significantly enrich your experience and level of immersion. The locals are eager to talk to you and share their experiences and knowledge if only you can listen.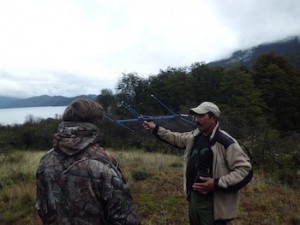 Tracking Huemuls with one of the park rangers
Do you feel like you made a difference?
Definitely. Even though the task at hand is monumental, at the end of every work day you get to see your progress. I spent the first three weeks at the park camped out in the mountains one week at a time. We would rise with the sun and get to work pulling out endless kilometers of old cattle fences for eight hours with a lunch break and a nap somewhere in between. At the end of the week when our group had to hike back down the mountain to our rendezvous point we would find ourselves having to navigate the landscape instead of following a now imperceptible fence line. Every kilometer that we cleared out was a kilometer through which the native Huemuls and Guanacos could freely
move through. Besides the difference towards the park effort, the experience lends itself to endless hours of meditation and thought. There just isn't much else to do but to perform manual work, hike, read and think!
Would you ever go back to Patagonia and volunteer again?
Is that a trick question? No really, I still dream from time to time that I am going back to the park and talk to the gaucho friends and fellow volunteers that I met there. I like to say that Patagonia and its people stole my heart and I must go back to reclaim. From the moment you get to Puerto Montt you start to feel the warmth of the people there. While traveling through the region I was picked up numerous times by locals while hitchhiking my way up and down the
Carretera Austral. People are genuinely interested in you as a foreigner and not just to take your money, and are eager to ensure you have a memorable experience while in their land, of which they are very proud. While moving around the area you can't help but constantly think 'I would like to camp there, kayak down that river, hike up that slope, explore that ice field, etc.' Patagonia really is that beautiful and inspiring.