Swoop says
We are committed to keeping you up to date with the most important updates from Chile. We are in touch with our partners and contacts on the ground and are monitoring official government websites and the local news. We will update this guide with any significant changes.

The latest from Chile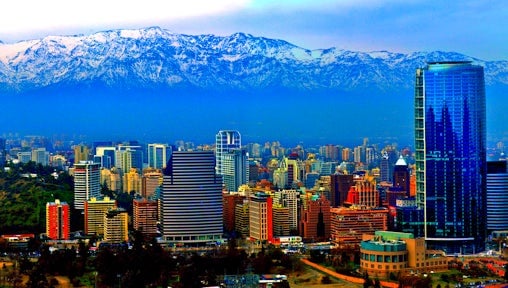 Santiago, Chile
In early May 2023, Chile removed all Covid-19-related entry requirements. Tourists entering the country are no longer required to provide a negative Covid-19 test, be tested upon arrival, or prove their Covid-19 vaccination status.
Travel insurance covering Covid-19 eventualities is not strictly required but is nonetheless highly recommended for the duration of your travels.

VAT payments in Chile
At present in Chile, tourists are not charged VAT (19% in Chile) for their hotel/accommodation rates. This is controlled by the hotel itself, via the customer's passport stamp and immigration paper receipt.
In Chile, the immigration slip (with the letters PDI printed at the top) must be shown upon checking in to your hotels/ships and will be returned to the immigration authorities upon leaving the country. It is essential you do not lose this small piece of paper during your stay in Chile. If you do lose this document you will have to submit a lengthy online application for a replacement slip.
To avoid doubt, neither Swoop nor our local partners will be held liable for any surcharges or any taxes, including VAT or its equivalent, that may be applied as a result of national or regional government policies. Such governmental policies can be modified at short notice and without prior notification.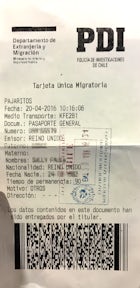 Proof of Financial Solvency
Upon arrival in Chile you may be asked to prove that you have sufficient funds for the duration of your trip. As of February 2023 the Chilean Government has set this at USD $46/day per person, but this amount may change over time.
In our experience, this measure has not been thoroughly enforced, but you may nevertheless be asked to show credit cards, cash and/or a bank statement, possibly alongside your itinerary, to confirm your financial viability to travel in Chile.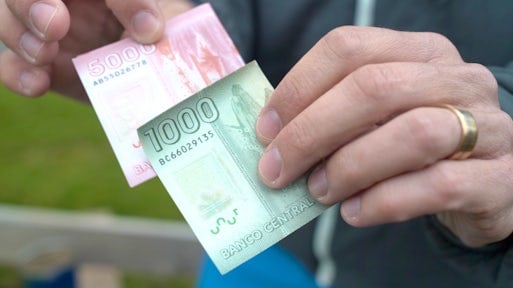 Chilean pesos
Travel to Easter Island
All travellers will have to comply with the following requirements to enter Easter Island (Rapa Nui):
Complete a Single Entry Form (FUI)
Return ticket
Reservation in a tourist service registered in SERNATUR or invitation letter from the Provincial Delegation
In addition, all travellers will be subject to health monitoring for 5 days after entering the island.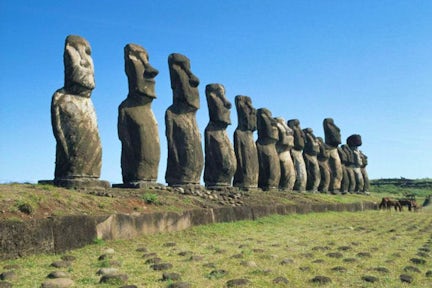 Travel insurance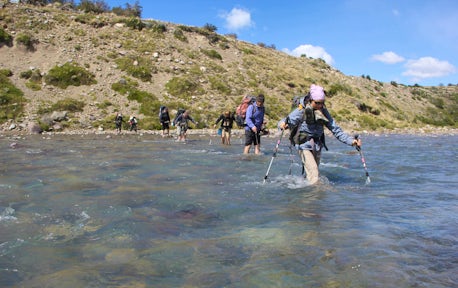 Whilst travel insurance is no longer an official requirement of the Chilean government when entering Chile (official source), all international travellers are strongly recommended by the Chilean authorities to have medical insurance which covers any expenses relating to Covid-19.
Bear in mind that Chile has previously had a requirement for a fixed level of medical insurance for Covid-19, so although they have currently dropped this requirement, we are conscious that it could be brought back if the situation changes.
---
Here at Swoop, we require all customers to have adequate insurance and your Patagonia operator(s) will also have their own requirements with which you need to comply. Finally, we recommend that you carry a printout of your policy (and possibly a spare copy in case you lose one).
Swoop says
We recommend bringing printed copies of all essential documents where possible. If you are relying on your phone, only to discover the battery has drained, or you don't have a signal or WIFI when you need it, this might add unnecessary stress to your journey.
Visas & travel documentation
Passports
We recommend that all visitors to Chile and Argentina have a valid passport for at least the entire duration of your trip, considering any possible delays that could occur on your trip.
Please check with the relevant authority (embassy and/or airline) for any specific requirements or restrictions, if you are in any doubt and/or if your passport will be close to expiring at the return date of your trip.

Visas
Citizens of the European Union, the UK, the United States and Canada (among other countries), will not be required to apply for a visa when travelling to Chile. If you travel from certain countries not mentioned above, including Australia, you may need to apply for a visa - check with your local embassy. You can find your nearest Chilean embassy here.
If you are not required to apply for a visa, you will be issued a tourist card, or 'Tarjeta de Turismo', on arrival in Chile, which will last 90 days. This is an A5-sized white piece of paper/immigration slip (with the letters PDI printed at the top). As mentioned in VAT payments above, you must retain this document and present it to immigration when you leave.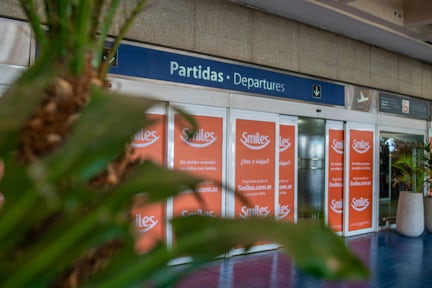 Travelling families
In an effort to prevent international child abduction, Chile has put in place strict requirements for the entry/exit of minors under the age of 18. Even when the minor is travelling with both parents, the parents will be required to show evidence of their relationship to the child when departing the country. Please carry an original, certified or authenticated birth certificate.
If only one parent is travelling with a minor, a legal authorisation to take the child abroad will be required, too. This permit must be signed by the parent or parents that are not travelling.
Please consult your nearest Chilean embassy for the latest and exact requirements that this documentation must include.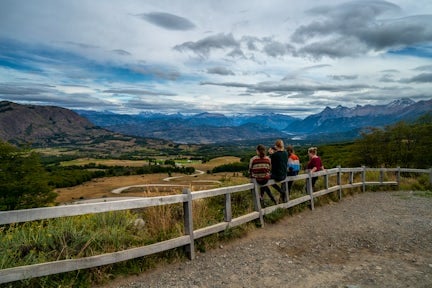 Enjoying expansive views whilst road tripping in Chile's Aysen region
Reciprocity fees
If you are a US, UK, Canadian or Australian national you won't need to pay a reciprocity fee to enter Chile. Some other nationalities may need to pay a fee, so do check with the Chilean embassy in your home country.
If you need to pay a fee, you must do so on arrival at the airport, either in US Dollars or by credit card. If you enter Chile by land, you will not need to pay a reciprocity fee.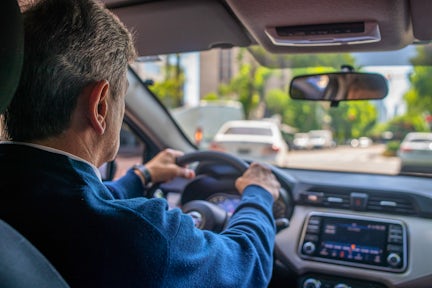 ---
Disclaimer
Information provided by Swoop is correct to the best of our knowledge at the time only, but in this fast-changing environment, we cannot be held responsible for changes not immediately reflected on this website or in information shared with you. Customers should undertake their own research appropriate to their individual circumstances before making final decisions.
Where links to government, operators or other third-party sites are provided, again this information is accurate and up-to-date to the best of our knowledge, but we cannot be held responsible for third-party content.