Why packing is important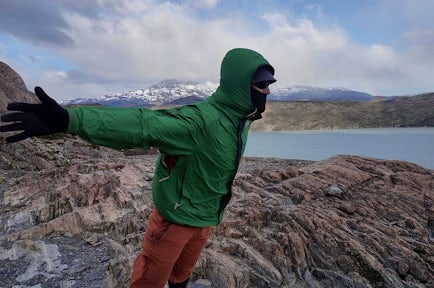 Patagonia's changeable weather means that you are likely to experience a vast range of conditions whilst you are there; from sunny days to tempestuous days with rain and strong winds. We're here to help you understand what to wear so that you are ready for all the conditions that this extreme end of the Earth will throw at you. The vast majority of our customers are out in the elements during the day, so on this page, we will make the assumption that you will be outdoors during the daytime.
This guide also aims to help you learn from our own experiences; for example, a water bottle with a wide mouth is best for filling from Patagonian streams and a rain cover on the outside of your pack proves useless in the strong winds!

Where you are staying will determine what additional equipment you need to take with you to Patagonia and whether you have the luxury to wear a clean pair of socks every day or if you need to take a sleeping bag. Please always check the gear lists we share on your Adventure Planner because these are specific to your trip and your guide has asked for you to take what is on these lists.
What to wear in Patagonia
No matter the kind of trip you have booked, you will need to take a similar approach to what to wear during the day.

Footwear
A hiker admires views of Los Cuernos in Torres del Paine National Park
We advise everyone to take waterproof hiking boots that are broken in. Whilst you may be accustomed to wearing hiking shoes when doing outdoor activities at home or in other parts of the world. The wet Patagonian conditions, muddy, rocky or scree trails mean that to protect your ankles and keep your feet dry you will need an ankle of your footwear and for it to be waterproof. As you will be hiking for quite a few days, you want to make sure these won't give you any blisters. Here's how to buy boots that actually fit.
We advise that whatever your accommodation you have a second pair of lightweight shoes or trainers with you for wearing on less active days and in your accommodation. If you are doing a multi-day trek with camping then take Crocs that will dry quickly once wet and can be used for river crossings and around camp. High-quality wool blend mid-thickness hiking socks to keep your feet extra comfortable and warm, sold by all outdoor clothing stores and NOT cotton socks.
Clothing
In front of Lake Nordenskjöld
Overlooking the Upsala Glacier, Southern Patagonian Ice Field
Hikers shelter from the infamous Patagonian wind with views of Las Torres
When travelling to somewhere where the weather is as changeable as Patagonia, you need to be ready for all conditions. Prioritise clothing that will dry quickly and that can be layered up so that you can easily respond to different weather. Between November and March, you should expect temperatures of 15-25°C/60-77°F in the day and 5-10°C/40-50°F at night, depending on the month that you are visiting.
When packing, we advise you to allow for a minimum of two to three changes of clothes per week. You should have access to laundry facilities and we recommend packing fast-drying fabrics that can be washed and dried quickly.
Long and short-sleeved, breathable, lightweight and quick-drying base layer tops that will dry quickly if you get sweaty or wet so that you don't get cold (cotton does not dry as quickly, or keep you warm during active days outdoors, so avoid cotton tops)
Thermal leggings for colder days and for sleeping in during multi-day treks
Hiking trousers that are breathable and light are a must – these will dry out quickly after rain and will keep you from getting too warm when hiking long distances
A mid-layer fleece or softshell jacket
A synthetic down jacket for evenings or breaks whilst on the trail
Windproof gloves
Buff or neckerchief
Warm hat and sun hat
Waterproof jacket and waterproof trousers
Underwear
Swimwear for lakes, rivers or pools
Important documents
If you would like to find out more information about the travel documentation you will be required to bring, please read our guides on Getting to Chilean Patagonia and Getting to Argentinian Patagonia. For more information about what type of insurance you need, read our guide to insurance.
Passport and correct entry forms
Driving licence (if hiring a car)
Flight tickets
Swoop itinerary
Copies of your insurance documents
A copy of your passport
Spanish Phrasebook
Cash tips for your guides and/or porters
Packing for trips with day excursions from a hotel or ship
If you are going to be staying in hotels, glamping sites, luxury lodges or on a ship throughout your trip then you have the freedom to take a little more with you and change your clothes more frequently. Cruise ships and Luxury Lodges have a casual dress code in the evening so don't feel that you have to dress up unless you would like to.
We recommend that you carry your gear in a backpack if you are going to be taking any public transport because Patagonian cities are not designed for pull-along luggage. If you have private transfers or your hotels are collecting you from airports, pull-along luggage or a duffel bag will be fine. This comes down to personal preference, but do check your airline's weight allowance.
20 to 30-litre day pack (with a hip strap/belt) to carry layers, waterproofs, picnic lunch, snacks and a water bottle
Dry bags or a liner for your day pack to keep your belongings dry
A one-litre refillable water bottle or hydration system is extremely important. Water is refilled from the streams throughout Patagonia, so ensure the bottle has a wide mouth to make filling easier. These are clean sources and will not need to be filtered. However, if you would prefer, you can bring your own filter or purification tablets
A small medical kit (prescription medications, cold medicine, blister treatment such as moleskin or second skin, headache tablets and plasters)
Toiletries (including bug spray and sunscreen/sun cream)
A camera with a large memory card - read our guide to Photography in Patagonia
A plug adaptor - to find out more about the adaptors you'll need in Chile and Argentina, please see our guide on Life in Patagonia
Sunglasses (if you're ice hiking or mountaineering the bright snow can damage your eyes if they aren't properly protected - look for glasses that filter high levels of the sun's rays and protect the front and sides of your eyes)
Trekking poles, if you are accustomed to using them (your hotel sometimes provides these)
Packing for day excursions from a hotel or ship in Patagonia
Swoop says
We recommend packing a solar battery pack or charger, which you'll also be grateful for when the cold drains your battery.

Packing for the W Trek and other hut-to-hut multi-day treks
On the W trek or other hut-to-hut treks, you will need to carry a 35 to 40-litre rucksack with all your personal belongings. Ensure your backpack fits properly, is lightweight, has a hip strap/belt to ensure the weight is shared between your hips and shoulders, and has compartments for easy access to water bottles. You will need small dry bags to keep everything in your pack dry or one large waterproof pack liner/dry bag. You can store the belongings that you won't be taking on your trek in a large rucksack or duffel bag and leave it with our partner, your hotel in Puerto Natales, or the town your trek starts in.
Bedding will be provided by the mountain refugios. We would advise that you carry as little as possible; one set of clothes for the day and a spare set for the evening should be enough, with one additional base layer top. Try to take minimal toiletries to keep weight down; for example, a small bottle of shampoo or a small bar of soap.
In addition to the clothing list and the things you would take if you were doing day excursions above, we recommend that you take:
A padlock for the lockers at mountain refugios
A weather-resistant headlamp or flashlight
Towel (microfibre/quick-drying recommended)
Snacks (snacks will be provided but it is always worth along your favourites from the nearest town)
Swoop's ultimate W Trek packing list
Harriet says
Swoop says
Pack some clothes in your hand luggage in case your luggage gets lost, then you can still enjoy your trip. Pop them into a vacuum pack-style bag, squeeze the air out and place it in your carry-on.


Customer tips
" In Torres Del Paine, I wished I just had a Nalgene or similar water bottle - there was no need to carry lots of water, and it would have been easier to fill in streams. "
Lauren Customer
" I wish I had brought a microfiber quick dry towel for the trip - the other 2 guys said Swoop recommended a towel in their list but I missed that! "
Ted Customer
Packing for multi-day treks with camping
Camping at Refugio Paine Grande
Still smiles after snow flurries and lots of wind on the second day of the W Trek
Camping in Cerro Castillo National Park
Laguna Guanacos trekking Tierra del Fuego
If you are doing a multi-day trek with camping then you will need to be ready to spend all day and night outdoors and bring more equipment for your trek. Please note that if you are camping on the W Trek or doing the Chalten Highlights of Chalten Express Trek then all your bedding, camping equipment and meals are provided by the refugios or campsite, so please refer to our W Trek kit video guide. Always refer to the individual gear list for your trek.
Depending on how supported your trek is, you will need a mountain backpack of between 55 to 70 litres. Make sure it has a hip strap/belt so that you can share the load between your shoulders and your hips. If you have porters, you can trek with a 30-litre pack and your backpack or duffle bag will be carried by the porter. Often you will need to carry your own sleeping bag and sleeping mat, but the food and remaining camping equipment will be carried by porters, in which case a 55-litre (or bigger) pack will be sufficient. For those whose treks are not supported by any porters, you will need a 65-litre plus pack in which you will carry all your personal gear including a sleeping bag, sleeping mat, and a share of the remaining camping equipment and food.
For the majority of multi-day treks, you need to bring your own sleeping mattress and sleeping bag. We recommend a Thermarest or similar inflatable mattress that is lightweight, comfortable, and takes up very little space.
You should make sure your sleeping bag is lightweight and compact. It's important that it has a compression stuff sack to save space within your rucksack. Synthetic-filled bags stand up better in Patagonia's wet conditions because down-filled bags don't work when they are wet. If you have a down sleeping bag then just bring that and keep it dry. The temperature can get down to 0°C/32°F in the summer months and -5°C/23°F in March or November so you'll need a 3-4 season sleeping bag with a comfort rating between 0°C/32°F and -7°C/19°F or a lower comfort rating of -5°C/23°F to -12°C/12°F (please note that some manufacturers use a comfort rating and some a lower comfort limit). Check your individual gear list and if you know you sleep cold then go for a warmer bag.
In addition to the lists above you will need:
Trekking poles (essential!)
Gaiters
Packing for multi-day hikes in Patagonia
David says
Swoop says
Before you buy any new gear, ask yourself if you will ever use it after you get back from Patagonia. If the answer is no, consider hiring gear in Patagonia or borrowing it from a friend. We all need to do our bit to protect the planet and use less.


Customer Tips
" Pack light and make sure you have a good backpack! Follow the list as it's everything you need. There is wifi at the lodges but for a fee, and no good access to charging electronic devices to perhaps a solar charger or something of the sort would be handy. "
Erica Customer
" Be very critical of how much and what you take on the track in your backpack. We took too much. "
Carla Customer
What to pack for winter in Patagonia
Winter trekking in Torres del Paine
Winter trekking in Torres del Paine
If you are hiking in Patagonian winter, there are a few extras you should make sure you have with you.
In addition to any of the packing lists that are relevant to you above, you will need:
Extra thick socks to deal with the cold; we recommend a few pairs of mid to heavyweight synthetic moisture-wicking hiking socks – these will keep your feet warm and dry in the snow
A pair of gaiters is also important if you will be hiking in the snow, as these will keep your socks from getting wet
A good set of thermal underwear to wear underneath your hiking clothes is necessary to keep you warm in the winter months
A down or synthetic jacket that you can pop on whenever you stop for a break to stop you from cooling down too much
A pair of warm mountain gloves – these will normally be waterproof and have an insulating layer to keep you extra warm
A bigger rucksack for your additional winter gear – we typically recommend a 40 to 60-litre mountain backpack

What our customers think of What to pack for Patagonia
Swoop says
Don't forget to keep domestic baggage allowances in mind when packing - these are 23kg for most airlines, and 15kg for Aerolineas flights.