Life before Swoop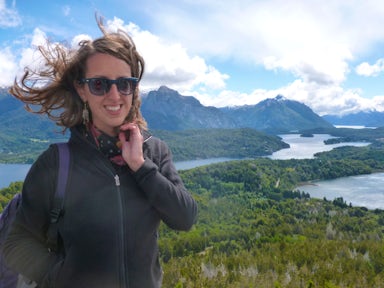 A love for all things South American, coupled with a yearning to travel and learn Spanish, led me on a year-long adventure throughout the whole of the continent, starting in the summer of 2014. With a degree in French and Italian, I thought Spanish wouldn't be too difficult to learn during my trip to South America. However, nothing could quite prepare me for the speed at which Chileans talk!
Before that, I worked in travel for 3 years, making regular trips to Italy to discover new places for Alastair Sawday's collection of special Italian places to stay. For me, travelling is about getting to know the locals, losing yourself in nature and tasting the culinary delights along the way.
My life outside of Swoop involves weekends away in Wales with friends, walking and enjoying the peace of the hills, making the most of Bristol's live music scene, yoga and, last but certainly not least, African dance!
My Patagonian experience
Patagonia was my first destination in Chile during my year-long trip in 2014. I found myself in the Lake District, around Todos Los Santos lake and Cochamo; struck by the majestic Osorno volcano in one direction and a silhouette of the Andes as a backdrop to the glistening lake in the other.
My favourite day of hiking in the whole of the region during the same trip had to be the hike up to Laguna de los Tres in Los Glaciares National Park; you can't help but feel humbled by Mount Fitz Roy's jagged granite peaks towering above you. Having walked up in a snowstorm, I was very lucky as the clouds parted to make way for blue skies and Fitz Roy in all of its glory. The walk back down was incredibly peaceful and beautiful as the wind died down and the mirror lakes reflected the mountains. To top it off, I hardly saw a soul most of the way down.
Since then, I have had the huge pleasure of returning to both Torres del Paine and Los Glaciares National Park in March/April 2018 during a three-week long trip to visit the highlights of these parks. I also did a fantastic adventure cruise in the Chilean Fjords to see 15 glaciers - take a look at my photos here.
Day to day at Swoop
I joined the team in March 2016 and have lent my hand to a number of things over the last few years. My role at Swoop today involves helping customers to plan exciting tailor-made itineraries in Patagonia, working closely with our local partners to put all of the pieces in place for these carefully crafted trips and creating vibrant content for our website. I'm always happy to help, giving any tips and advice where I can so that our customers have the best Patagonian experience possible.
Why I love Patagonia
I fell in love with Patagonia when trekking in the mountains around El Chalten, kayaking amongst sea lions in Cochamo, hiking in Torres del Paine, getting up close and personal with southern right whales and their playful calves off the coast of Peninsula Valdes and (practically) tripping over comical Magellanic penguins on Isla Magdalena.
One of my favourite areas has to be the Chilean Lake District for its perfectly conical volcanoes, shimmering lakes, majestic fjords and friendly locals.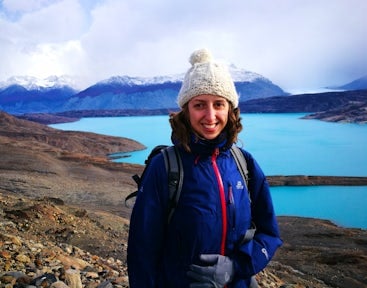 Overlooking the Upsala Glacier, Southern Patagonian Ice Field

What our customers think of Zoe
Zoe was responsive, helpful, and knowledgeable. She worked hard to modify our trip to accommodate the ever changing pandemic situations. Read the full review

Travelled: February 2022
My Swoop rep, Zoe, was incredibly professional and responsive. It was a pleasure working with her.

Travelled: November 2017
Christine & Leslie - California, USA
My travel tips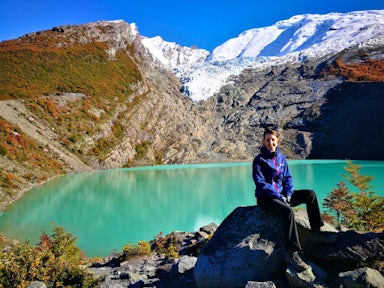 My top three tips for anyone travelling to Patagonia:
1. Pack clothing for all seasons as the weather is highly unpredictable.
2. Take out plenty of cash whenever you find a working ATM as they are few and far between.
3. Keep an open mind and an open heart as things don't always go to plan but then that can make for even more of an adventure!

Next adventure
I would love to spend time in the Aysen region having been inspired by Harriet's (our Aysen specialist) tales and photos. It seems largely untouched by tourism, yet full of natural beauty. Chiloe Island is also high on my list.