Finding the Right Antarctic Experience for You
There are many ways that you can explore Antarctica from Patagonia. The length of time you would like to spend away usually dictates how far south you can go and how long you can spend at each place of interest.
Most trips will involve voyaging on a cruise ship.
You can also fly to Antarctica.

If you're visiting

Ushuaia

and are looking for a

short visit

to Antarctica, take a look at our

express trips

.




If you have the

time and budget,

look into

an

extended Antarctic cruise with Swoop Antarctica.
Here at Swoop, we're committed to listening to your different goals and desires and finding the right Antarctic trip for you.

Express or Extended Cruise?
Express Cruises
Express Cruises offer you the chance to get onto the Antarctic Ice without needing to commit to a traditional 11-day voyage. On an Express Cruise, you will spend between 1-3 nights in Antarctica. Perfect if you want to visit Antarctica as an add-on to Patagonia and tick it off your bucket list. Here are some different options:
Antarctica and Torres del Paine National Park - Sail all the way to King George Island before catching a flight back to Patagonia to enjoy trekking, kayaking or mountain biking.
Antartica and Navarino Island - Fly to King George Island and spend the day exploring Antarctica. Then during the rest of the trip stay at a remote lodge and discover Navarino Island, the Beagle Channel and Cape Horn.
Express Cruise Only- If you just want to visit Antarctica and you're on a time constraint then this is the trip for you. Sail there and fly back.
Private flight - A two-day flight to Antarctica if you really are short of time.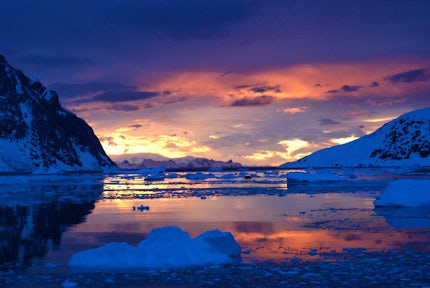 Extended Cruises
The classic way to see Antarctica is on an 11-12 day voyage from Ushuaia to the Antarctic Peninsula. You will have plenty of time to explore the channels and icebergs as well as boarding small Zodiac boats to visit penguin colonies.
It is possible to journey further south towards the Polar Circle, particularly in the height of summer when the ice has melted sufficiently. Few people have the opportunity to venture this far.
A truly remarkable voyage of up to 21 days takes in South Georgia and the Falkland Islands which offers even more diverse wildlife and unique landscapes.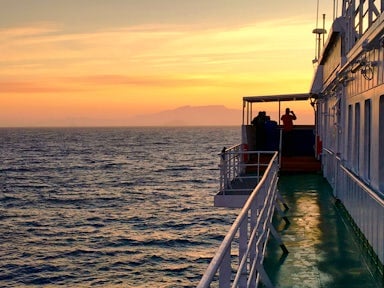 Open cruise during sunset
Swoop Antarctica
Our sister company, Swoop Antarctica, specialise in providing a variety of Antarctic adventures. Working directly with all of the Antarctic expedition operations, they can help you narrow down your options and decide where and when to visit to see specific wildlife and parts of the region. They can also share their impartial advice on planning the details from cabin types, to additional activities, to preparing the right kit and travel documentation.
An experienced team of polar enthusiasts based around the world, they understand the significance of a trip to the continent and are passionate about connecting travellers with the very best option for them.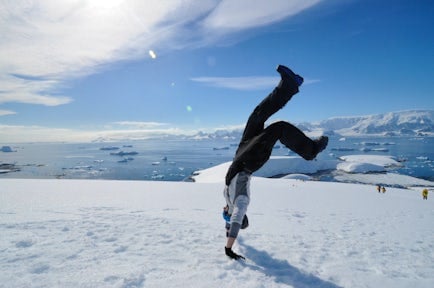 Why Swoop
We've got our feet on the ground
Impartial advice and a bespoke service to make your trip perfect.
Deep Roots in Patagonia
We are former guides, tour leaders, outdoor enthusiasts & adventurers.
For The Ends Of The Earth
Swoop is proud to be B Corp Certified as we know sustainability is more than our carbon footprint (but we're reducing that too).
We're With You At Every Step
We'll make sure you have the adventure of a lifetime.
Similar Experiences to Antarctica
We appreciate that cruises in Antarctica are expensive and for many, they are a once-in-a-lifetime experience.
If your budget can't quite stretch as far as Antarctica, we offer some similar and perhaps more affordable experiences in Patagonia. Here you can join a number of different adventure cruises which sail along its dramatic coastline, through its fjords and up to its glaciers.

Find out more about Patagonian Adventure Cruises
Ready to plan your Patagonia adventure?
1
Listen
We'll spend some time listening to your aspirations, then discuss the kind of experience that might suit you.
2
Match
Next we'll discuss the options, shortlist the best trips for you and present you our impartial recommendations.
3
Reserve
We'll place a 24 hour hold on your preferred option - without obligation - whilst we talk through the details.
Whatever your budget, group size, length of stay, preferred activity or appetite for adventure, we can help.
1-855-369-7866