Reasons to go to San Martín de los Andes
The multi-activity adventure capital of northern Argentina
Year-round destination with a small town alpine atmosphere
Hiking, mountain biking and kayaking around the area's many peaks and lakes
Gateway to Lanín National Park and the Route of the Seven Lakes
About San Martín de los Andes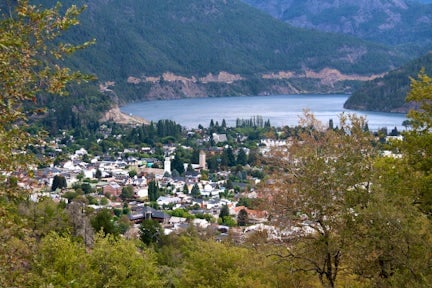 San Martin de los Andes
The small resort of San Martín is one of the prettiest towns in Argentina. Like its big sister Bariloche, it was founded near the end of the 19th century on land belonging to the Pueche people in the hills on the edge of Lake Lácar. The same towns were laid out in exactly the same way, but while Bariloche boomed and grew, San Martín has retained its small-town charm, with its characteristic alpine architecture of stone and rustic wood. San Martín is the main access town for Lanín National Park.
San Martín's setting has made it the adventure sports capital of northern Argentina, but there's much to enjoy in the town itself in between hiking and taking to the waters of the surrounding lakes. The Plaza San Martín is a delight to relax in, with a good town museum and the nearby Pastera Museo del Che, a converted barn dedicated to Ché Guevara who stayed here in 1952, so memorably captured in his book The Motorcycle Diaries. San Martín has a good and eclectic dining scene.
What to see and do around San Martín de los Andes
Hiking to Cerro Falkner and Achen Ñiyeu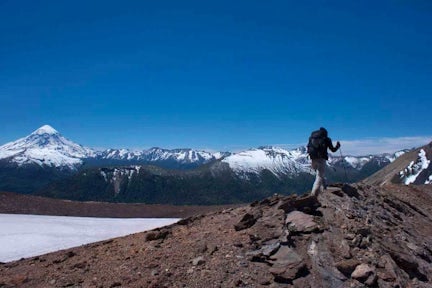 San Martín is perhaps best known to hikers as the gateway to Lanín National Park, but the town has plenty of gorgeous day hikes on its doorstep. One of the best is the ascent of Cerro Falkner, whose trailhead lies an hour's drive from town. The ascent zigzags through lush forest. Once you've cleared the treeline, the views suddenly open up 360 degrees with a skyline that sweeps across Lanín Volcano and Cerro Tronador.
Another great volcano day hike is the crater of Achen Ñiyeu volcano. This striking route starts on the beach of Laguna Verde in Lanín National Park, through forests and then across the black sandy desert landscape. On reaching the volcano, a demanding 45-minute ascent takes you to the edge of the crater, with its panoramic views of Lanín Volcano and its expansive glacier.
Kayaking on Lake Machonico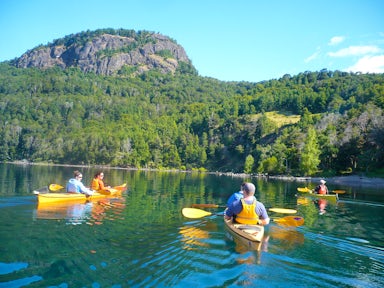 The waters of Lake Machonico, 30km from San Martín on the Route of the Seven Lakes, are made for exploration by kayak. The surrounding mountains shelter the lake from the Andean winds, creating a perfect calm environment for kayakers of all abilities. The lake's shoreline is easily explored, after which guides lead you to the mouth of the Río Hermoso river, to paddle upstream to Pichi Machonico lake – a tiny gem that's overlooked by the most popular tourist routes in the area. A sandy beach at its far end is the perfect place to stop for lunch, before slowly returning in the afternoon to the starting point on Lake Machonico for the drive back to San Martín.
Cycling from Laguna Rosales to San Martín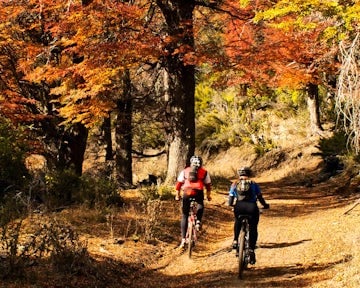 San Martín has some great mountain biking trails, and the Laguna Rosales route is one of our favourites. It starts easily on a wide path where guides can make sure that everyone is familiar with their bikes, before leading along a series of trails, slopes, short climbs and stream crossings, where open country alternates with temperate forest. After lunch, the route continues to Paraje Trompul, on Curruhinca Mapuche land, following old logging paths to the northern shore of Lake Lacar. The route has plenty of ascents (none too strenuous), but your efforts are rewards by reaching a small sandy beach known as La Islita, which is the perfect place for a refreshing jump in the waters. From Lake Lacar, it's an easy return along the trail to San Martín.
The Route of the Seven Lakes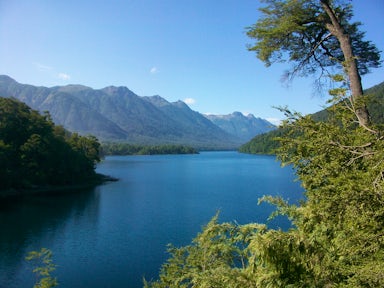 Route of the 7 Lakes, Argentinian Lake District
One of the most spectacular stretches of road in Argentina, the Route of the Seven Lakes (La Ruta de los Siete Lagos) winds south from San Martín to Villa La Angostura along RN40. It can easily be driven in a day, though you should allow plenty of time to stop and explore its succession of outstanding lake and mountain vistas. The road brushes the shores of Lake Lago before turning inland to descend towards Lake Machonico, then through thick forest that turn fiery reds and coppers in autumn to Lake Hermoso. The route then takes you through Nahuel Huapi National Park past the Cascada Vuliignanco waterfall towards the beaches of Lakes Villarino and Falkner. A diversion well worth taking leads to the picturesque Villa Traful on the shores of Lake Traful. The final stretch of road threads its way past Lake Espejo Grande to Villa La Angostura on the shores of Lake Nahuel Huapi.
David says
San Martín de los Andes is one of the nicest towns you'll find in all of Patagonia, but the real gems are waiting to be discovered by bike, kayak, boat, vehicle, or on foot. Few other places in South America can boast such an array of outdoor activities in such a compact area – no wonder it's the multi-sport capital of Argentina.

David Hilton Patagonia Product & Partnership Manager
How to get to San Martín de los Andes
San Martín's Carlos Campos Airport (code CPC) is 23km west of the town on RN40. It has several flights a week to Buenos Aires, increasing to most days during the high season.
San Martín is 190km from Bariloche – around three hours' drive along a particularly scenic route through Villa La Angostura and along the shore of Lake Nahuel Huapi. It takes around 30 minutes to drive from San Martín to the entrance of Lanín National Park.
It's possible to travel from San Martín to Chile. A gravel road leads 44km west from the town along the north shore of Lake Lacar to the international border at Paso Hua Hum. After immigration formalities, it is a further 12km to Lake Pirihueico, from where you can catch a car ferry to Puerto Fuy. From here it takes between two to three hours to drive to Pucón, via Panguipulli.
Where to stay in San Martín de los Andes
There are plenty of good accommodation options in and around San Martín, either in the town itself or slightly outside on the shores of nearby Lake Meliquina, or halfway between San Martín and Bariloche in Villa la Angostura.
We have access to a variety of hotels, boutique guesthouse, lodges and estancias according to your requirements and budget – get in touch to let us help you find the best place to stay

Ready to plan your Patagonia adventure?
1
Listen
We'll spend some time listening to your aspirations, then discuss the kind of experience that might suit you.
2
Match
Next we'll discuss the options, shortlist the best trips for you and present you our impartial recommendations.
3
Reserve
We'll place a 24 hour hold on your preferred option - without obligation - whilst we talk through the details.
Whatever your budget, group size, length of stay, preferred activity or appetite for adventure, we can help.
1-855-369-7866