What's it like?
It doesn't get more wild and rugged than Torres del Paine in winter. Don your hat and gloves and trek the famous trails when they're covered in snow. Without the crowds of the high season, you can really take your time to enjoy the snowscapes, before pushing on further into the wilderness.
A layer of snow covers the park; the main hiking trails remain open, but the full circuit and off-the-beaten-track hikes are closed
Most adventure sports still run in the winter, however, excursions are limited
It's far easier to spot wildlife against the white background, especially given animals such as pumas descend into the valleys over winter to search for food

Winter in Torres del Paine: FAQs

What our customers think of Torres del Paine in Winter
Hiking up the Torres in a driving snow was pretty awesome; on top of the fact that the winter weather limited the number of people on the trail, we only saw one other hiker.

Travelled: July 2017
Patagonia was amazing! We were wary of visiting in the middle of winter, but we are so glad that we avoided the crowds and could enjoy the peacefulness of the area.

Travelled: August 2016

The trek was unbelievable!!! The best hike I've done. We had a world class guide who was very informative and took care to make sure everyone was OK and spent time to really answer people's questions.

Travelled: November 2015

I loved my time in the park! The itinerary was great, Swoop was great, thanks again for helping me have such an amazing experience in Patagonia.

Travelled: July 2013
Torres del Paine in winter was a beautiful experience. Definitely all the weathers in one day, but we had an amazing time. Read the full review

Travelled: June 2022
Swoop was great in that they helped guide me to finding the right guided trip in the winter. Without Swoop, planning this trip would have been a lot more tricky! Nothing could have been done differently. Read the full review

Travelled: May 2017
We had a very good time, beautiful park, nature absolutely great, transport there and back, all very well organised. We'd like to come back next year!

Travelled: May 2014
Each day brought a different hike and ever changing views to be in awe of. Thanks again for all of your help, Our family had an absolutely outstanding trip!

Travelled: June 2013
What can I do in winter?
Hiking
Thick snow will make the hiking harder, although the effort is more than worth it for the photo opportunities. You can still hike the most famous trails in Torres del Paine in winter. The Base of the Towers, French Valley and Grey Peninsula routes are all open, however as the refugios between them are not, some days will start with a transfer from your hotel to the trailhead. The Full Circuit and more off-the-beaten-track routes are not used in winter.
Whilst on the routes you'll be treated to quiet and secluded hiking trails, stunning light conditions for photography and good opportunities for spotting wildlife. These hikes are not more technical in winter, but you will need to be prepared for the weather, use our winter kit list can help make sure you have everything you need.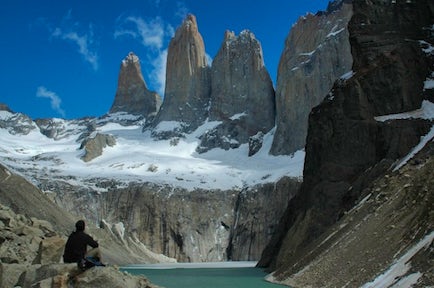 Adventure sports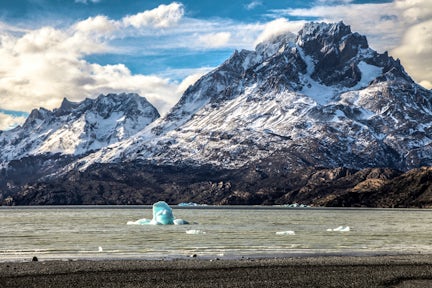 Lake Grey
Horse riding, kayaking and mountain biking are still available in the park in winter, just limited to certain areas. You don't need to be more experienced or have any technical knowledge, just make sure you remember your warm clothing!
Horse ride through unexplored valleys and along the shore of the Serrano River to reach the Tyndall Glacier lookout point where your horse can take a rest as you take in views of the Southern Ice Cap stretching into the distance.
Kayak the turquoise water of Lago Grey with its floating icebergs so close you can run your fingers over their surface. Sculpted by wind and sunshine, no two are the same. The Grey River is also open for kayaking, a river that twists and turns through steep canyons, with stunning views of the Paine Massif.
Fat bikes are a must for biking in winter. Ride to Laguna Amarga, past the dazzling Blue Lagoon and Cascada Paine waterfall, two gems of the national park. With the park so quiet, the only sound will be the crunch of snow under your tyres and the calls of ducks, coots, swans and woodpeckers that still thrive here in the cold weather.

Puma tracking
This is one of the most sought-after places in the world to watch and photograph wild pumas. With a steady supply of guanacos to eat, and protection from hunting, their numbers are uncommonly high in Torres del Paine. Although you can see pumas all year round, it's easier to spot their beautiful golden colours against the white snow in winter, and as they descend from the mountains to search for food you're in with good chances of sightings.

A puma rests in Torres del Paine
Swoop says
Services in and around the park are limited in winter, so we work with hand-picked local operators to design personalised winter itineraries. You can make the most of your time in the park and hike with confidence, knowing that you're well looked after and won't get caught out in bad weather.

Customer Tips
" There are very few Trekkers out in the winter so if you're planning on going but not a confident camper/trekker then definitely book in a guide with Swoop. "
Morwenna Customer
" We were very lucky with weather, but I probably didn't understand the extent how weather conditions could impact this trek so much. So tip would be, be prepared for anything! "
Sarah Customer
Where to stay
Only a few hotels and refugios are open, so ask our specialists about the best place to base your trip. The central location of Hotel Grey makes it a good choice as a base for the W Trek, whereas Hotel Explora and Hosteria Pehoé are a little further south and will require increased travel times to the trailheads, but offer one-of-a-kind views of the entire Paine Massif.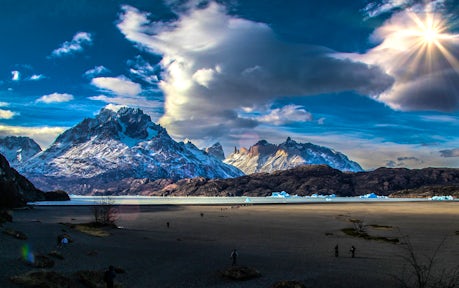 Winter sunshine over Lake Grey
Ready to plan your Patagonia adventure?
1
Listen
We'll spend some time listening to your aspirations, then discuss the kind of experience that might suit you.
2
Match
Next we'll discuss the options, shortlist the best trips for you and present you our impartial recommendations.
3
Reserve
We'll place a 24 hour hold on your preferred option - without obligation - whilst we talk through the details.
Whatever your budget, group size, length of stay, preferred activity or appetite for adventure, we can help.
1-855-369-7866