Things to consider
The main routes do get busy. Shun the crowds and explore off-the-beaten-track hiking routes, or discover the park by bike or kayak.
This is the perfect place to try something new. No experience is required for many activities, and a multi-sport trip will allow you to try a bit of everything.
Many hotels offer

all-inclusive programs

, where you can pick activities the night before, and come home to a comfy bed.
For more of a challenge, consider a multi-day kayak or horse ride.
If you're set on seeing elusive pumas, a dedicated puma tracking trip is well worth it.
What to do?
Hiking
Torres del Paine National Park has a famously rugged and wild landscape to be explored. The hiking trails here are world-renowned, from the well-trodden W Trek to the hidden valleys of Bader and Silencio, to the unexplored passes only ventured by a handful of people a year.
For hikers with some experience, the Full, or O Circuit Trek is the perfect way to see the main highlights of the park before looping around the quieter northern region, where the campsites are basic but the views are unmatched.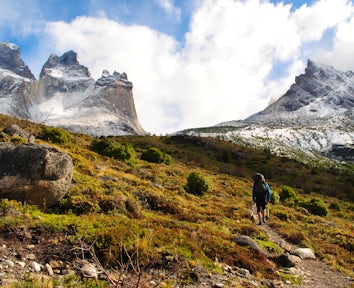 Hiking in the Bader Valley, Torres del Paine
Kayaking
Drift downstream alongside mishapen icebergs, so close you can reach out and touch them. All around are panoramic views of the Paine massif, and you can really take your time enjoying the landscape in silence, broken only by the splash of your paddles. On a day trip you can kayak right up to the face of the famous Grey Glacier, or take a few days to paddle down the Serrano river, wild camping along the way. For those with experience, there's more than enough technical challenges to be found.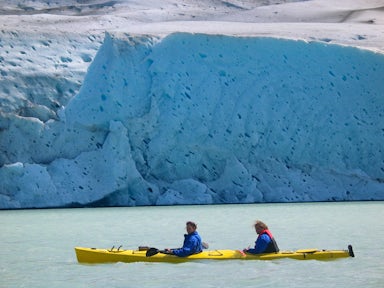 Horse riding
Horses have been an integral part of Patagonian culture for generations, and working estancias still exist around Torres del Paine. Head out onto the rolling pampa with the gauchos to explore the national park with those who know it best, or spend a few nights at an estancia to get a taste of a true Patagonian welcome.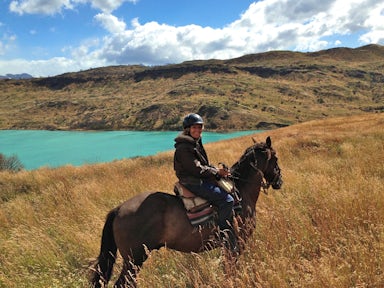 Swoop says
Some places you simply have to hike to, but to discover all the hidden treasures of the national park you really can't beat the views from a kayak or on horseback. But beware, Torres del Paine is vast and transport patchy, so choose your itinerary carefully to ensure you have enough time to see it all.
Mountain biking
If your legs are aching for more after your treks, or you want to be moving just a little bit faster through the landscape, mountain biking is undoubtedly one of the best ways to navigate through the park. Pedal down dirt roads around the lakes, or whizz along single track on old trails, you'll be moving with enough pace to explore hidden corners of the park, but slow enough to take your time drinking in the views.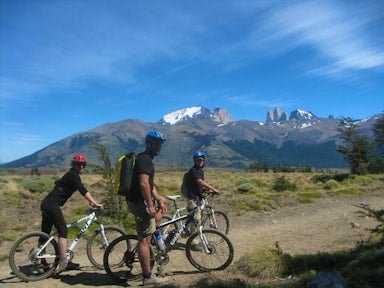 Fishing
From the Paine massif's surrounding glaciers flows the Serrano River, which offers a spectacular setting for fly fishing. The dramatic landscape continues south, and between Torres del Paine and the nearby town of Puerto Natales there are also numerous lakes, famous for their beautiful blues and greens but also for their salmon fishing. Itineraries can last anything from a couple of days to over a week.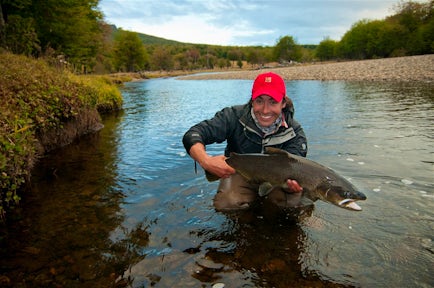 Puma tracking
Pumas are thriving in Torres del Paine, and their exceptionally high numbers make this one of the top places in the world to see them. A good supply of juicy guanacos and ban on hunting in 1972 have made the park a perfect habitat, and on a dedicated puma tracking trip your chances of sightings are high.
Their numbers are greatest in the quieter eastern areas of the park, so we work with expert guides who know exactly where to look, so you've got the best opportunity to see one up close.
A puma rests in Torres del Paine

What our customers think of Things to do in Torres del Paine

The circuit trek in Torre del Paine was by far the highlight. The remoteness and the untouched nature were amazing. Both of our guides on the hikes were amazing! The simple and quiet beauty is what we will remember forever.

Travelled: December 2017

Torres del Paine - absolute highlight and delight. Surprisingly varied landscapes - from mountains with serrated tops and sharp shark fins, to lush forest, steppe, glacial streams, moraine. We had it all.

Travelled: November 2017

Kayaking down the Rio Serrano was the highlight - I truly felt like we were in the wilderness because we didn't see any other people!

Travelled: January 2017
We had a spectacular rainbow over the mountains when we drove into the park for the first time. It was absolute magic. Read the full review

Travelled: January 2023
We loved the kayaking and ice hike at Grey. We would definitely recommend those activities. Read the full review

Travelled: March 2022
What was our most memorable moment? Too many to count. Hiking and horseback riding in Torres Del Paine, photographing rheas, condors, and a puma, and riding in a zodiac up to a glacier. Fantastic time. Read the full review

Travelled: January 2020
Steven Ray - United States Of America
The kayak guides were phenomenal. We got to really know them on our two day kayak - their backgrounds are super impressive, their knowledge of Patagonian waters and the park were unsurpassed and their cooking skills were top-notch! Their team of specialists is one we will recommend to everyone looking to spend time in Patagonia. Kayaking through the back country of Torres del Paine and O'Higgins National Parks was surreal and will never be matched. Read the full review

Travelled: December 2019
Meghan Riley - United States Of America
The highlight was undoubtedly reaching the base of the towers in Torres del Paine, but there were many other highlights as well. The tour staff were excellent – resourceful, knowledgeable and highly organised. The guides too were superb.

Travelled: March 2016
My initial enquiry to Swoop was about Torres del Paine but after their suggestions to me for other activities, I had a 5 week adventure which could have easily extended to double that!

Travelled: February 2016
What a wonderful, mind-blowing, refreshing experience. There are simply not enough positive adjectives to describe our time in Torres del Paine. Thank you for helping me plan one of the best experiences I've had!

Travelled: January 2016
Multi-sport adventures
See all the different sides of the park, and get into the hidden corners with some adventurous activities. With multi-sport trips you can kayak one day, ice hike on a glacier the next, or add on a few days of something different before or after your multi-day trek.
There's often no experience required for these activities, just turn up and all your gear and instruction will be provided. However if you do have some experience and you're looking for a challenge, look for one of the longer multi-sport trips that delve deep into the more difficult terrain.
Tailor-made Holidays
Patagonia is a vast and varied region, with a wealth of things to see and do, a range of places to stay and a limited transport network.
Why not let us do the hard work for you? Our team of experts will work with you to design an adventure to your exact requirements, from hiking and horse-riding trips to wine-tasting tours and undiscovered lodges.
We'll work around your budget and arrange flights, transfers and buses, to create your perfect trip.
More About Tailor-made
Ready to plan your Tailor-made Adventure?
1
Listen
We'll spend some time listening to your aspirations, then discuss the kind of experience that might suit you.
2
Match
Next we'll discuss the options, shortlist the best trips for you and present you our impartial recommendations.
3
Reserve
We'll place a 24 hour hold on your preferred option - without obligation - whilst we talk through the details.
Get in touch today to talk about your dreams for your trip. Whether it's a 2-week or 2-month adventure, you're travelling independently or in a big group, you want to see Patagonia in comfort or discover challenging hikes, we'd love to help.
1-855-369-7866