Swoop's FitzRoy and Paine Hiking Tour
Discover the highlights of southern Patagonia on Swoop's very own small group trekking adventure. Hike the classic circuits of Fitz Roy and the Torres del Paine 'W-trek' with your local trip leader who will guide you throughout. Enjoy unique experiences such as an exhilarating zodiac ride, approaching the Perito Moreno Glacier in unique fashion. Our specialist team have crafted the best itinerary with outstanding value and incredible adventure every step of the way to deliver the trip of a lifetime to our travellers!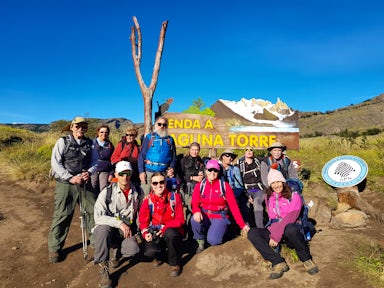 Hikers at the trailhead of the Laguna Torre trek on a group tour

What Our Customers Think of Group Tours
Group Tours trips scored 4.3/5 from 56 reviews

All of the people who were part of our journey (the guides, the other travellers) were kind, supportive, friendly and fun.

Travelled: October 2017

Our guides were everything we hoped for and very informative.

Travelled: January 2017
It was well organized with all the transportation arranged and on time-great choice of partners on the ground to lead our hikes-perfect accommodation chosen to enrich our experience. Read the full review

Travelled: January 2023
Branca Pachkowski - Canada
I think the most memorable moment on the trail was finally getting to the view points in the French Valley and Mirador del Torre. They were breath taking. The most memorable moments off trail were enjoying time with our group and amazing guides at the end of each day. Read the full review

Travelled: January 2023
Swoop team: thanks for planning for us. It was amazing experience. Read the full review

Travelled: December 2022
Prasad Sudhakar Deshmukh - USA
You can make mew friends anywhere and that hikers really are the nicest people! Read the full review

Travelled: December 2022
Helena Atkinson - South Africa
Everything was very easy! Our guides made everything so much more meaningful and interesting. It was helpful to have a go-to person with any questions we had. Read the full review

Travelled: December 2022
I'm so in awe of the natural world and that a place as beautiful as Patagonia even exists. Read the full review

Travelled: December 2022
The guides did a great job of adjusting to local conditions and the group. We got to see so much in such a short time! Read the full review

Travelled: December 2022
I have no recommendations other than I will definitely hopefully one day be booking with you again. Read the full review

Travelled: December 2022
Swoop made the trip so easy and I didn't feel stressed coordinating days for our 30 person group because of all their prep work. Read the full review

Travelled: November 2022
Every day was different and beautiful! Our guide was amazing, super friendly, always having some extra things hidden in her backpack for us (she carried a jar of pesto to make our refugio sandwiches better)

Travelled: November 2017
Our guides were great, knowledgable, energetic, well-tempered, and a perfect match for the varying skills and attitudes in our group.

Travelled: October 2017
David - Washington, D.C. USA
While I was traveling alone, I never felt alone; there were always people to hang out with and share a meal with.

Travelled: December 2016
The highlight was undoubtedly reaching the base of the towers in Torres del Paine, but there were many other highlights as well. The tour staff were excellent – resourceful, knowledgeable and highly organised. The guides too were superb.

Travelled: March 2016
Melinda says
I loved helping an older traveller, who was a little nervous of travelling alone for the first time, to explore Patagonia in a like-minded group with whom he felt confident and comfortable. Finding a group with the right combination of hiking, relaxation, and age ranges can really make someone's trip.

Melinda Cleaver Patagonia Tailor Made Consultant
Ready to plan your Patagonia adventure?
1
Listen
We'll spend some time listening to your aspirations, then discuss the kind of experience that might suit you.
2
Match
Next we'll discuss the options, shortlist the best trips for you and present you our impartial recommendations.
3
Reserve
We'll place a 24 hour hold on your preferred option - without obligation - whilst we talk through the details.
Whatever your budget, group size, length of stay, preferred activity or appetite for adventure, we can help.
1-855-369-7866