Advice on hiking the W Trek
The 4-5 day route takes you to three iconic highlights

of the national park—French Valley, Base of the Towers, and Glacier Grey

It's the perfect introduction to

multi-day trekking

, with more challenging routes available for experienced hikers

The majority of trekkers stay in shared dorm rooms in mountain huts (refugios) or camp. But you can day hike to all the key landmarks of the W Trek while staying in a selection of Luxury Hotels

This trek does get

busy

, especially in December and January. Those looking for remote trails and solitude are better exploring some of the stunning

off-the-beaten-track

options in the park

Hiking isn't the only option - experience a whole different aspect of the park by

kayaking

,

horse riding

or

mountain biking

at the end of your trek



Hear what our experts have to say...
W Trek: The Route
The W Trek is normally walked east to west, starting at Refugio Las Torres and ending at Refugio Paine Grande. It runs up three valleys, creating the W shape that gives it its name. In each of those valleys lies one of the iconic sights of the park:
Ascencio Valley in the east takes you all the way to the base of the famous towers. The ascent to their base is a demanding 800m climb as part of a six to eight hour day of hiking.
French Valley - the central spur of the W is dominated by the hanging glacier Francés. This glacier cracks and crumbles ahead of you as you climb rocky terrain into the heart of the valley.
The final leg runs alongside Lago Grey, flecked with cobalt blue ice floes, up to the face of the enormous glacier that stretches out towards the ice cap.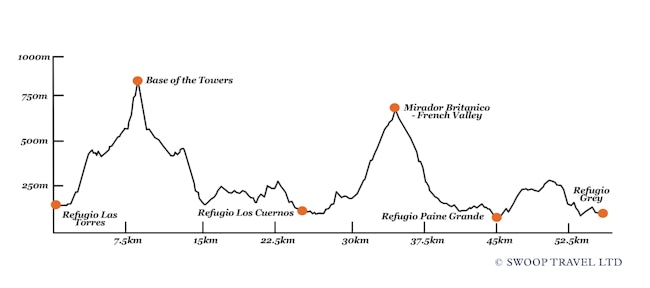 Harriet says
W Trek Accommodation
Refugios
If you follow the specific W Trek route then you will need to sleep in the mountain 'refugios' on at least two of the nights. Refugios are usually six-person dorm rooms with bars, basic restaurants, showers and—most of the time—hot water.

There are refugios at all the major stops on the trek, most of which are open year-round. They are fun and friendly places with a convivial atmosphere to share with your fellow hikers.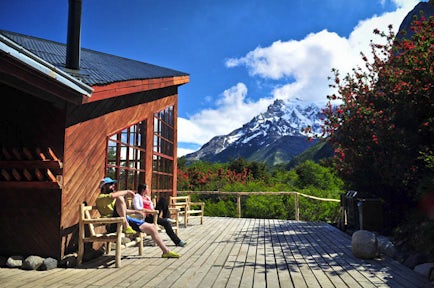 Refugio Cuernos
Glamping
Three different Glamping sites provide a base for day hikes to the three highlights of the W Trek with vehicle transfers at the start of each day before returning to your private yurt or eco-dome.
Alternatively, if you are happy in refugios for a couple of nights then you can base yourself in a private glamping dome with better food, services and comfort for the remaining nights of your trip.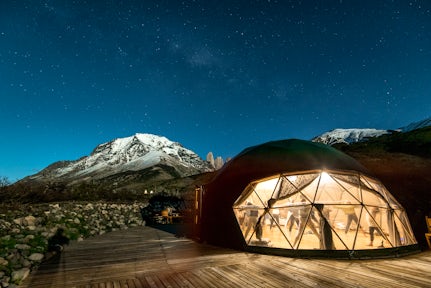 Cascada Yoga Dome at night, Torres Del Paine
Luxury
For hikers who want to see the highlights of the W Trek route and return every night to a Luxury room where they can relax in a spa and enjoy local gastronomy then there are also three Luxury Lodges from which you can explore.

The beauty of staying in a Luxury Yurt or Lodge is that you can choose the night before which excursion you will do the following day so you check the weather beforehand and see how you feel.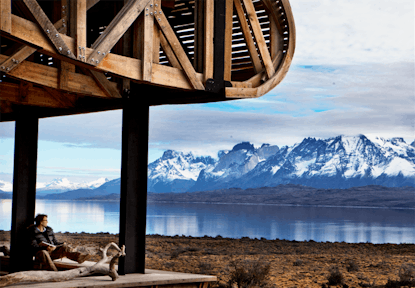 Lago Sarmiento and Paine Massif
Camping
Camping is available for all of the nights on the route. You can even rent a tent in each location if you don't want to carry your own around with you on the trail.

Please note that you must book your place at the campsite well in advance.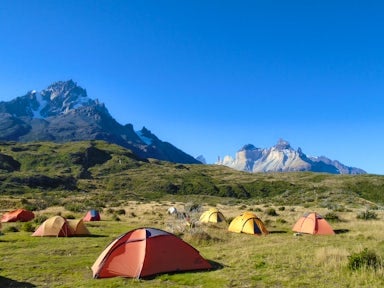 Camping at Paine Grande
Why Swoop
We've got our feet on the ground
Impartial advice and a bespoke service to make your trip perfect.
Deep Roots in Patagonia
We are former guides, tour leaders, outdoor enthusiasts & adventurers.
For The Ends Of The Earth
Swoop is proud to be B Corp Certified as we know sustainability is more than our carbon footprint (but we're reducing that too).
We're With You At Every Step
We'll make sure you have the adventure of a lifetime.

What Our Customers Think of The W Trek in Torres Del Paine
The W Trek in Torres Del Paine trips scored 4.3/5 from 705 reviews
Alternatives to the W Trek
The W Trek is undoubtedly Patagonia's most famous hiking route, and for good reason, so it does get busy and the high footfall is eroding the land around the trails. If you're looking for a quieter experience, or would like to reduce your impact on the land, then here are some alternatives for hiking in Patagonia:
For experienced hikers, and those looking for a longer trek or a more remote route, then the O Circuit will likely be more rewarding
If you're looking to experience the Patagonian Andes at their most remote and wild, we'd recommend the hiking in either Aysen or Tierra del Fuego
If you're short on time, then the peaks and glaciers in nearby El Chalten might be a more accessible alternative, especially if you're basing yourself in Argentina during your trip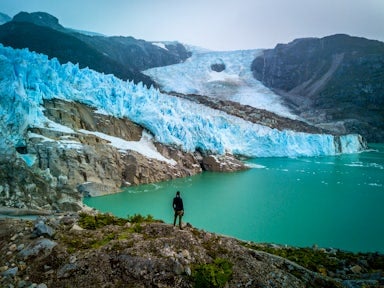 Leynoes Glacier in Aysen
Swoop says
The W Trek is rightfully popular and undoutbedly a great experience, but it can be very busy in peak season, mainly around Christmas. If you're looking for a bit more solitude, you can go in winter, explore other parts of Torres del Paine or head for some of Patagonia's other great trekking spots.

Ready to plan your Patagonia adventure?
1
Listen
We'll spend some time listening to your aspirations, then discuss the kind of experience that might suit you.
2
Match
Next we'll discuss the options, shortlist the best trips for you and present you our impartial recommendations.
3
Reserve
We'll place a 24 hour hold on your preferred option - without obligation - whilst we talk through the details.
Whatever your budget, group size, length of stay, preferred activity or appetite for adventure, we can help.
1-855-369-7866