Reasons to go
Covering larger distances means seeing more of what the park has to offer, by riding through pampas, forests, glaciers and mountains.
Experience the park through the eyes of gauchos whose families have been living and working on this land for hundreds of years
Enjoy authentic Patagonian hospitality at one of the many working estancias, where the views stretch for miles and the decor hints at a more rustic past
Ways to ride
Shorter rides
Get a taste of gaucho culture by spending a few days in the saddle, exploring Torres del Paine's ever-changing landscapes. Some shorter trips take you to some of the more remote landmarks in the national park such as Glacier Dickson, while others journey between some of the working estancias of the park, still owned by the families who have lived here for generations.
You can even leave the park on horseback and spend a few days travelling south along the Serrano River towards Puerto Natales, and on to your next adventure.
Wild camping is offered on some trips for those that want to sleep beneath a canopy of stars, while other trips offer luxury lodges and hotels between rides. Ask us about finding the right ride for you.
Horse riding in Torres del Paine
Longer trips for experienced riders
Horse riding enthusiasts are spoilt for choice in Torres del Paine. Whether you're looking for fast-paced, technical riding, a chance to trek across the park with your gaucho guides, or just to spend days exploring the wilderness, Torres del Paine will not disappoint.
Consider whether you are happy to camp out under the stars or want the luxury of a bed and hot shower every day, and whether you would like to visit some of the many working estancias in the park. Either way, you're guaranteed some spectacular riding by day and tales of old around the fireplace by night.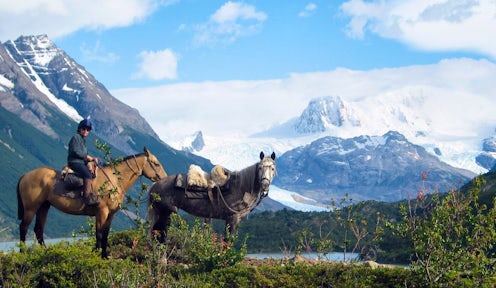 Riding from a luxury lodge
Many of the lodges include a few horse riding excursions as part of their all-inclusive packages, so you can spend a day exploring Torres del Paine on horseback before returning to a luxurious private room in the evening. Not only can you choose your excursions the night before, factoring in the weather and how your legs are feeling, you can intersperse horse riding with day hikes, fly fishing or bird watching.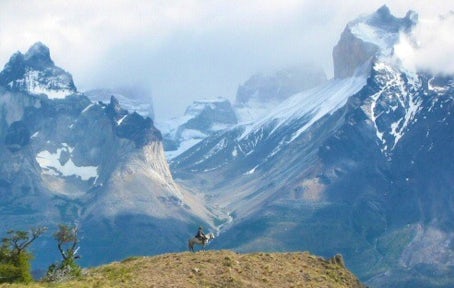 Riding in Torres del Paine
Estancias
Dotted around the national park are several working estancias, each of which act as a great base for a day or two of horse riding.
The experience here is rustic and authentic, far removed from the luxury camps and hotels in the centre of the park. It's one of your best opportunities to learn about the history and culture of Patagonia, and to meet some of the families that made this harsh landscape their home.
Some estancias are simple and comfortable, maintaining their old-style charm and offering bed and breakfast accommodation. Others are a little more upmarket, but all are situated in remote corners of the park, allowing you the freedom to explore off the beaten track.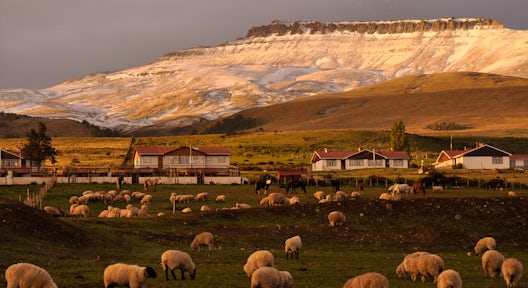 Swoop says
Combine horse riding with hiking, kayaking or fishing to see the many different faces of the national park. Ask us about the best way to weave in some time on horseback with the rest of your Torres del Paine adventure.
Discover Specialist Trips
Patagonia offers an array of unique adventures catering for all variety of activities. At Swoop we pride ourselves on being adventure specialists whether that adventure be kayaking, mountain biking, horse riding, birdwatching, puma tracking, fishing, climbing, mountaineering or rafting.
Find out more
Ready to plan your Patagonia adventure?
1
Listen
We'll spend some time listening to your aspirations, then discuss the kind of experience that might suit you.
2
Match
Next we'll discuss the options, shortlist the best trips for you and present you our impartial recommendations.
3
Reserve
We'll place a 24 hour hold on your preferred option - without obligation - whilst we talk through the details.
Whatever your budget, group size, length of stay, preferred activity or appetite for adventure, we can help.
1-855-369-7866