Life Before Swoop
My fascination with wildlife and the natural world has taken me across the globe on life-changing adventures, which have ultimately shaped my career. From safaris in the Masai Mara and camping in the heart of the Amazon Rainforest to trekking up volcanoes, witnessing mountain gorillas, and diving with sharks on the great barrier reef – when it comes to wildlife there's not much I haven't seen.
My craving for wildlife encounters eventually led me to Africa, where I worked on several wildlife conservation projects focusing on the protection of the African lion. Living in the African bush in a remote game reserve was one of the most eye-opening experiences of my career but there was still a strong desire to return to the wilds of Patagonia and become an adventure guide. So, Chile and Argentina came calling.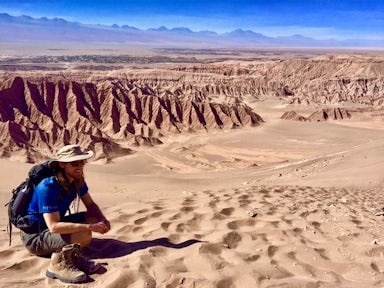 Taking a breather in the Atacama Desert
My Patagonia experience
After finally moving to Chile, I became a guide in the Atacama Desert, Torres del Paine National Park, and also the newly-created Patagonia National Park in the Aysen region. I spent my first four years trekking, mountaineering, mountain biking, horse riding, leading astronomy tours, getting to know the incredible flora and fauna and discovering the wonders of the Chilean and Argentine Lake Districts. Guiding has taken me from top to bottom of Chile's diverse landscapes and has taught me everything I know about Patagonia.
After four years of guiding guests from all over the world in national parks and wilderness areas, the opportunity to put all my knowledge and expertise into crafting and putting together awesome trips for Swoop was too good an opportunity to miss.
On the search for Chile's unique and elusive wildlife
Why I love Patagonia
Patagonia is one of the only regions in the world that doesn't have boundaries. It is not a country but a vast region of wilderness that is still largely unpopulated. Patagonia's diversity amazes me every single day. You can be trekking in the most humid temperate rainforests on Earth to the windswept open plains of the pampas littered with thousands of guanacos on the same day.
However, if I had to nail down one reason why I wanted to live and work as a guide in Patagonia, it would be the ability to get off the beaten track and find yourself in complete isolation and remoteness. Quite simply, I haven't been to a better place in the world to go camping and trekking than Patagonia!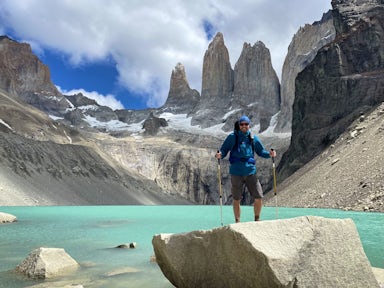 Standing at the base of the towers
Day to day at Swoop
I work as a Patagonia Specialist as part of Swoop's global team based up in the Atacama Desert in Chile. I take regular trips down to Patagonia to get my "Patagonia fix" and to keep up to date with our awesome partners on the ground.
My mission is to inspire others to follow in my footsteps and create life-changing moments and everlasting memories of their own across Patagonia and this amazing continent as a whole!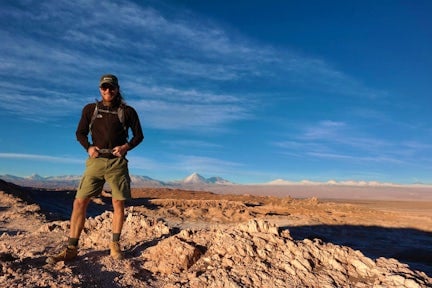 Trekking through the Salt Mountain Range in the Atacama Desert

What our customers think of Danny
This was a very different type of trip than I have ever taken before so having a great company to help plan and manage all the little details was a huge stress releave. Read the full review

Travelled: January 2023
Our team from start to finish was incredibly helpful and responsive to all questions and concerns and made us feel very supported. Read the full review

Travelled: January 2023
My experience was excellent working with Danny and Lewis Read the full review

Travelled: December 2022