Aysen Fishing Guide
Aysen is located in the middle part of Patagonia in Chile. It is a magical place of snow-capped peaks, crystal clear waters, lush forests and glacial mantles. The flora is varied and beautiful and these unique landscapes make the perfect habitat for condors, eagles, ibis and giant kingfishers. There is still a strong "gaucho" tradition here, and you will often see cattle being driven on horseback.

Best Time to Go
The fishing season begins in the Aysen region in October and extends until mid-May. It attracts seasoned and amateur anglers from around the world throughout the season. However Aysen is incredibly sparsely populated so despite its popularity, you will often have whole stretches of river to yourself.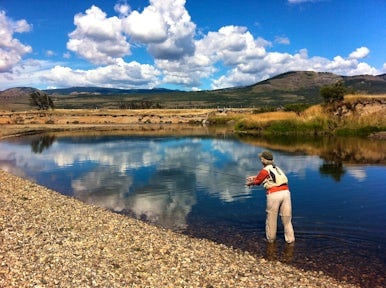 Best Fishing Spots
Baker River - Known as the "fishing mecca" of the region. Rainbow trouts are in abundance here making it perfect for fly-fishing. The Baker River is the main drain of the Bertrand Lake.
Aysen River - For those seeking prize Fario trout, this is a real hotspot. Specimens have a weight between 0.5-1kg. This is a classic place to visit on your Aysen fishing trip.

Simpson River - Arguably one of the four best rivers in the world for fly-fishing. Fario and rainbow trout, coho, and Chinook can be found here.

Riesco Lake - This 14km long lake is well known for producing trout and salmon species weighing up to 1.5kg.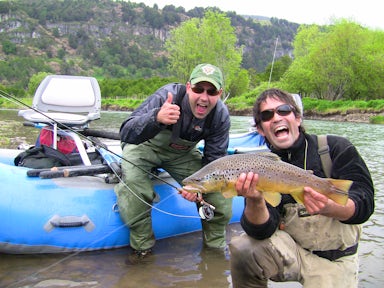 How to Get There
Balmaceda Airport is the main airport serving the Aysen region. Coyhaique town is the capital and largest city in the region with a population of around 50,000 people. The city is a major launchpad for many of the more remote lodges dotted around the valleys and forests.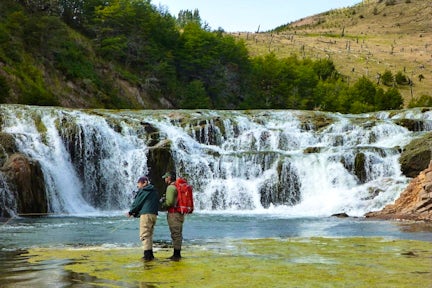 Questions about Fishing in Aysen
Plan a Tailor-made Holiday
Want to include Fishing in Aysen in a 2-3 week itinerary? We know Patagonia inside out and can help craft your dream adventure.
Design My Trip
Book Direct with a Patagonia Guide
Want to speak to a Fishing in Aysen guide in Patagonia? We have a network of over 200 specialist guides, only a few clicks away.
Introduce Me
Fishing Lodge
Estancia Arroyo Verde is a family-run fishing lodge in the Argentinian lake district, with just 5 rooms and a private lakeside cabin. This estancia sits by the river Traful in Nahuel Huapi National Park and offers a comfortable base for fly fishing, as well as trekking and horse riding.

Estancia Arroyo Verde