Reasons to visit Cape Horn
Get your passport stamped at the southernmost tip of the world
See the point where the Atlantic and Pacific oceans meet, a narrow spit of land at the very tip of the island
Take a moment to remember lost mariners at the Cape Horn memorial, a statue designed to withstand winds of up to 200mph
Explore the lighthouse at the Chilean naval station
See the home of the island's guardian, who lives here and receives all supplies from the cruise ships

History
The first accounts of Cape Horn date from the early 17th Century, when the Dutch East India Company had a monopoly on trade to the Far East. Whilst searching for an alternate route to the Straits of Magellan, Isaac Le Maire, Guillermo Cornelio and Juan Schouten came across what they believed to be the southernmost tip of Tierra del Fuego, beyond which was the 'great South Sea'. They named it Cape Horne, after the city of Hoorn in the Netherlands.
The Drake Passage became a major shipping route. Testament to the wildly unpredicatable weather and seas, less than 1,000 kilometres away, Antarctica remained undiscovered for another 200 years.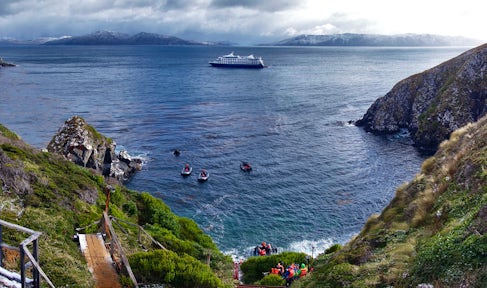 Zodiac landing at Cape Horn
Visit Cape Horn
Adventure cruises
Adventure cruises sail between Ushuaia and Punta Arenas, stopping off on Cape Horn to fit this historical site into an itinerary full of glaciers, wildlife, waterfalls and forests. The emphasis on these cruises is getting out and about, expect daily landings to explore secluded bays, and zodiac excursions to get up close to marine life.
The waters in this region are rough, and high winds can make landing tricky. Keep seasickness tablets handy, and be prepared to turn back if the conditions change for the worse. Some cruises incorporate two landings into the itinerary for the best opportunity at reaching the island.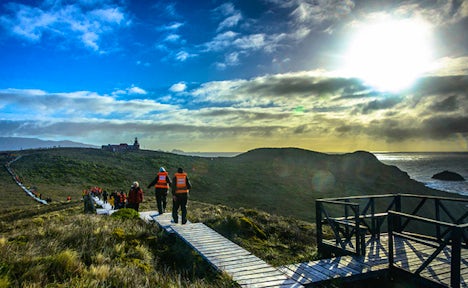 Iain says
The seas were rough, and two of the crew donned full-body dry suits and sumberged themselves in the icy waters to guide the zodiacs to shore - it was all very exciting! After disembarking we were met by the resident lighthouse keeper, who receives his weekly re-supply from the ship.

Iain Rylance Patagonia Sales Manager
Fly over Cape Horn
A privileged view of the end of the world, that not many get to see. Board a small plane on Isla Navarino, and fly over the imposing Dientes de Navarino range, Nassau Bay and Wollaston Island, before flying over Cape Horn. You'll get unparalleled sights of the island's famous lighthouse, the guardian's house and the gigantic albatross monument dedicated to lost sailors.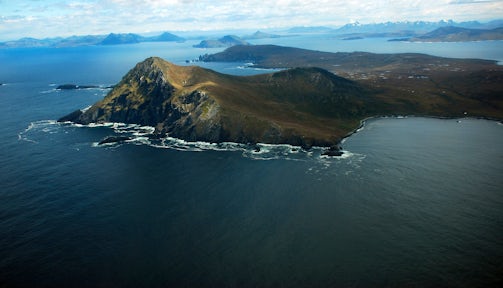 Sail to Cape Horn
Surely an adventure on any sailor's bucket list. From aboriginals in canoes to pioneering explorers of the 1600s, the Beagle Channel and Cape Horn have been a source of travel and adventure for sailors for hundreds of years.
Spend up to 2 weeks exploring the mountains, glaciers and forests that make up the Tierra del Fuego archipelago. With an expert skipper guiding you around changing weather conditions and directing you to some of the most beautiful secluded parts of the region, you'll visit Cape Horn and many other highlights.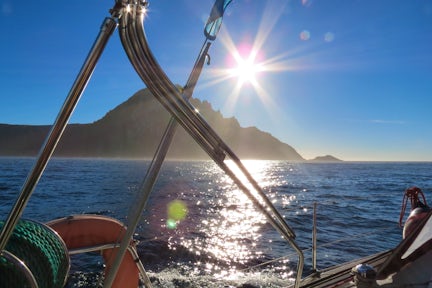 What our customers think of Cape Horn
Cape Horn trips scored 4.5/5 from 145 reviews
Cape Horn was the most anticipated and most memorable experience but the other zodiak trips were truly exciting as well. Read the full review

Travelled: April 2018
Angie Littlefield - Canada
Cruises to Antarctica
Why not combine your luxury tour of Patagonia with an Antarctic cruise? Most Antarctic voyages begin in Patagonia, setting off from Punta Arenas or Ushuaia - the World's most southerly city.
Antarctica is like nowhere else on Earth. You can see the White Continent in 6 to 32 days, depending on your budget and appetite for adventure. We offer a wide variety of trips, some of which visit the Falkland Islands and South Georgia, cross the Antarctic Circle or include kayaking, camping and skiing in Antarctica.
Find out More about Antarctic Cruises
Ready to plan your Patagonia adventure?
1
Listen
We'll spend some time listening to your aspirations, then discuss the kind of experience that might suit you.
2
Match
Next we'll discuss the options, shortlist the best trips for you and present you our impartial recommendations.
3
Reserve
We'll place a 24 hour hold on your preferred option - without obligation - whilst we talk through the details.
Whatever your budget, group size, length of stay, preferred activity or appetite for adventure, we can help.
1-855-369-7866