Visit Ushuaia
The last point before Antarctica, Ushuaia is located in Tierra del Fuego or 'Land of Fire', known for its wild and remote landscape and the place where Darwin formed his theory of evolution. Get under the skin of Ushuaia on an Ushuaia Tour.
Take a day trip out to the Tierra del Fuego National Park, a wild and remote park waiting to be explored
Board an adventure cruise and sail up to Punta Arenas via Cape Horn and the Magellan Strait
Hang out with penguins and sea lions on the islands dotted along the Beagle Channel
Canoe and kayak in the bays and rivers at the end of the world
Prepare for your multi-day hike exploring deep into the rugged landscape around the city

Things to do
Highlights and wildlife-spotting
One of Ushuaia's huge draw factors is the amount of variation you can cram into a few days. Swot up on history by visiting Ushuaia's first working estancia, Estancia Harberton, and the famous Les Eclaireurs lighthouse. Walk amongst hundreds of curious penguins on Martillo Island, or sail to cormorant-filled Birds Island and vocal Sea Lion Island. Catch and prepare your own crabs at Argentina's southernmost fishing village, trek through forests to mystical hidden lagoons and kayak your way around glistening bays and rivers.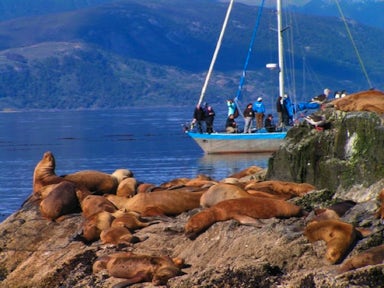 Cruises
See the very best of all Tierra del Fuego has to offer on an adventure cruise. You can take a 4-day cruise from Ushuaia to Punta Arenas (5-days vice versa), rounding Cape Horn before travelling up the Magellan Strait and along the coast of Chile. Here, sights will vary from glaciers and forests, to penguins and sea lions, and you'll make daily excursions in Zodiac boats to explore the region.
Cabins are comfortable and there's an open bar, four-course meals, evening entertainment and talks from the guides each day. We wholeheartedly recommend sitting back with a glass of cava as you sail past Glacier Alley; five hanging glaciers inaccessible by any other means.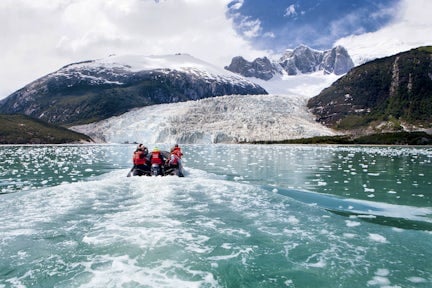 Pia Glacier, Southern Patagonia
Hiking
This is one of the remotest regions in Patagonia, and there are some truly wild and challenging areas to be explored. There are lots of day hikes to be had around the Tierra del Fuego National Park, but Ushuaia is also the perfect base to spend a few days before starting a multi-day trek:
The three-day Montes Martial trek starts right from the city
Take the boat from Ushuaia port over to Isla Navarino for five days on the challenging Dientes de Navarino trek
Prepare with your guide before setting off on the Tierra del Fuego Crossing, which starts north of the city at Lago Yehuin before winding down to the Beagle Channel over seven days
A short ride out of the city begins the Sierra Valdivieso four-day hike, a wild camping, mountainous route along Tierra del Fuego's largest lake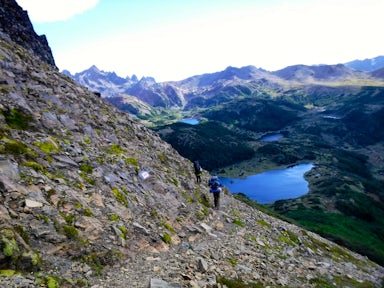 Dientes de Navarino Trail, Tierra del Fuego
Sally Dodge says
Two things that people might not realise about Ushuaia are firstly that it's a great point from which to go north as well as south, and secondly that you can buy a penguin there made out of just about anything. Stone, cork, tin, chocolate...
About Ushuaia
History
In 1833, a 23-year-old Charles Darwin joined the British Expedition on the HMS Beagle to survey the southern tip of South America. Darwin travelled with Captain Fitzroy who would eventually take four people of the native Yaghàn tribe back to England, with the hope of 'civilizing them' through teaching them the Catholic faith and the English language. The tribe has now died out, but you'll find references to them throughout the city.
A more successful story comes from missionary Thomas Bridges, who settled in Ushuaia in 1869 and spent his life studying indigenous culture and language. A keen linguist, he compiled a dictionary of over 30,000 Yaghan words. You can still visit his well-preserved house, Estancia Harberton, on a day trip from Ushuaia.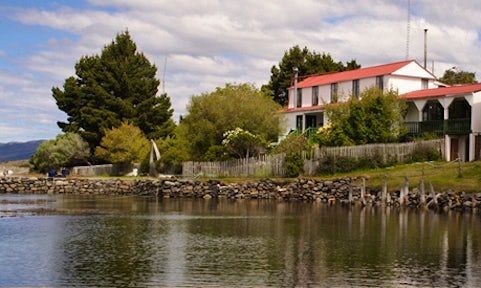 Between 1884 and 1947 the Argentine government established the entire city as a penal colony, hosting some of Argentina's most notorious criminals and political prisoners. Today, the city has grown through the importance of its naval base, and all that remains of its dark history is the fascinating Prison Museum, allowing the curious to discover maritime artifacts and displays amidst untouched former prison cells.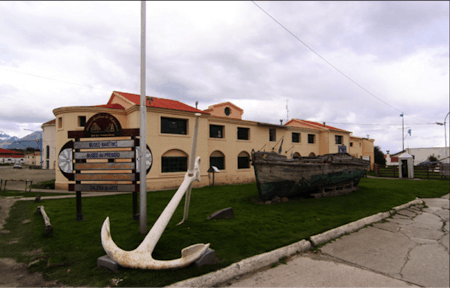 Where to stay
The views over the Beagle Chanel are some of the most impressive sights in Ushuaia, and it's well worth the short taxi ride up into the mountains to get to find them. A number of hotels perch on the mountainside up here, ranging from luxurious spas to more authentic mid-range options. In the town itself, there are a few gems to be found, but most hotels are clean and comfortable and simply good stopping points after a day exploring.
Getting there
The most direct way of getting to Ushuaia is flying from Buenos Aires (3.5 hours) or El Calafate (1.5 hours). To find out more about flights, see our Patagonia flights page.
You can arrive by bus from Punta Delgada in Chile, a route which involves the bus boarding a ferry that travels down Rio Grande before arriving in Ushuaia. This bus trip is scenic but long, taking over 12 hours.
For a more interesting route from Chile, take an adventure cruise from Chile, 5-day route along the fjords and islands of the Chilean coast around Cape Horn and through the Magellan Strait, finishing in Ushuaia. With the opportunity to get up close to whales, trek inland to glaciers and explore some hidden bays and forests, this route really makes the most of your travel time to Ushuaia.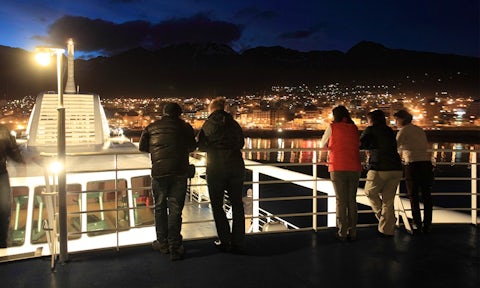 What our customers think of Ushuaia Tours
Going to the king crab dinner. It was so cool to have a crab fisherman go to get us our own king crab. The taste was amazing. Read the full review

Travelled: February 2022
Getting to Antarctica
Livingstone Island in Antarctica lies 950 km from Ushuaia, a 2 day sail across the famous Drake Passage. Express trips are available, but trips to Antarctica are generally a few weeks in duration, sometimes lasting up to 23 days. Ask our Swoop Antarctica specialists about the best way to combine a visit to the white continent with your Patagonian adventure.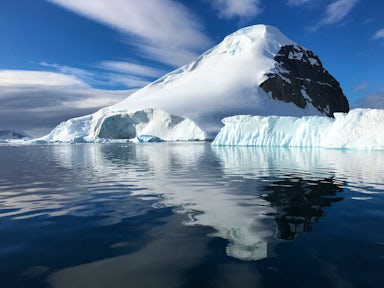 Tierra del Fuego Cruises
From Ushuaia in southern Argentina, you can embark on an adventure cruise through the Magellan Straits, Tierra del Fuego and down to Cape Horn, getting up close to glaciers, penguins and whales.
Find out more about exploring Tierra del Fuego from the water:
Tierra del Fuego Cruises
Ready to plan your Patagonia adventure?
1
Listen
We'll spend some time listening to your aspirations, then discuss the kind of experience that might suit you.
2
Match
Next we'll discuss the options, shortlist the best trips for you and present you our impartial recommendations.
3
Reserve
We'll place a 24 hour hold on your preferred option - without obligation - whilst we talk through the details.
Whatever your budget, group size, length of stay, preferred activity or appetite for adventure, we can help.
1-855-369-7866