Life before Swoop
I grew up in a small village in the French Alps, so mountains have always been a part of my life. I started studying psychology but I decided to switch to tourism, believing that travel is the best therapy.

In 2012, I decided to travel to Chile and I liked it so much that I never left! Since then, I've continued exploring this beautiful country a little more each year, and I can proudly claim that I am now "Chilenizada" (Chileanised!).
I have been working with travellers planning trips to Patagonia for six years now and each time I travel to the south I fall a little more in love with the landscapes and wildlife. In my free time, I hike around Santiago or go to the beach to enjoy the sounds and beauty of nature. I love outdoor activities like wildlife watching, horseback riding, photography, running and hiking.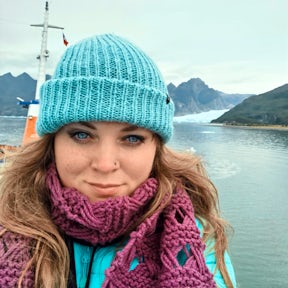 Glacier San Rafael
My Patagonia experience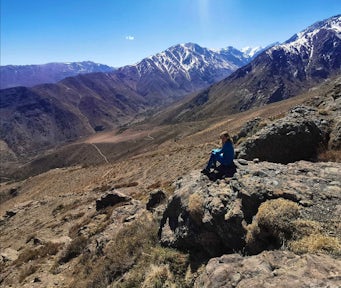 At Yerba Loca near Santiago, Chile
I've hiked the W Trek trails of the Torres del Paine National Park in every season of the year, slept in cozy lodges, and camped in the rain. My favourite month is April for the colours of the leaves and the mushrooms growing everywhere.

I've explored many glaciers in Argentina and Chile, including Perito Moreno, Upsala, Cagliero and Exploradores. I've kayaked in the frozen waters surrounding Glacier Grey, galloped across the Argentinian steppe, run through the woods of the Lake District and bathed some of the most beautiful hot springs of the world.
I've seen whales, seals, penguins, woodpeckers and hummingbirds, but also 3,000-year-old trees and rare orchids. I've learned about mystical beings on Chiloé Island, played a Mapuche 'Palin' game in a local community, eaten the best empañadas with gauchos (skilled horsemen) and fresh king crab from the Strait of Magellan. Patagonia is so full of wonder and beauty, you could never run out of things to do, and I still marvel with every visit!
Day to day at Swoop
I work remotely from the Chilean capital of Santiago helping customers find their perfect trip, just as I would do for my friends or family. I can definitely give the best tips for restaurants, hotels, activities, and places to see!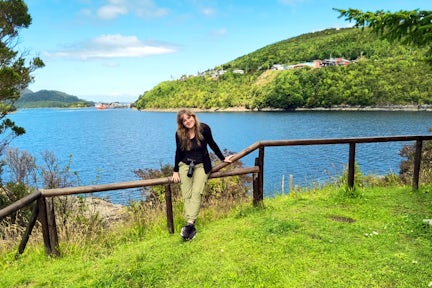 At Puerto Aguirre
Why I love Patagonia
Patagonia is one of the few places on Earth where everything seems almost unchanged like it would have been thousands of years ago, before the arrival of humans. It's brutal and beautiful, shaped by strong winds and extreme climate. Simply standing among its vast landscapes gives you an indescribable feeling of humility, of being one small being in an immensity at the edge of the world.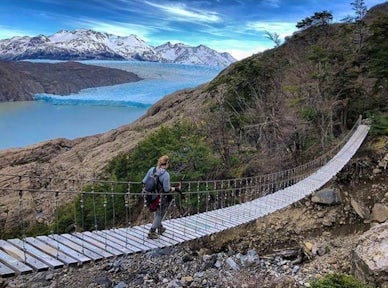 Crossing the hanging bridge over Grey Glacier Lake

What our customers think of Chloe
Chloe with the Patagonia team in particular was very knowledgeable and put together an itinerary that we just loved.

Travelled: February 2023
Thank you, Chloe, for an incredible introduction to Patagonia. Your thorough and super knowledgeable approach is a HUGE reason why we went with Swoop. And we're so excited to experience (and share with you!) the fruits of your labor. We're very grateful for all you've done!

Travelled: December 2022
Chris Gaffari - United States Of America
Thank you to Chloe for being so quick to answer and looking at different options for me at a time I wasn't sure about my plans. Read the full review

Travelled: December 2022
Helena Atkinson - South Africa
Really good experience booking through Swoop from start to finish, Chloe was very helpful and helped us plan our experience. Read the full review

Travelled: June 2022
Our Swoop booking agent, Chloe, was also fantastic. She was very responsive and patient with all of the questions we had. Read the full review

Travelled: February 2022
Working with Chloe was great. She was very responsive to all of our questions. The Adventure Planner kept us on schedule with preparation tasks and removed a lot of stress around getting ready for the trip. Read the full review

Travelled: February 2022
Chloe is very professional and helpful; made a good plan for me. I enjoyed the trip and love Chile! Read the full review

Travelled: January 2022
Chloe and her colleagues at Swoop were extremely friendly, responsive and professional. They answered our many questions quickly and were very knowledgeable. Read the full review

Travelled: January 2022
Chloe was an absolute superstar, a real credit to your company. She helped me so much. I'm really grateful to her; she is very knowledgeable and passionate about Chile. Read the full review

Travelled: January 2022
Just to say a big thanks...I have been travelling on my own since the trek finished..and it's proving hard work..having the support and infrastructure is vital...I could never have done the W Trek without it... Read the full review

Travelled: January 2022
My next adventure
Wherever, whenever, there are so many things on my bucket list! I would love to cross the Andes by horse and also learn how to surf.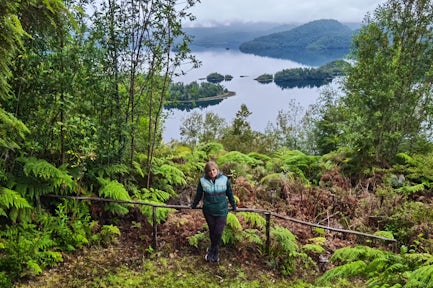 At Quitralco
Ready to plan your Patagonia adventure?
1
Listen
We'll spend some time listening to your aspirations, then discuss the kind of experience that might suit you.
2
Match
Next we'll discuss the options, shortlist the best trips for you and present you our impartial recommendations.
3
Reserve
We'll place a 24 hour hold on your preferred option - without obligation - whilst we talk through the details.
Whatever your budget, group size, length of stay, preferred activity or appetite for adventure, we can help.
1-855-369-7866