Life before Swoop
Never one to take the direct or easy path (much as I might try), I came to Swoop by way of a PhD in English Literature. A life in academia is hardly the obvious prerequisite for working in travel, but here I am! And in fact, I had been training for this all along.
Thanks to the school year's very convenient Christmas breaks and 3-month summer vacations, I've been able to spend the better part of the last decade hiking some of the most incredible trails in the United States and across the globe.
Since becoming infatuated with trekking on my first visit to Torres del Paine and El Calafate in 2013, I've done multi-day hikes through Canada, Italy, Iceland, Switzerland, Norway, and more - steadfast in my conviction that the vistas always look better, the food always tastes better, and the beds (or sleeping bags) always feel better when you have to work for it.
Patagonia makes you work for it. Nowhere plays hard-to-get (or harder to get to!) quite like Patagonia. But when you earn it, you better believe it's worth it.

When I'm not out adventuring, I can be found at home on lounging on my couch in sunny Southern California, either reading a good book, watching inordinate amounts of television, or - of course - planning my next trip and yours!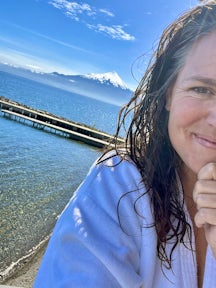 Swimming near Osorno Volcano
Day to day at Swoop
Thanks to our ever-expanding US-based team, the sun almost never sets on the Swoop empire. I work remotely from Los Angeles, helping provide this round-the-clock service to our Patagonia-bound customers.
I love planning trips nearly as much as I love going on them, and in my role here I get to do that all day, chatting with travellers about their ideal Patagonia experience and making sure that their own planning process is as simple and seamless as possible.
On the Loma del Pliegue hike
Why I love Patagonia
Sometimes it's good to have a reminder of just how small we are on this planet, and nowhere makes me feel smaller (in all the best ways!) than Patagonia. Towering peaks, sprawling plains, and a starry sky that goes on and on and on…
The sheer scale of Patagonia is nothing short of sublime, and being in this transcendent place at the end of the world puts everything else into perspective.
Gazing out at Los Cuernos, 'The Horns of Patagonia', in Torres del Paine

What our customers think of Sydney
The next adventure
If there is a mountain with a view, I want to hike it. If there happens to be a hut there with a warm bed and a warm meal, even better. I'm on my way.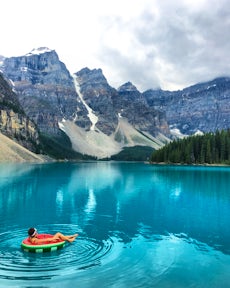 Relaxing on holiday in Canada
Ready to plan your Patagonia adventure?
1
Listen
We'll spend some time listening to your aspirations, then discuss the kind of experience that might suit you.
2
Match
Next we'll discuss the options, shortlist the best trips for you and present you our impartial recommendations.
3
Reserve
We'll place a 24 hour hold on your preferred option - without obligation - whilst we talk through the details.
Whatever your budget, group size, length of stay, preferred activity or appetite for adventure, we can help.
1-855-369-7866