Reasons to go to Puerto Varas
A picture-perfect entry point to the Chilean Lake District, with its stunning lakeside setting overlooked by two volcanoes, and rich architectural heritage.
Easy access to hikes around Osorno Volcano in Vicente Pérez Rosales National Park, and the ancient alerce trees in Alerce Andino National Park.
A host of mountain biking trails, from adrenalin-packed descents to relaxed tours between microbreweries.
The starting point for kayaking adventures with dolphins and sealions in the gateway to Chile's fjords.
Starting point for the cross-border Cruce Andino to Bariloche in Argentina
About Puerto Varas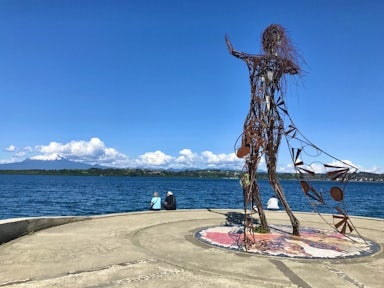 Lakeside view from Puerto Varas
Dubbed Chile's 'City of Roses', the German immigrants who settled Puerto Varas in the 1850s chose its location well, striking ground in an almost obscenely pretty spot on the shores of Lake Llanquihue facing the 2650m snowy peak of Osorno Volcano. Its modest charms today make it an increasing rival to Pucón as the Chilean Lake District's main adventure sports hub.
In between adventures, Puerto Varas is worth exploring for the colonial architecture that still dominates much of the town centre. Most impressive is the Iglesia del Sagrado Corazón (Church of the Sacred Heart), dating from 1915, which seems to have been teleported straight in from the German Black Forest, and is brightly lit at night. Local maps allow you to follow the well-marked Paseo Patrimonial to learn more about the town's heritage.
While Puerto Varas abounds in day adventures, but if you can't decide which activity takes your fancy, Swoop has put together a highly customisable trip based in Puerto Varas that can be easily tailored to suit your interests. You can hike the Vicente Pérez Rosales National Park to visit the Petrohue Falls, enjoy a day of kayaking where Patagonia's fjords begin, or just enjoy the lakes and local breweries on a bike and beer ride – choosing your own accommodation to suit your tastes and budget.
What to See & Do in Puerto Varas
Day hikes in three national parks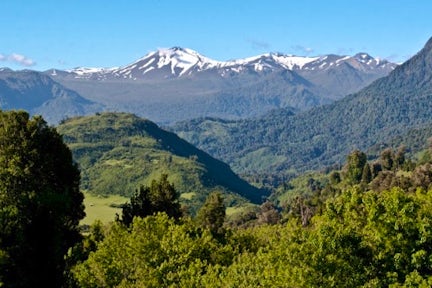 Hiking around Puerto Varas can take a number of different forms. There are multiple accessible day hikes from the town to a plethora of stunning locations: choosing which to do will be the difficult part.
One of our favourite hikes covers a large and scenic section of the Vicente Pérez Rosales National Park, where you are treated stunning views over the volcanoes and the lakes that surrounded this section of the park. The Andes mountains emerge on the horizon as you strike out for the sapphire waters of Lake Todos Los Santos where you end the hike. The return journey diverts via the Petrohué Falls, where water cascades channels formed from eroded lava flows. There's the option to end this hike with a night in the historic Hotel Petrohué on the shores of Lake Todos los Santos before returning to Puerto Varas.
Another national park easily explored on a day hike is Alerce Andino, taking you along the coast to the beginning of the Carretera Austral. This gentle hike you'll cover 16kms taking approximately 5 hours (for those looking for a bit more of a challenge an additional loop can be added of 4kms to visit the Sargazo Lagoon). Inside the park, you'll be surrounded by exuberant temperate rainforest, including Chile's famous ancient alerce trees. The road to the park offers views of the northernmost of Patagonia's mighty fjords. It's a short hop from here by boat across the Reloncavi Sound to the entrance of the little-visited Hornopirén National Park, with its own temperate rainforest trails and volcanoes to explore.
Multi-Day Hikes from Puerto Varas

What our customers think of Puerto Varas
Walking into our room at AWA Hotel in Puerto Varas and seeing the Osorno Volcano against the clear blue sky, in all its glory in the floor-to-ceiling window. Read the full review

Travelled: November 2022
Mountain biking
Taking to the saddle of a mountain bike allows you to explore further afield on day trips from Puerto Varas. One of the best day rides is through Vicente Pérez Rosales National Park on the Paso Desolacion Trail from Puerto Clocker located on the shore of Lake Llanquihue Lake to Petrohué at Lake Todos Los Santos. This trail is all about cross country descents through forests and old lava fields, and the views (as well as the speed and adrenaline of the trail) are incomparable.
The Bike and Beer ride offers beautiful views of the lake and the volcanoes with plenty of refreshment along the way. The route follows the backroads to the lakeside town of Llanquihue, home to the Chester Beer brewery, and then on to Frutillar, a town famed for its preserved German architecture and Teatro del Lago arts centre. Here, a visit to the lakeside Salzburg brewery is a refreshing way to end the journey.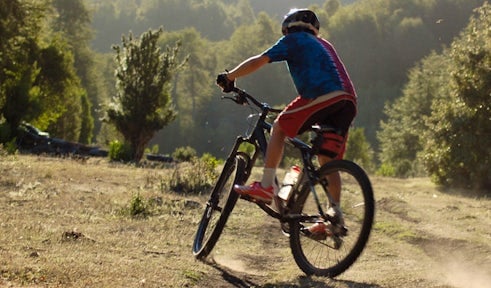 Osorno Volcano
Starting at Vicente Perez Rosales National Park. You will be transferred past Lake Llanquihue to the start of Paso Desolacion Trail. Paso Desolacion is a trail that crosses the Osorno Volcano from the small town of Puerto Clocker located at the shore of Llanquihue Lake, to Petrohue at Todos Los Santos Lake. It is a total 24 Km journey, with cross country descents by volcanic areas and forests. The views, as well as speed and adrenalin we can achieve on this trail are incomparable. We will need all our effort and concentration to reach Petrohue, where the journey ends. After commenting on the trip, we'll have lunch and replenish energy and then return to Puerto Varas in a private vehicle.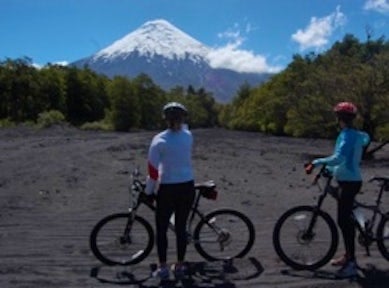 Sea kayaking the Reloncavi Fjord
Puerto Varas offers easy access to the start of Chile's jaw dropping fjords, which run in a crinkled line all the way south to Cape Horn.
The mouth of Reloncavi Sound can be explored by sea kayak, paddling around peninsulas to sea lion colonies and in front of the snowcapped Yates and Hornopirén volcanoes, and pulling up at a local farm for lunch cooked on a wooden stove. The kayaks offer plenty of opportunities for wildlife watching, including the chance to see dolphins, as well as plenty of sea birds. Across the fjord, granite walls mark the entrance to Cochamó valley, a world-renowned climbing destination.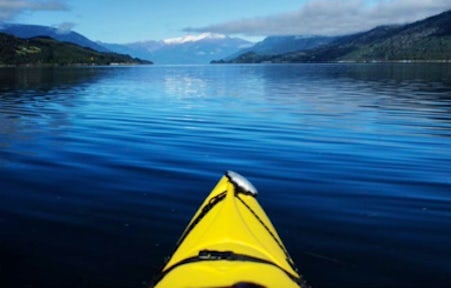 Tailor-made Holidays
Patagonia is a vast and varied region, with a wealth of things to see and do, a range of places to stay and a limited transport network.
Why not let us do the hard work for you? Our team of experts will work with you to design an adventure to your exact requirements, from hiking and horse-riding trips to wine-tasting tours and undiscovered lodges.
We'll work around your budget and arrange flights, transfers and buses, to create your perfect trip.
More About Tailor-made
Where to stay in Puerto Varas
There are plenty of good accommodation options around Puerto Varas, either in the town itself or slightly outside on the shores of Lake Llanquihue. We have access to a variety of hotels, boutique hotels and cabins according to your requirements and budget.
If you want to stay in Vicente Pérez National Park itself, the Petrohué Lodge on the shores of Lake Todos los Santos is a great option to put you in the middle of everything for hikes, kayaking and rafting.
How to get to Puerto Varas
The main entry point to Puerto Varas is Puerto Montt's Tepual airport (code PMC), just 22km south of the town. It is served by both LAN and Sky Airlines, and has plentiful flights to Santiago (two hours), as well as south to Punta Arenas to get to Torres del Paine National Park.
Most long distance transport from Puerto Varas passes through (or starts in) Puerto Montt, half an hour away. It takes around four hours to drive the 320km north to Pucón; long distance buses take 12 hours to get to Santiago.
Puerto Varas is the western terminus of the Cruce Andino route to Argentina: the combination bus and ferry ride through the lakes to Bariloche. From Puero Varas, a bus takes you to Petrohue on Lake Todos los Santos, for boat the border; the entire trip takes a day.