All-Inclusive Adventures
All-inclusive adventures in the Atacama allow you to base yourself in a luxury lodge in San Pedro de Atacama where you enjoy much more than the amazing architecture, the fantastic restaurant and peaceful atmosphere.
These lodges take quality of service to another level by providing an exciting daily range of guided excursions and adventures to cater to every taste.You then choose what to do each day. These are all-inclusive adventures like no other...
Awasi
Awasi offer 'tailor-made' journeys, rather than 'all-inclusive' programs. They offer a 4x4 vehicle and personal guide for each room who will meet you at the airport and help you to plan the whole of your stay at Awasi.

The walled environment creates an intimate oasis of calm with fire pits, sun shades and plenty of trees. The restaurant here is particularly well-regarded.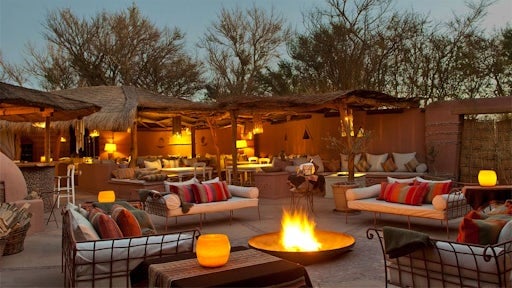 Explora
Explora built their reputation upon being the first luxury hotel group to move into Patagonia and have since expanded to include the Atacama in northern Chile.
They offer the largest range of excursions for active travellers, including hiking, horseriding and biking, and have the best observtory in San Pedro - their astral tours are awe-inspiring.
The four large swimming pools provide fantastic relaxation after a day's adventuring.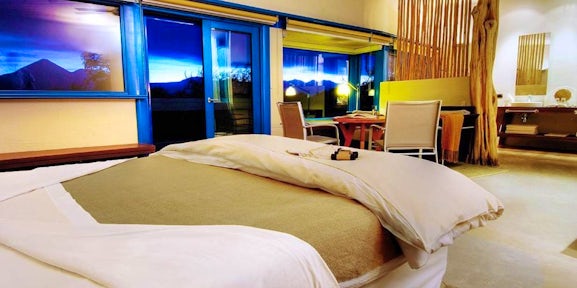 Tierra
Tierra Atacama's philosophy is to be an 'adventure spa' - somewhere that allows you to explore the breath-taking desert landscape as actively as you please, and return each evening to a peaceful and relaxing retreat.
The views from this lodge are the best, by far, in San Pedro, overlooking the oasis garden to volcanic peaks. They also have the top spa and pool facilities in the town.
The 'quincho' on Saturday evenings is not to be missed.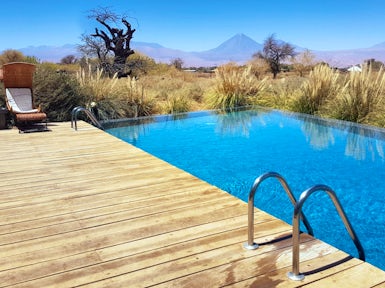 Tierra Atacama
Alto Atacama
The Alto Atacama, 3km north of the town centre, stands out for its 'Andescape' philosophy, seeking to fit into its surrounding environment in every way possible. It's adobe construction and well-kept desert garden take inspiration from local culture and tradition.

The bar opens to a terrace with fire pits; there are five outdoor swimming pools and two hot tubs. This is an excellent location for astral tours due to zero light pollution.

Please enquire for more details.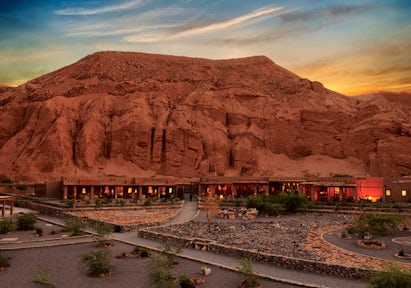 Comfortable, Characterful Hotels
Terrantai
Centrally located and just a few steps away from the main street in San Pedro, the Terrantai is a really impressive boutique hotel. The architecture is a fabulous mix of adobe, pebbles and wood and they even have a small courtyard swimming pool.
There is no restaurant here, but there is wine tasting every evening from 7-9pm which provides an excellent opporutnity to get to know your fellow guests.

Please enquire for more details.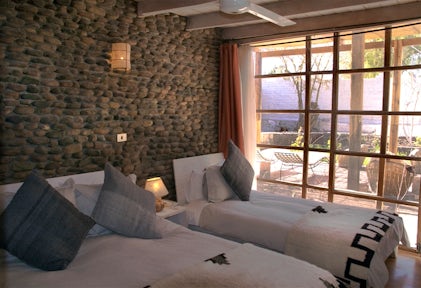 Altiplanico
On the edge of town (a 10-min gentle stroll from the centre), the family-owned Altiplanico provides a sense of comfort in what is otherwise a rather rough landscape. The interior is filled with calm, birdsong and a spacious, beautifully manicured desert garden.

All rooms have a terrace and feature outdoor showers - excellent for star-gazing! The hotel doesn't arrange tours and although you book on a B&B basis, there is a simple lunch and evening menu.

Please enquire for more details.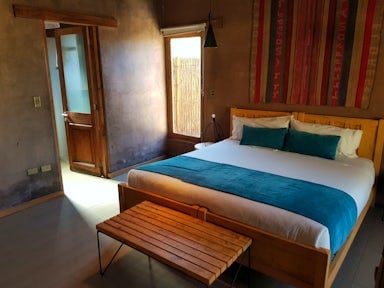 Altiplanico Hotel
Desertica
This 12-room three-star boutique hotel is located right in the centre of town. It's built around an orchard which provides plenty of quiet spaces to sit. There's a stylish mid-sized pool, but it's on view to those coming and going from reception.
Solar energy powers the hotel; WiFi is available and there are no televisions.
Please enquire for more details.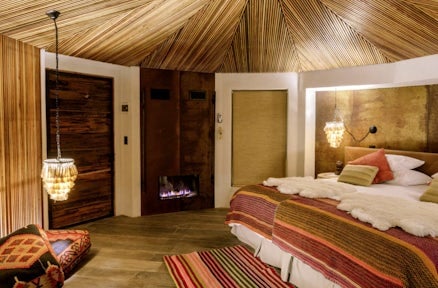 Kimal
Absolutely central is the three-star boutique Kimal - akin to a small and charming adobe village where the bedrooms are individual huts. They have a simple spa, something which most other hotels in this category don't have.
For those on a budget who want comfort in a central location, this place is ideal.

Please enquire for more details.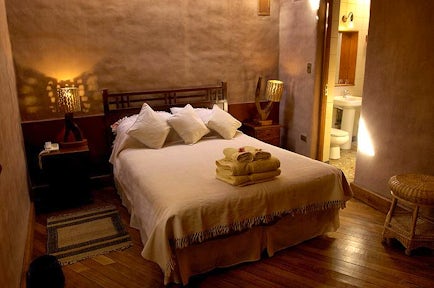 Mid-Range Bed and Breakfasts
Poblado Kimal
The Poblado Kimal is a charming group of adobe and wooden cabins that form what is essentially an annex of the Kimal (above), but it's a little cheaper to stay here due to arrangements such as having to cross the street for your breakfast.
This is hardly an issue for the cut price, pleasant environment featuring clean and cosy cabins with personal mini-terraces.
Please enquire for more details.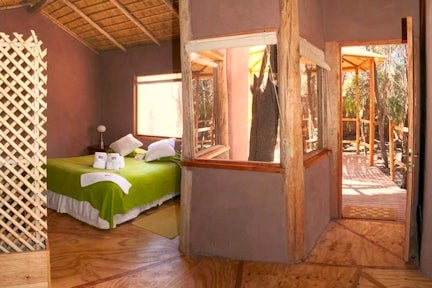 Don Tomas
This is another option on the edge of town, but that's not much of a problem given the size of San Pedro - it's only a 15-min stroll to the centre. We're told that the friendly staff have varying proficiency in English, but are always smiling and doing their best to help.
It's a good, mid-range hotel with soft, large beds in clean, spacious rooms.
Please enquire for more details.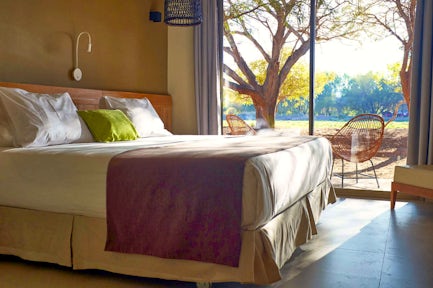 What our customers think of San Pedro de Atacama Hotels
The Tierra Hotel Atacama is yet another stellar property to stay, anywhere in the world. Paula the manager took great care of us. Tomás planned great excursions for us. Oh, and the hotel's barbecue is something not to be missed! Read the full review

Travelled: December 2021
Tierra Atacama surpassed our expectations. The design and comfort were fantastic and the food and wine were amazing! Read the full review

Travelled: January 2020
Karen Proudman - Australia
Ready to plan your Patagonia adventure?
1
Listen
We'll spend some time listening to your aspirations, then discuss the kind of experience that might suit you.
2
Match
Next we'll discuss the options, shortlist the best trips for you and present you our impartial recommendations.
3
Reserve
We'll place a 24 hour hold on your preferred option - without obligation - whilst we talk through the details.
Whatever your budget, group size, length of stay, preferred activity or appetite for adventure, we can help.
1-855-369-7866