Life before Swoop
I decided it was time to stop reading about the world and start experiencing it after spending years as a bookworm studying Sociology in the south of Chile.
So, I left home to embark on a backpacking trip for about four years around the world.
After hiking surrounded by the highest mountains in the world in the Himalayas, getting attacked by armies of small creatures in the Maya Rainforest and taking a wooden bus to get some fresh coconut from the locals in Polynesia, it was time to go back to that unforgettable land at the southernmost tip of South America that I had only glimpsed many years ago in a bicycle trip.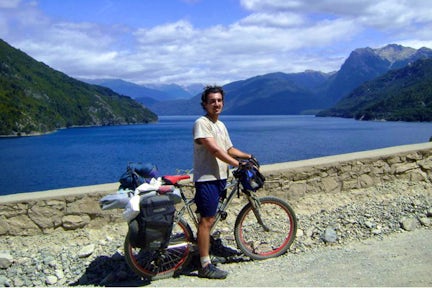 Bike touring the Argentinian Lake District
My Patagonia experience
When I got back to Chile after those backpacking years, I decided I wanted to live in Patagonia, so I became an outdoor guide in the Torres del Paine National Park, where I lived full-time for three years in direct contact with nature and its incredible wildlife.
Apart from my time in Torres del Paine I explored Tierra del Fuego, hiked and sailed through the fjords, visited several estancias and went hiking to Argentinian Patagonia. I got to witness the seasons coming and going and how all life adapted and moved with them; I learned horseback riding from the gauchos in the endless pampas, I shared mate with locals and friends from all over the world, I got knocked down by fierce gusts of wind and I got to be face to face with condors and pumas – I loved it!

Wild camping near the fjords of Chilean Patagonia
Day to day at Swoop
I am a Patagonia Specialist here at Swoop and part of a great team of people that will help you plan the best adventure to Patagonia. I am currently based in the driest desert in the world, the Atacama Desert in the north of Chile.
If you want me to help you plan your adventure to Patagonia, please give me a call or send me an email. I can't wait to help you!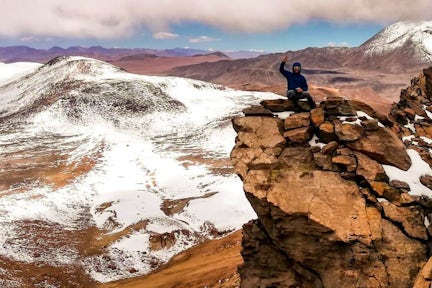 Volcano climbing in the Atacama Desert

What our customers think of Felipe
The swoop team was helpful, knowledgeable, and accessible (despite time zone differences). My partner and I didn't have the time to manage logistics, and swoop took care of it for us. Our local guides were excellent across the board. Read the full review

Travelled: February 2023
Everyone, from our first conversations with Felipe, to our guide, Cristobal, was helpful, informative and friendly. Couldn't have asked for a better experience. Read the full review

Travelled: November 2022
Why I love Patagonia
Patagonia is a massive, awe-inspiring region where, no matter how you choose to experience it, you'll feel it was worth it. If you decide to go for a horse ride, or to cover vast amounts of the territory by hiking, or if you would rather try conquering the highest peaks or instead prefer to share some mates with the gauchos, it doesn't matter! I have no doubt that you'll encounter plenty of moments that you will never forget.

It's a wild, unpredictable place that's very safe at the same time, where spectacular beauty is around every corner. It might be that you get fascinated by the magnificence of its mountains and glaciers, by the raging winds that give you no rest, or because of its incredibly strong, humble, and hospitable people.
What's very clear to me is that Patagonia will make you feel alive.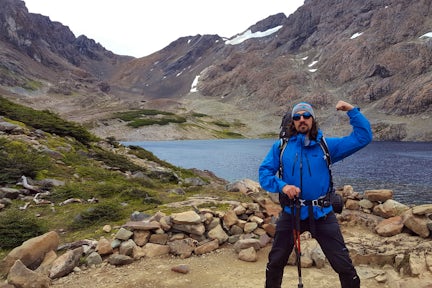 Hiking Dientes de Navarino
The next adventure
Haven't decided yet, but probably the Cochamó area in the Lake District, the Aysén Region, or the Amazon rainforest.

Having a rest in Dientes de Navarino
Ready to plan your Patagonia adventure?
1
Listen
We'll spend some time listening to your aspirations, then discuss the kind of experience that might suit you.
2
Match
Next we'll discuss the options, shortlist the best trips for you and present you our impartial recommendations.
3
Reserve
We'll place a 24 hour hold on your preferred option - without obligation - whilst we talk through the details.
Whatever your budget, group size, length of stay, preferred activity or appetite for adventure, we can help.
1-855-369-7866