Reasons to go to Pucón
Chile's adventure sports capital, with a stunning lakeside setting, overlooked by Villarrica Volcano
The gateway to Villarrica and Huerquehue National Parks.
Climb the snow-capped peak Villarrica Volcano, to gaze down the bubbling lava in its crater. Mountain bike on the white-knuckle Downhill Rukapillan trail.
Take to a whitewater raft on the Trancura river.
About Pucón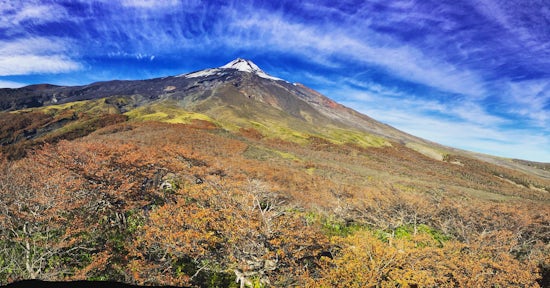 Villarrica Volcano
Pucón, a town of around 24,000 people Chile's in Araucanía region at the northermost extent of the Lake District, has always been a tourist destination. When it's first hotel opened in 1934, wealthy Chileans were drawn to its beautiful setting on Lake Villarrica, overlooked by the white-tipped peak of the volcano of the same name. Its relative inaccessibility kept the preserve of the wealthy until the construction of a new road in the 1970s opened the town to all. Adventure sports pioneers from the USA arrived a decade later, for iron man triathlons in the summer, and snowboarding in the winter. By the start of the 21st century, Pucón was well on its way to becoming one of the best destinations for outdoors activities in the continent, with an infrastructure to match the breath-taking scenery.
Pucón town itself is an unremarkable place, although its popularity with backpackers and adrenalin chasers has given it a lively and eclectic food scene. If you need to soothe your muscles, the area has a number of hot springs worth checking out for a soak, including Termas de Panqui and Termas de Huife.
Pucón offers easy access to two superb national parks; Villarrica and Huerquehue. Base yourself here for numerous day trips – climbing to the summit of the Villarica Volcano, enjoy a thrilling mountain bike descent and shooting white-water rapids. If you can't decide which takes your fancy, Swoop has put together a highly customisable trip ready to be tailored to your needs and budget.
What to see & do in Pucón
Day hikes
The perfect cone shaped Villarrica volcano with its open crater and simmering lava pool makes for an incredible day hike in Villarrica National Park. The hike can take up to 9 hours depending on the season, but no technical experience is necessary just a good degree of fitness. The views from the 2847m peak are ample reward for the challenge of the hike. Standing on the edge of a smouldering crater, with views north and south of the Andes mountains is a truly unique experience.
A more lush and green experience can be had among the auraucaria (monkey puzzle) trees of Huerquehue National Park, with its waterfalls and hidden lakes. After a steep ascent onto a high plateau with views of Villarrica Volcano, the forest leads to a series of lakes which make for great picnic and siesta stops. The hike takes around six hours in total.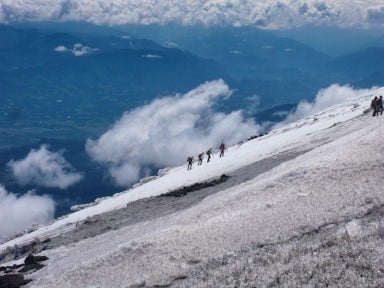 Villarica Volcano Pucon
Day Rides from Pucón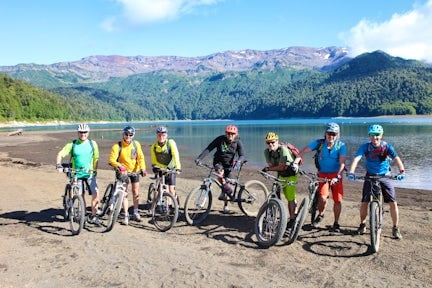 Mountain biking adventure around Villarrica
The Downhill Rukapillan bike trail takes its name from the Mapuche name for Villarrica Volcano, and is designed for mountain bikers who want to experience the adrenaline rush of a steep mountain descent. The trail starts near Pucón's ski resort to allow a descent of around 1000m on Villarrica's slopes. With incredible volcanic terrain beneath your wheels and unparalleled views of Pucón and Lake Villarrica in front of you, it's one of our favourite rides in the Chilean Lake District.
Those preferring a more relaxed adventure can hire bikes from any number of rental shops in town. One popular road route is the 30km round-trip east from Pucón to the beautiful Ojos de Cabugua Pools, where water cascades into pools in a forested glade.
Rafting
As ever in Patagonia's Lake District, snow-capped mountains means plenty of meltwater to keep the rivers running fast, and Pucón is no exception in being a great setting for white-water rafting. The Trancura River is offers rapids ranging from Class 2 to Class 4, with the Lower Trancura offering the smoothest ride, and the Puesco and Maichin stretches home to the liveliest runs. If you're visiting in winter or early spring, many stretches of the river are closed for being too swollen and dangerous for rafting.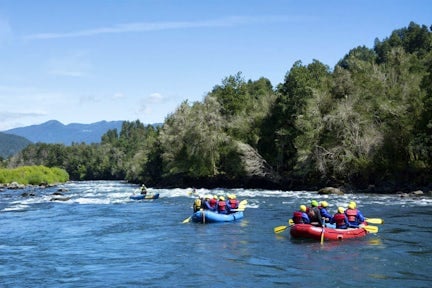 Rafting on the Trancura River

What our customers think of Pucón
Pucón trips scored 4.4/5 from 65 reviews
Highlight of the trip was sliding down Villarrica Volcano at high speed after a rewarding hike up in crampons! Read the full review

Travelled: January 2018
Marie Davidson - United Kingdom
How to get to Pucón
Pucón does not have an airport, but can be reached by air via Temuco's Araucanía Airport (code ZCO), 90km by road (roughly 80 minutes by private transfer). The airport has daily flights to Santiago (90 minutes).
By road, it's 320km south to Puerto Varas (four hours), and 790km to Santiago (long distance buses take around 9½ hours).
To cross the border into Argentina, a particularly scenic route involves driving via Panguipuilli to Puerto Fuy (2–3 hours) , from where you can catch a car ferry along Lake Pirihueco to the border at Paso Hua Hum. From here, it's around 45km to San Martin de los Andes in the Argentine Lake District.
Where to stay in Pucón
Pucón abounds in good accommodation options around Puerto Varas, in the town itself or slightly outside on the shores of Lake Villarrica. We have access to a variety of hotels, boutique hotels and cabins according to your requirements and budget.
If you want to stay slightly outside the town, the luxury lodge at Vira Vira, halfway between Pucón and Huerquehue National Park is set in acres of private wilderness and offers access to a wide variety of outdoor activities.
Explore from a Luxury Lodge in Pucon
A luxury lodge near Pucon, in the heart of the Chilean Lake District, brings together the very best of what this region has to offer; activities for all levels to delve deep into the surrounding breathtaking scenery, a cosy wooden cabin feel, delicious home-grown food and welcoming hosts. A four-night stay gives you the opportunity to get out into forests full of extraordinary trees, float down the Trancura river with incredible volcano views, or relax in the lodge.

Find Out More
Ready to plan your Patagonia adventure?
1
Listen
We'll spend some time listening to your aspirations, then discuss the kind of experience that might suit you.
2
Match
Next we'll discuss the options, shortlist the best trips for you and present you our impartial recommendations.
3
Reserve
We'll place a 24 hour hold on your preferred option - without obligation - whilst we talk through the details.
Whatever your budget, group size, length of stay, preferred activity or appetite for adventure, we can help.
1-855-369-7866