Local dishes & drinks
Asado

Also known as 'parrillada', this barbecue food is the national dish of Argentina. Originating from the countries gauchos, or cowboys, you can expect to find beef, pork, ribs, sausages and sweetbreads hot off the fire, and it is not uncommon to see a whole lamb or pig roasting over an open fire.
Cordero al Palo
Patagonia's most famous dish has to be this spit roast lamb, cooked over an open log fire for several hours until the outside is crisp and the meat falls off the bone. This method of cooking gives the meat a smoky and perfumed mouth-watering flavour, a must-have for any meat-lover.
Chimichurri
Chimichurri is the go-to condiment of Patagonia. A tangy, garlicky salsa made from parsley, onion, oregano, olive oil, garlic and chilli pepper flakes, it is used as both a marinade and a topping to grilled meats at an asado.
Empanadas de Cordero
Empanadas are a very typical Chilean and Argentinian dish, and locals to Patagonia have put their own twist on the recipe. The baked dough is filled with a thick lamb stew instead of the usual 'pino' meat or cheese.
Chupe de Centolla
If you're not a big meat fan, the Patagonian king crab pie is a delicious seafood stew cooked with breadcrumbs to make a thick, creamy dish similar to a chowder. It is usually topped with delicious gratinated cheese.
Yerba Mate
Pronounced 'mah-tay', yerba mate is a herbal and caffeine-infused social drink with its own special cup (see above picture) that is passed around a group.
It is prepared by filling a cup (traditionally a calabash gourd) with dried leaves of yerba, then covering the leaves with hot water and drinking it through a straw called a 'bombilla'. The average Argentinian consumes five kilos of mate a year!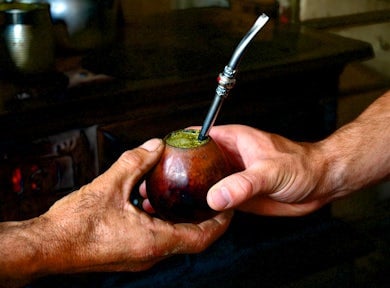 Swoop says
There is an etiquette around sharing mate. It is prepared by the Cebador, who drinks the first brew. He/she then hands the cup to his/her right – that person drinks the cup and then gives it back to the Cebador to refill. If you say gracias, it implies that you've had enough and you won't be given another cup in the next round.

Pisco Sour
A cocktail that the Chileans claim as their national drink. Pisco liquor is mixed with lime juice, syrup, ice, egg white and Angostura bitters to make the exotic South American classic.
Chileans claim that Pisco was born in their country, however, Peruvians strongly disagree and claim it as their own. Whatever the truth may be, it is definitely something to try, or even a piscola (pisco and Coca-cola). Just watch out for the consequences the next morning!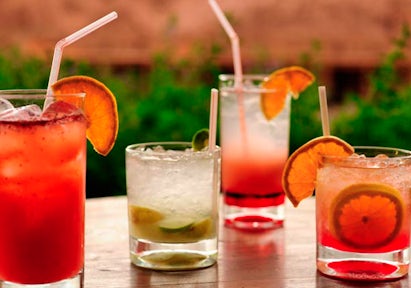 How to make a Chilean Pisco Sour
Argentina's sweet treats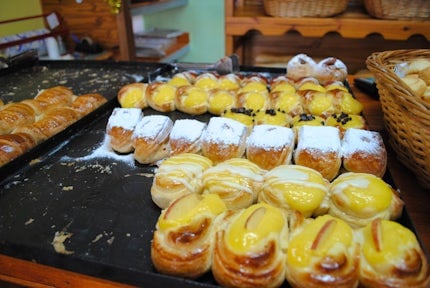 As you explore Argentina you won't be able to miss the fact that there is such great ice cream and delicious pastries everywhere! You'll come across homemade pasta, pizza and ice cream throughout the country, and ice cream parlours (serving very generous portions) on most town squares. The reason behind this lies in the strong Italian heritage, which over 60% of Argentinians have some degree of.
In addition to Italian and Spanish immigrants, Argentina drew Germans, Swiss and Middle Easterns. This melting pot of influences has led to a thriving bread and pastry making tradition. Little pastries or 'facturas' get better the further south you go and almost all panaderías (bakeries) stock them.
If you happen to pass through Tolhuin on your way down to Ushuaia, then you must visit the most famous panadería in Argentina, La Unión. Facturas come loaded with dulce de leche (sweetened milk/caramel), 'membrillo' (quince jelly), and are best guzzled by the dozen. If you don't have a sweet tooth, then try empanadas – savoury meaty pasties that are a great treat to stuff into your backpack and enjoy whilst hiking.
Swoop says
Ice cream gets better, and more necessary, the further north you travel. Try and find tramontana flavour (with dulce de leche and malted chocolate)!

Patagonian cuisine
Patagonian cuisine is identified by striking colourful presentation and its intense and rich flavours. It includes delicious meat and seafood dishes flavoured with interesting spices, and is accompanied by fine wines and followed by delicious desserts.
An introduction to Chilean food
Swoop says
Please be aware that restaurants do get booked in advance during Patagonia's peak season, so we would absolutely recommend that you book anywhere you're definitely keen to visit ahead of travelling, or risk disappointment!

Our restaurant recommendations
After many years of travelling in Patagonia, we have eaten our way through the very best that Patagonia has to offer. Below are just a few of our recommendations.

Santiago: Providencia
Liguria (A Swoop favourite) Traditional Chilean cuisine, excellent quality and very buzzing – take your dictionary! Address: (3 locations, our favourite is) Av. Providencia 1373 – very near Manual Montt metro

Baco Fantastic wine selection, good for tapas type food and great steaks. Address: Nueva de Lyon 113
El Giratorio A 17th floor rotating restaurant – incredible views of the sunset over the city and the Andes. The food is traditional and tasty but also aspires to be fine-dining. Address: Av 11 de Septiembre 2250, Floor 16
Santiago: Bellavista
Como Agua Para Chocolate Delicious fish and meat dishes, great wine selection, wonderful decor and atmosphere. Staff generally speak very good English. Address: Constitución 88 - street parallel to Pio Nono, main street of Bellavista
Como Agua para Chocolate in Bellavista, Santiago
Santiago: Lastarria
Bocanariz Unrivalled selection of Chilean wines, this is THE place to come and experience the very best in Chilean wine – the food is delicious as well if you fancy staying for dinner. A great addition to the quirky neighbourhood. Address: José Victorino Lastarria 276 – next to the church.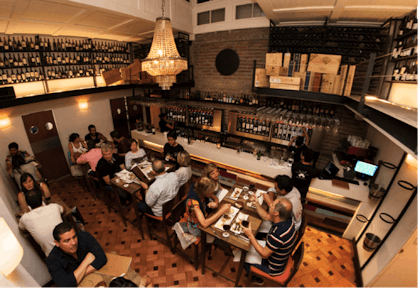 Swoop says
If you're in Santiago over lunch time look out for menu del dia signs; this will be a cheap and wholesome 2 or 3 course meal.

Pucon
Rincon del Lago (A Swoop favourite) Not in the centre so off the tourist trail, this little family-run place serves really reasonable, traditional food; nothing fancy but good wholesome grub – great after a day out on the trails. Address: G. Urrutia 635
Trawen Long established place on the main street but still serving up delicious local dishes, top notch pisco sours and unmissable desserts. Address: Av. O'Higgins 311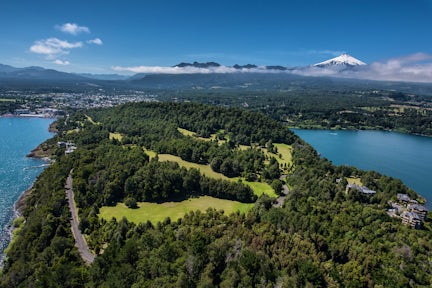 Puerto Varas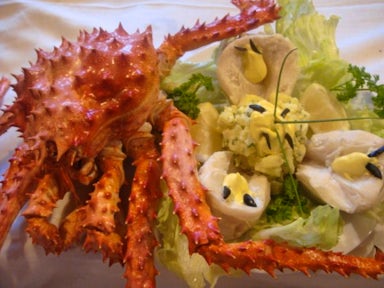 Las Buenas Brasas (A Swoop favourite) It's popular with tourists and for a very good reason – the food is delicious, the service spot on, the pisco sours strong and the added extras of Sopaipilla y pebre (fritters with homemade salsa) on arrival make this place a real gem. Address: San Pedro 543
Cafe Danes Great for lunch, kuchen (cakes) and empanadas (savoury pasties) – try the Empanada de horno but beware, the portions are huge! Address: Del Salvador 441
Casa Valdes Housed in a lovely wooden cabin with great views across the Llanquihue Lake to the Osorno and Calbuco Volcanoes, this local restaurant is serving up the very best in local fish and seafood. The atmosphere is buzzing but not too noisy, we recommend asking your hotel reception to book a table. Address: Santa Rosa 040 – Underneath the Cabanas del Lago Hotel
La Jardineria A little way out of town, one block back from the lake front road, this is a small, intimate restaurant, housed in a restored traditional house, very popular with locals, run by a well travelled, local couple. Address: Blanco Encalada 1160, Puerto Chico
La Marca Best in town for a juicy steak. Address: Calle Santa Rosa #539
Mercado 605 Set in a beautifully restored wooden house this cafe by day/restaurant by night, offers a wide variety of pisco sours for example, sours including green chilli or honey or even avocado. The food is delicious too! Address: Imperial #605
Punta Arenas
La Yegua Loca: Traditional Patagonian cuisine, a mix of old recipes with a gourmet touch. Fagnano 310, Punta Arenas, Región de Magallanes y de la Antártica Chilena, 6200660
La Marmita: A relaxed, family run resturant serving regional cuisine of Magallanes and Chile. Plaza Sampaio 678, Punta Arenas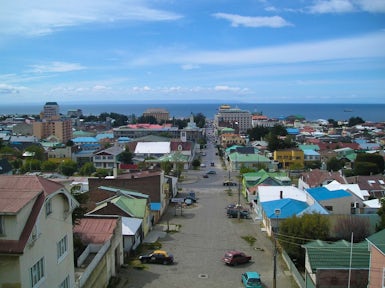 Puerto Natales
Cormoran de las Rocas (A Swoop favourite) With fresh fish and delicious meats even including guanaco on the menu, this restaurant is a great bonus for Puerto Natales. Set up on the first floor of the building, what really makes this place special are the incredible views over the Last Hope Sound. Address: Miguel Sanchez 72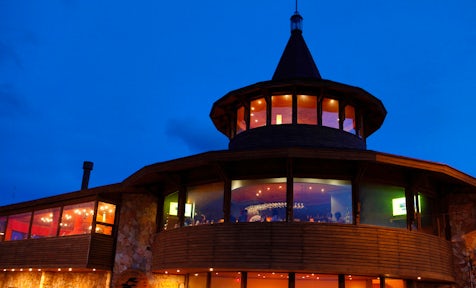 Harriet says

You can't go to Argentina without having a traditional asado as the steak is incredible - unless you're a vegetarian of course! Empanadas are a great option for lunch on the go, and they come with all kinds of fillings. In Chile, a delicious meal to try in summer is Pastel de Choclo, and make sure you don't miss out on their signature drink, the Pisco Sour!

Harriet Pike Head of Swoop Patagonia
Opening hours
Typically in Argentina and Chile, restaurants will serve food between 7pm and midnight.
During public holidays, they will have shorter opening hours and a lot of places will be closed - if travelling between Christmas and New Year, we would advise making a reservation and checking where is open.
Generally you will not need to book a table when going out for a meal. If you have seen a restaurant that you would like to eat in, there is no harm in making a reservation (this can usually be done online).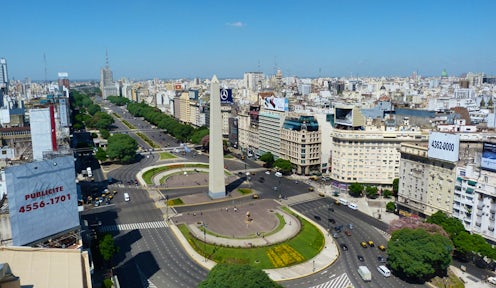 Swoop says
Since the Covid-19 pandemic, some restaurants have altered their serving hours or have unfortunately had to close down. Please check with restaurants before visiting.

Food at Torres del Paine refugios
Many of our customers choose to stay at refugios whilst trekking in Torres del Paine National Park, so it's important to get a feel for what to expect when it comes to the food offering.
The meals are basic but filling. Breakfast usually consists of cereal, toast, fruit, and yoghurt. Your packed lunch comprises a sandwich, fruit, trail mix and chocolate. For dinner, it is usually a pasta-based dish, a stew, or chicken with rice. Soup and dessert are also included with your main meal.
There are snack shops at all of the refugios where you can buy basic foods. At some of the refugios there are bars that serve wines, spirits and beer on draught. At the other refugios you can buy local Chilean canned beer.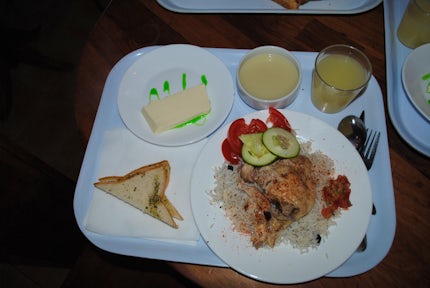 Dinner
Food allergies & intolerances
Patagonia is a vast region with great swathes of remote wilderness. When you are away from the larger towns or cities, please bear in mind that it is much harder for guides, refugios or other parties to cater to food allergies or intolerances in the wild and with limited resources.
If you have a serious food allergy, you should approach your time in Patagonia with caution, especially in remote eating scenarios. Whilst our partners on the ground will do their best to cater to your needs, they will not be used to being as fastidious and careful as you may need to be on a day to day basis.
It is also worth mentioning that celiacs might not always have many options, especially outside of the larger cities.
If you are concerned about your time in hotels, towns or cities, or on board an adventure cruise, we would suggest speaking with the hotel or ship manager and getting a message to the head chef or head waiter as early on in the experience as possible.