Literature
Our top reads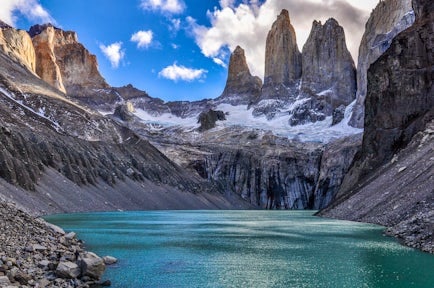 Base of the Towers, Torres del Paine
This Thing of Darkness - Harry Thompson

The incredible tale of two hugely influential men - Captain Robert Fitzroy and Charles Darwin, the voyage of the Beagle and the plight of the native indigenous people of Tierra del Fuego. An excellent read for those that don't want heavy history but a wonderfully told story.
Of Love and Shadows - Isabel Allende
Written by one of Chile's most famous authors, her second book, set during the dark days of the Pinochet dictatorship, tells the story of two journalists prepared to risk everything for justice and truth.
Mischief in Patagonia - H. W. Tilman
An extraordinary story from a classic old British sailor and explorer on sailing the Atlantic, negotiating the Magellan Strait and crossing the Southern Patagonian ice field.
Chile: Travels in a Thin Country - Sara Wheeler
A light-hearted and entertaining read of travelling the length of Chile; the book also lends itself to gaining some background knowledge on Chilean history and culture.
A Wildlife Guide to Chile
This beautiful guide – full of maps, charts and diagrams – is a must-have for anyone with an interest in Chilean wildlife. Learn about the best places to view wildlife; with information enabling quick field identification, you will have the best chance to spot as much wildlife as possible while in Patagonia.
An Englishman in Patagonia - John Pilkington
John Pilkington beautifully details his 8-month backpacking trip along the Andes and through Patagonia. Spurred on by the tales of legendary adventurers such as Ferdinand Magellan and Captain Fitzroy, Pilkington sets out to lift the veil on the mystery surrounding Patagonia.
Read Tom's full review of An Englishman in Patagonia in our online adventure travel magazine, Ends of the Earth.
In Patagonia - Bruce Chatwin
Of course, no list is complete without this classic. In Patagonia, although more of a literary phenomenon than something hugely insightful about the kind of places you'll see in Patagonia, has some wonderful descriptions of characters and experiences.
Evita: The Life and Work of Eva Peron - Osterheld, Breccia & Breccia
In a sequel to their spellbinding and experimental graphic biography of Che Guevara, Hector Germán Oesterheld and the Breccias chronicle the eventful life of Eva Perón. It's published by Fantagraphics Books, which is about a ringing endorsement as you could possibly hope to get.
"The stark black-and-white is crisp with powerful expressionist flourishes. It's both a time capsule and a rousing paean to Evita's socialist endeavours." – Publishers Weekly

Argentina, a Travelers Literary Companion by Jill Gibian
The best Argentine writers are collected in this literary feast. This exciting collection of stories will take readers on a literary journey that climbs the Andes Mountains, navigates the great River Plate, traverses the expansive plains of the Pampas, and explores the ever-changing landscape of Patagonia as it extends south to Tierra del Fuego. Seasoned travellers will recognize their favourite haunts and those yet unfamiliar with the region will long to make the journey.
Other reading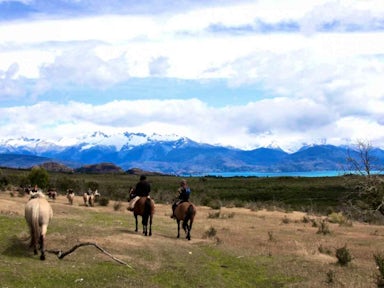 Early exploration
Across Patagonia (Lady Florence Dixie, 1880)
Where Tempests Blow (Michael Mason, 1931)
At Home with the Patagonians (George Chaworth-Musters, 1871) – Muster's own tale of travels in Patagonia and living with the indigenous Tehuelche people during 1869
Voyage of the Beagle (Charles Darwin, 1839)
Patagonia Wild and Free (William Greenwood, Duncan Campbell & Gladys Grace-Paz, 2015) – the memoirs of Greenwood, who became one of the earliest European immigrants to Southern Patagonia after making his home in the wilds in 1875
Classic travel literature
The Old Patagonian Express (Paul Theroux, 1979) – a classic
Motorcycle Diaries (Ernesto Che Guevara, 1952)
Modern travel
The Trail to Titicaca (Ruppert Attlee, 2001)
Thunder and Sunshine (Alastair Humphreys, 2007)
Between Extremes (Brian Keenan & John McCarthy, 1999)
Bad Times in Buenos Aires (Miranda France, 1999)
Indigenous History
The Uttermost Part of the Earth (Lucas Bridges, 1948) – a captivating account of the early days of Ushuaia and life amongst the, now vanished, indigenous peoples of Tierra del Fuego
Chilean & Argentinian literature
My Invented Country (Isabel Allende, 2003)
The House of the Spirits (Isabel Allende, 1985)
Daughter of Fortune (Isabel Allende, 1999)
Ines of My Soul (Isabel Allende, 2006)
Twenty Love Poems and a Song of Despair (Pablo Neruda, 1924)
Labyrinths (Jorge Luis Borges, 1962)
Films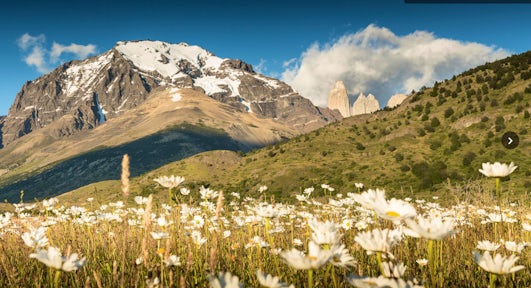 In Patagonia

In Patagonia charts the journey of an elderly Argentine lady exploring her roots in Wales, and a Welsh couple visiting Patagonia. It is filmed mainly in northern Patagonia, around the Chubut Valley with some incredible shots of the steppe, and in the beautiful landscape of Wales. It received mixed reviews, but the shots of northern Patagonia are stunning and we certainly enjoyed it.
Wenger Patagonian Expedition Race 2011: The Last Wild Race
The 10-day race may not be everyone's cup of tea, but this is a good one to enjoy from your armchair. The race is run in southern Chilean Patagonia every year, through both iconic national parks and areas that are very rarely seen. You'll be wowed by the landscapes as much as by the endeavours of the participants of the race.
A Story for Tomorrow
This short film about Chile and Patagonia was filmed by a couple whilst on a 5-week trip exploring the country. With some beautiful landscape, scenery and wildlife shots, this film has a personal feel and lets you experience what your own trip might be like.
A Line Across The Sky
This film follows two elite rock climbers, Tommy Caldwell and Alex Honnold, in their attempt to climb the Fitz Roy Traverse: one of the most sought after achievements in modern alpinism. This entertaining and inspiring film is a must-see for its stunning views of the Fitz Roy Range and surrounding areas.
Magical Andes (Argentina and Chile)
Available on Netflix, at the time of writing, this film has some stunning shots of Patagonia and introduces a friend of Swoop who lives in the area as well.
Wakolda / The German Doctor
An interesting historical fiction film (drama/thriller) about how German nazis ended up living in Patagonia after the second world war.
Mi Mejor Enemigo (My Favourite Enemy)
A great movie recounting when Chile and Argentina nearly went to war over the Beagle Channel in 1978 and how two opposing platoons make friends whilst waiting to do battle in southern Patagonia.
The Revenant
The plot of this epic western/adventure film starring Leonardo DiCaprio actually has nothing to do with Patagonia, but half of the movie was filmed near Ushuaia in southernmost Argentina as they needed snow to continue filming the movie and none was to be found in North America at the time.
Cerro Torre
A real-life documentary from 2013 with David Lama of one of the worlds most prodigious climbers tackling one of the worlds most difficult climbs, Cerro Torre, in the Southern Patagonian Ice Field.
Scream of Stone
A slightly fictitious, but nonetheless entertaining movie from 1991 about scaling imposing Patagonian summits, with Donald Sutherland.
Puma conservation in Torres del Paine
The pumas of Torres del Paine have captured the world's attention thanks to TV series like Dynasties and Pumas At The End of The World.
To better understand the challenges in conserving these magnificent creatures our Guidebook Editor, Paul, spoke to Mark Elbroch, the director of the puma program at Panthera, the global wildcat conservation organisation, about their efforts to protect pumas in Chile.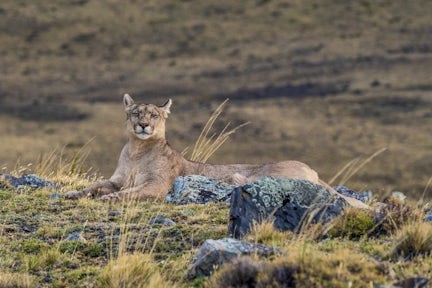 Puma in Torres del Paine National Park, Chile
Language
Most Chilean and Argentinian people in the tourism industry will speak very good English, and your guides will always be Spanish-English speaking unless otherwise specified.
If you're travelling more independently then some basic Spanish skills will serve you well, particularly in arranging things like transport and accommodation.
If you don't speak Spanish, we'd recommend you come prepared with a good English-Spanish dictionary, as well as some knowledge of some basic phrases.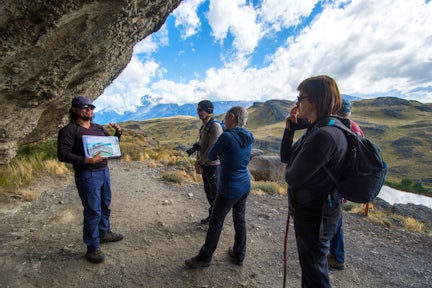 Harriet says

Taking a short course in Spanish was one of the most worthwhile preparations I made for my trip to Patagonia. Just having a few lessons was enough to arm me with some useful vocabulary to help me out of the odd tight spot! The locals really love the fact that you are making the effort to converse in their language.

Harriet Pike Head of Swoop Patagonia
Local dialects
Chile
While the national language of Chile is Spanish, Chilean Spanish is quite different from the European version. For example, Chileans often conjugate the tú form differently, so that estás becomes estai e.g. ¿Cómo estás? becomes ¿Cómo estái?, and hablas becomes hablai.
Here are a few of our favourite Chilenismos – phrases that you only hear in Chile.
al tiro – right now
pololo/polola – boyfriend/girlfriend (novio/novia refers to a fiancé/fiancée)
palta – avocado
po – similar to pues, it's a filler word that's often added onto sí or no for emphasis: Sí po!
huevon/huevona – this can be an extremely insulting word in the right context, or it can be a way to greet a close friend
cachai? – do you understand? did you get that?
bakán – cool, awesome
fome– boring
¿Qué onda? – What's up?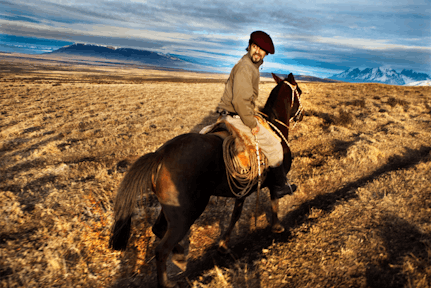 Argentina
People from Buenos Aires are known as porteños and have a very distinctive accent because of their Italian roots. The -ll or -y sound (which is pronounced 'ye' in most of the Spanish speaking world) is pronounced 'sh'. So, 'me llamo Harriet' is pronounced 'may shyamo Harriet'. If you want to sound really authentic, then instead of using the tu form, use vos.
Here are some common Argentine slang words:
¡che! – hey!
colectivo – a shared taxi or bus
bodi – bus
barbaro – awesome
viste – you see
birra – cerveza/beer
boludo – mate ('Che Boludo!' – Hey mate!)
chabón/chabona – guy/dude
gauchada– favour
dale – OK (vale in non-Argentine Spanish)
¿Cómo andás?– What's up?/How's it going?
¡Mirá vos! – Check that out!/How about that! (used both genuinely and sarcastically)