Life before Swoop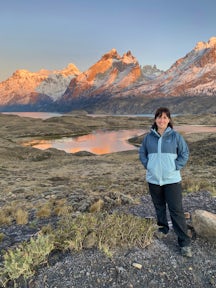 Sunrise over the Paine Massif
Having caught the travel bug early on in life, I have visited over 40 countries across six continents. My fascination with South America, in particular, began when I encountered some of its diverse cultures whilst studying Spanish at university both in the UK and at Universidad Adolfo Ibáñez, Chile. During that year, I was lucky enough to travel extensively through several South American countries (Chile & Easter Island, Argentina, Bolivia, Uruguay, Brazil) and to discover a huge variety of landscapes, cultures, people and experiences.
After returning to the UK, South America continued to call my name and I have now found my way back in the form of Swoop Patagonia and repeat trips to the region.
My Patagonian experience
Throughout my travels around Patagonia, I have experienced the region via almost all means possible; self-drive 4x4, plane, bike, hike, cruise and kayak. My accommodation has ranged from luxury lodges and deluxe ship cabins, to geodesic domes and glamping yurts, and even Couchsurfing with locals! I have completely fallen in love with the wildness and the beauty of the landscapes, be it the dramatic mountain ranges of Torres del Paine, the glaciers of Tierra del Fuego or the turquoise waters of Aysén.

One of the most unforgettable moments for me was watching the Pia Glacier carve right in front of me. A huge sheet of ice fell away from the glacier and crashed into the water below with the most incredible noise, causing waves to surge towards me. What made this moment even better was knowing that it is such a rare sight, shared by only a select few in one of the least accessible corners of the region.

Why I love Patagonia
The thing I love the most about Patagonia is that feeling of constant awe and amazement. When I first arrived in the region with a checklist of the main highlights to see, I was wonderfully surprised to discover that it is so much more than that; Patagonia is the landscapes, the wildlife, the weather, the locals, the food, the like-minded travellers, the adventure, the unexpected. It can be all too easy to fill every waking hour with the main sights but it's important to stop for a moment and to take it all in.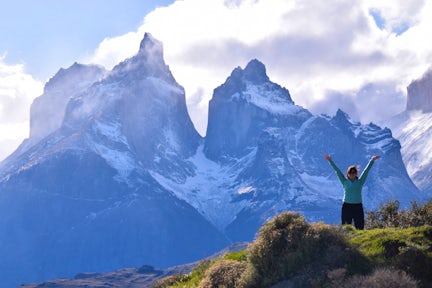 In front of Los Cuernos
Day to day at Swoop
Looking for a way to maintain a link to my unforgettable experiences in Patagonia, I joined the Customer Experience team at Swoop in June 2021. Although no two days are the same in my role, I dedicate myself to offering unrivalled personalised service to all of my Patagonia explorers, and to ensuring that all customers return home with wonderful memories that they will cherish for years to come.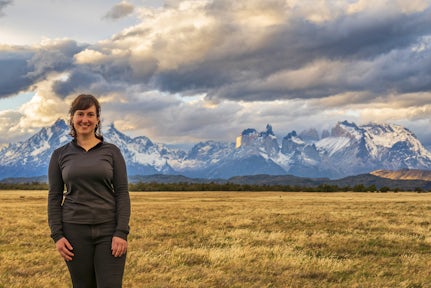 View of the Paine Massif

What our customers think of Carys
Next adventure
For my next adventure, I will be journeying south to Patagonia for five months, continuing my role at Swoop as a digital nomad! Beginning in the north of Chile in the Atacama Desert, I will make my way south through Chile until I reach Torres del Paine National Park, before crossing the border into Argentina and gradually returning north.
I very much look forward to discovering the real Patagonia as a local, whilst strengthening relationships with our local partners who make your trip a reality on the ground.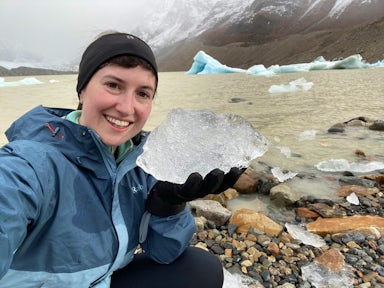 Icebergs at Laguna Torre