Photography in Patagonia
To really capture the beauty of the area, there are a few things you will have to consider when buying a camera, lenses and other gear for a trip to Patagonia.
Equipment
Lenses
There are two main types of lens that we would recommend for a trip to Patagonia: a wide angle lens and a long zoom lens.
A wide angle lens is perfect for doing justice to the stunning landscapes you will be surrounded by; it has a wider field of view, giving you the ability to capture as much of what you're seeing as possible. They also have a great depth of field, meaning the photo will really draw you in, providing you with very vivid memories of your trip. We recommend a 16-35mm f4.
With all the amazing wildlife in Patagonia it would be crazy not to take a zoom lens with you. From huge humpback whales feeding in the fjords to colonies of curious penguins scattered across pebble beaches, there is an incredibly wide range of species that you can spot on your trip. A telephoto lens will mean that you can get great action shots of animals while still maintaining a really nice shallow depth of field. Consider the 70-200mm f2.8.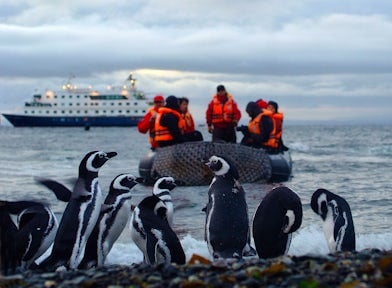 Observing Magellanic penguins from a zodiac in the Chilean fjords
Filters
Polarising filters are useful on bright days for darkening skies or removing glare from the sun on the lakes, meaning you will have to do less post-production on your landscape photos.
A graduated neutral density filter can also be useful for days when the sky is very bright to avoid over-exposing your photographs.
You can find both of these for relatively cheap, and they are light too so it's definitely something to make sure you have with you.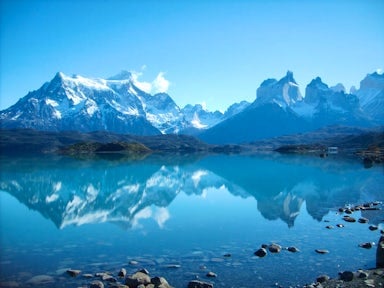 Lago Pehoe, Torres del Paine
Tripods
A tripod is a great idea, as it will allow you to capture stunning HDR landscapes of the incredible mountains and lakes of Patagonia. You can create some amazing motion blur effects using a tripod too, adding a beautiful softness to a photograph of a river weaving through Torres del Paine or the still surface of a glacial lake.
If you will be hiking with all of your gear, we'd would recommend looking at lighter tripods - a carbon fibre one is preferable, although these can be quite expensive. As the wind can be quite strong, you should make sure that whatever you pick is quite sturdy.
Patagonia is also the perfect place to take some super cool time lapse photos on a clear night. With the Towers in the foreground and the milky way in the background, it's definitely worth bringing a tripod with you so you can achieve this kind of photo.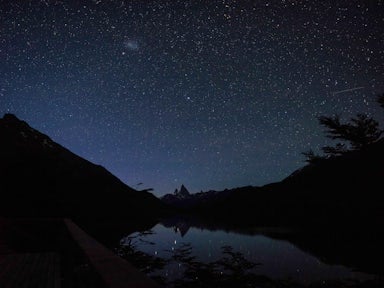 Batteries & memory cards
When you're going on a once-in-a-lifetime trip to Patagonia, you are going to want to bring multiple back-up memory cards. After a couple of days of taking photos, download your photos onto an external hard drive or start a new memory card. You will not want to risk losing your photos, so this is a must!
It's also a good idea to have a few extra batteries with you, as Patagonia is known for its changeable weather and if it's cold and your battery dies on you, you will want to have a back-up. It's a good idea to keep this in a pocket close to your body to keep it warm.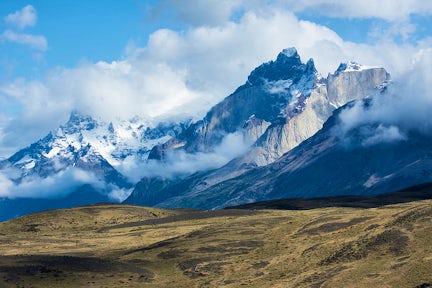 Mountains of Torres del Paine
GoPro
GoPro cameras can be great fun. As well as a funky time-lapse feature, they are able to film and take pictures above and below the waterline, which is great if you're kayaking with sea lions or doing a whale spotting trip. It's a good idea to invest in some of the cool accessories, like the extendable pole and clamps, and have some fun experimenting with the various cameras functions.
We suggest you get some practice using your GoPro before going on your trip, as it can take some learning (especially the ones without an LCD screen on the back) and you don't want to be spending time pushing the wrong button when that penguin is staring in the lens.
A humpback whale greets a zodiac in the Chilean Fjords
Weather
On the subject of weather, it is pretty common to experience all four seasons in one day in Patagonia. This means that you could be shooting in a lot of rain, or even snow. To have the chance to capture some of this weather and not have to hide your camera away, you could look at getting a camera that has weather sealing. This usually means that the joints and buttons will be covered and sealed with rubber to reduce exposure to moisture and dust, however this does not make the camera waterproof.
Therefore you could also think about purchasing a rain sleeve - this is not the most technical piece of kit and is basically a plastic bag for your camera! It should only cost you around £8/$10.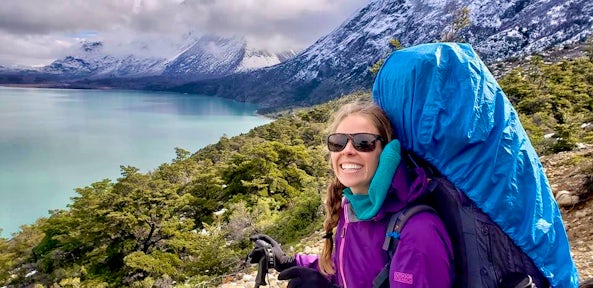 Still smiles after snow flurries and lots of wind on the second day of the W Trek
Swoop says
We advise taking a GoPro stick with a wrist strap. You wouldn't want it to end up at the bottom of a lake or fjord!
Top photography tips
1. When to go
Truthfully, Patagonia is incredibly photogenic at all times, but arguably the best time for photographers to visit is during the Patagonian autumn. The colours of the landscape come alive in reds, oranges and yellows, giving your photos that added 'X Factor'.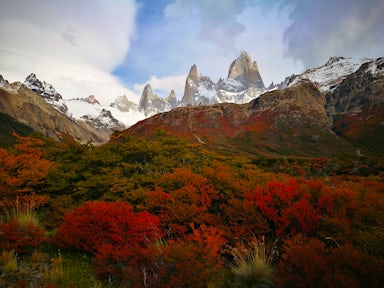 Laguna de los Tres hike in autumn, Los Glaciares
2. Tripods
When considering a tripod, make sure you choose a sturdy design with spikes in the feet for added grip. It can get exceptionally windy in Patagonia and if you are planning on taking any long exposure photos, then you'll need your tripod to be rock solid.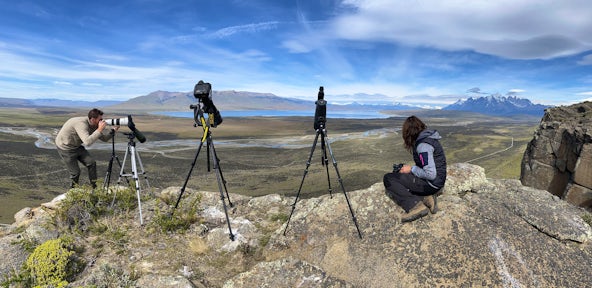 3. Pin-sharp photos
If you are serious about getting pin-sharp landscape photos, then we recommend bringing a remote shutter trigger. Even the slightest touch to your shutter button will add micro blur to your shots. This can be easily avoided using a simple cable shutter release or Bluetooth remote shutter release.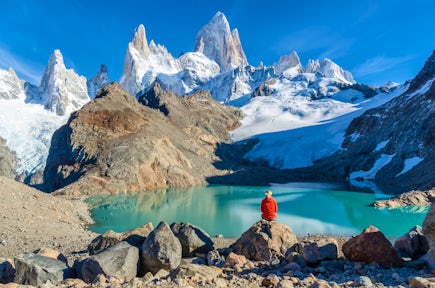 4. Wildlife
For most wildlife, like guanacos or deer, a standard zoom lens of 70-200mm will suffice and help to keep your luggage weight down. However, if you are trying your luck at photographing pumas, condors or Patagonian foxes, then I would recommend a focal length of around 400-600mm.
If wildlife is your main focus, then we recommend visiting Patagonia in the offseason (May - September). Pumas are very shy creatures and you'll have a much greater chance of spotting them when there are fewer tourists.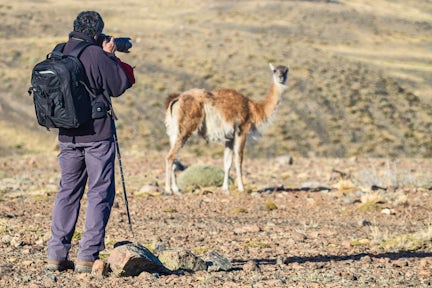 Shooting guanacos in Torres del Paine, Claudio Vidal
5. Wind & dust
Make sure to bring a sensor cleaning kit. Because the winds are so strong, dust can easily get into the sensor each time you change lenses and you'll soon notice dust spots on your pictures.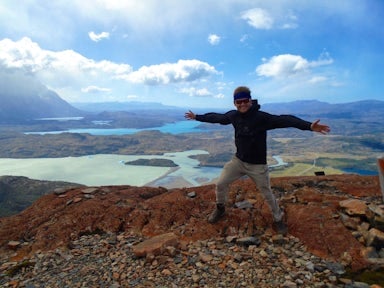 Bracing the wind at Mirador Ferrier