Our Recommendations: Patagonia
Santiago: Providencia
Liguria (A Swoop favourite) Traditional Chilean cuisine, excellent quality and very buzzing – take your dictionary! Address: (3 locations, our favourite is) Av. Providencia 1373 – very near Manual Montt metro
Baco Fantastic wine selection, good for tapas type food and great steaks. Address: Nueva de Lyon 113
El Giratorio A 17th floor rotating restaurant – incredible views of the sunset over the city and the Andes. The food is traditional and tasty but also aspires to be fine-dining. Address: Av 11 de Septiembre 2250, Floor 16
Santiago: Bellavista
Como Agua Para Chocolate
Delicious fish and meat dishes, great wine selection, wonderful decor and atmosphere. Staff generally speak very good English. Address: Constitución 88 - street parallel to Pio Nono, main street of Bellavista
Sarita Colonia
A taste of Peru in Santiago, a visit to Sarita Colonia is a whole experience. The walls are covered in artwork, and every available space is taken up by an eclectic array of sculptures and lights. Address: Loreto 40, Bellavista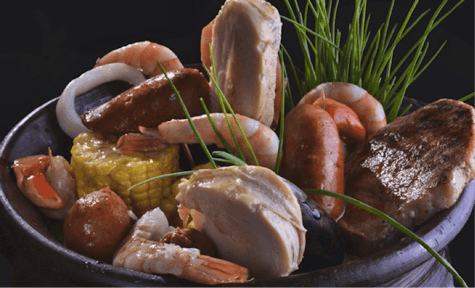 Santiago: Lastarria
Bocanariz
Unrivalled selection of Chilean wines, this is THE place to come and experience the very best in Chilean wine – the food is delicious as well if you fancy staying for dinner. A great addition to the quirky neighbourhood. Address: José Victorino Lastarria 276 – next to church
Casa Luz
One of the best cuisines in Santiago, with a mix of Chilean local ingredients. If the sun is shining, the terrace at Casa Luz is a must, and if not, the ambience and decoration inside is quite unique. Address: Av Italia 805, Barrio Italia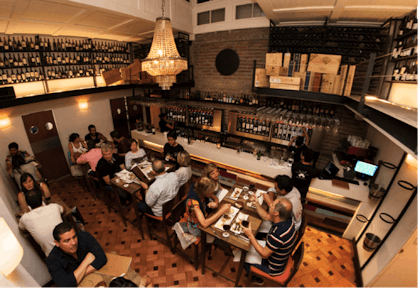 Pucon
Rincon del Lago(A Swoop favourite) Not in the centre so off the tourist trail, this little family-run place serves really reasonable, traditional food; nothing fancy but good wholesome grub – great after a day out on the trails. Address: G. Urrutia 635
Trawen Long established place on the main street but still serving up delicious local dishes, top notch pisco sours and unmissable desserts. Address: Av. O'Higgins 311
Puerto Varas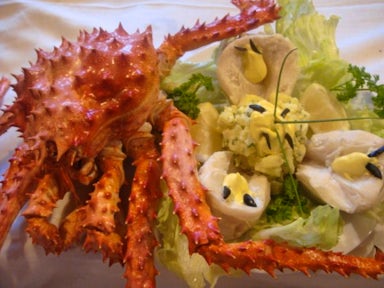 Las Buenas Brasas(A Swoop favourite) It's popular with tourists and for a very good reason – the food is delicious, the service spot on, the pisco sours strong and the added extras of Sopaipilla y pebre (fritters with homemade salsa) on arrival make this place a real gem. Address: San Pedro 543
Cafe Danes Great for lunch, kuchen (cakes) and empanadas (savoury pasties) – try the Empanada de horno but beware, the portions are huge! Address: Del Salvador 441
Casa Valdes Housed in a lovely wooden cabin with great views across the Llanquihue Lake to the Osorno and Calbuco Volcanoes, this local restaurant is serving up the very best in local fish and seafood. The atmosphere is buzzing but not too noisy, we recommend asking your hotel reception to book a table. Address: Santa Rosa 040 – Underneath the Cabanas del Lago Hotel
La Jardineria A little way out of town, one block back from the lake front road, this is a small, intimate restaurant, housed in a restored traditional house, very popular with locals, run by a well travelled, local couple. Address: Blanco Encalada 1160, Puerto Chico
La Marca Best in town for a juicy steak. Address: Ruta 225, Km 1.5 (road to Ensenada)
Mercado 605 Set in a beautifully restored wooden house this cafe by day/restaurant by night, offers a wide variety of pisco sours for example, sours including green chilli or honey or even avocado. The food is delicious too! Address: Imperial #605
Punta Arenas
La Yegua Loca: Traditional Patagonian cuisine, a mix of old recipes with a gourmet touch. Fagnano 310, Punta Arenas, Región de Magallanes y de la Antártica Chilena, 6200660
La Marmita: A relaxed, family run resturant serving regional cuisine of Magallanes and Chile. Plaza Sampaio 678, Punta Arenas
Puerto Natales
Cormoran de las Rocas
(A Swoop favourite) With fresh fish and delicious meats even including guanaco on the menu, this restaurant is a great bonus for Puerto Natales. Set up on the first floor of the building, what really makes this place special are the incredible views over the Last Hope Sound. Address: Miguel Sanchez 72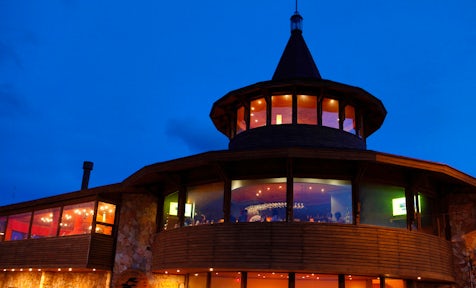 Our Recommendations: Argentina
Buenos Aires: Microcentro
El Establo (A Swoop favourite) My all time favourite restaurant in Buenos Aires is El Establo. It is old school, bright lights, white table cloths, old waiters that don't write anything down and popular with tourists. Hands down it offers the best steak in BA. Open parrilla (grill), ham hanging from the ceiling and homemade chimichurri (typical Argentine condiment to accompany meat dishes made of parsley, garlic and olive oil). Order the ½ Bife de lomo, jugoso (rare fillet steak) – it simply melts in your mouth. Address: Paraguay on the corner of San Martin in Retiro
Buenos Aires: San Telmo
Gran Parrilla del Plata Excellent quality steak, reasonably priced, great service, great decor. Address: Chile 594 – on the corner with Peru
La Brigada Quite pricey but a real meat experience! Address: Estados Unidos 465
Cafe La Poesia Atmospheric cafe in the heart of San Telmo; translating as 'Poetry Cafe', it is a literary institution with photos of famous Argentine authors, prose around the walls and plaques on some of the tables where famous authors have sat. Great for coffee, snacks, drinks and picadas (shared platters). One of the protected 'Cafe Notables' of Buenos Aires. Address: Chile 502 on the corner of Bolivar
Bar El Federal Another great 'Cafe Notable' of San Telmo with its incredible wooden decor, pavement tables and ecelctic mix of students, backpackers, artists and old timers reading the daily news. Order a coffee/beer and watch the world go by. Address: Peru on the corner of Carlos Calvo
Swoop says
You could spend a lifetime in Buenos Aires and still not have explored all of its wonderful, quirky, unique gastronomic offerings; here is just a brief list of some of my favourites.
Buenos Aires: Palermo
Don Julio (A Swoop favourite) Excellent steak, great service and a wonderful wine list. Definitely my *Top Pick* in Palermo. Address: Guatemala 4691 on the corner of Gurruchaga
La Cabrera Popular with tourists and locals alike, this restaurant, located on 2 different corners of the same street, serves up enormous steaks that are strictly encouraged to share accompanied with a delicious selection of side dishes. Excellent service, great atmosphere and as they don't take reservations they offer you champagne while you wait for your table. Address: José Antonio Cabrera 5099 on the corner of Thames
El Preferido de Palermo: Another 'Cafe Notable'; this is a great place to stop for a drink just to have a look inside. The food is traditional and offers some real Argentine treats. Address: Jorge Luis Borges 2108 on the corner of Guatemala
Bariloche
Alto el Fuego (A Swoop Favourite) Excellent quality meat, unusual wines and good value. Address: 20 de Febrero 451
Holly Restobar A good option is you're looking for something other than steak; the ribs are excellent. Also has fabulous views out across the lake. Address: Avenida Juan M. de Rosas 435
El Calafate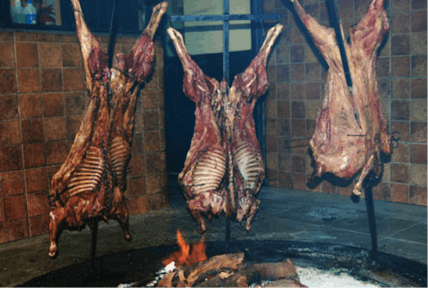 La Tablita (A Swoop favourite) A visit to El Calafate isn't complete without trying the slow cooked Patagonian lamb and after many years of trying out many places this has come top time after time. A word of warning: order 1 between 2 (even though it isn't a dish for 2, the portion is enormous!) ; also, don't miss the Calafate ice-cream. Address: Rosales 28 – cross over the bridge past the petrol station and it is down on your left hand side
La Zaina Set in a restored old building with an eclectic mix of memorabilia, this place serves a great selection of Patagonian meats (great pasta as well), warm home-made bread and an interesting wine selection. Service can sometimes be slow but then, what's the hurry?! Address: Gdor. Gregores 1057 – on the corner of Tomas Espora
El Chalten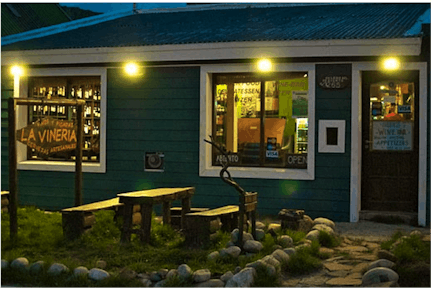 La Tapera (A Swoop favourite) Delicious hearty stews, cosy, warm atmosphere and great views of Fitz Roy from upstairs. Address: Antonio Rojo & Riquelme – next to the Walk Patagonia office
Cerveceria The Micro Brewery! A visit to El Chalten isn't complete without a visit to the micro-brewery. They brew 2 different beers, 1 pale (rubia) and 1 dark (negro) and serve with bowls of popcorn (they also serve bottled beers and wine). Great atmosphere, cosy, with a garden to laze in sun after a hard days walking. Open late into the evening. Address: Av. San Martin 564
La Vineria "The best wine bar in South Patagonia" – this quote taken from their website is quite a claim but almost definitely true. It has an incredible selection of Argentine wines (and artisanal beers), great picadas (shared platters) of meats, cheeses and tapas Argentine style. Sebastian the owner is extremely knowledgeable. Address: Lago Del Desierto Ave, 265 – next to the Chalten travel office
La Wafeleria A well-deserved stop after a long hike or great place to settle in for the day if the weather closes in. Address: Av. San Martin 640
Ushuaia
La Casa de los Mariscos (A Swoop favourite) It's an easy place to walk past without noticing, it looks quite shabby from the outside, there is no king crab tank in the window and the doorway is very small. But once inside it is buzzing, cosy and wafts delicious aromas. Try the Centolla Fugeian (king crab in chilli sauce), Centolla Provincal (king crab in parsley and white wine sauce) or Centolla Natural (king crab salad). Address: San Martin, 232 – corner with Deloqui
El Almacen de Ramos General No stay in Ushuaia is complete without a stop at this wonderful little gem! It's a bit of everything from museum to cafe to restaurant to bar. With an eclectic mix of memorabilia, chocolate coated meringue penguins, Cape Horn beer and homemade pasta. Address: Av. Maipu 749
Our Recommendations: Outside of Patagonia
Mendoza
Ocho Cepas (A Swoop favourite) Set in a beautifully restored old colonial house, the restaurant is split between the different rooms of the house, with its very own wine cellar. The steak is great, the menu interesting and the atmosphere intimate. Address: Peru 1192 – on the corner of Espejo
Puerto Iguazu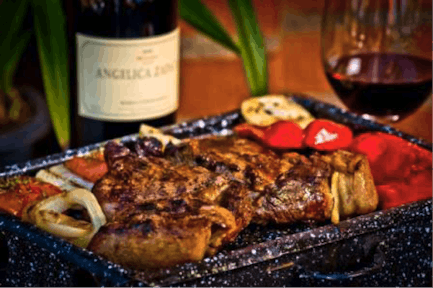 El Quicho del Tio Querido (A Swoop favourite) If you aren't enticed in by the delicious smell of cooking meat from it's enormous open air grill then you will be by the fascinating live music (played after about 9:30pm); the steaks are incredible, the service great and the atmosphere relaxing. Address: Av. Pres. Juan Domingo Perón 159
Aqva A little on the pricey side but serving up local river fish in delicious sauces – a definite top pick if you're a bit meated out. Address: Av. Cordoba on the corner of Carlos Thays
Valparaiso
Bote Salvavida for their lunchtime fish dishes.
Cafe Turri for wonderful views.
Amor Porteño for the best ice-cream in town!
Hotel Brighton for the best view, and a good pisco sour…but we wouldn't advise eating!
There are also some wonderful places to eat and drink on Almirante Montt Street; from cafes to fine dining, good places to grab a beer and great views.
Ready to plan your Patagonia adventure?
1
Listen
We'll spend some time listening to your aspirations, then discuss the kind of experience that might suit you.
2
Match
Next we'll discuss the options, shortlist the best trips for you and present you our impartial recommendations.
3
Reserve
We'll place a 24 hour hold on your preferred option - without obligation - whilst we talk through the details.
Whatever your budget, group size, length of stay, preferred activity or appetite for adventure, we can help.
1-855-369-7866