Choosing the right accommodation
Buenos Aires is a fascinating city, so whether you enjoy music, dancing, culture and architecture or food markets, cocktails bars and nightclubs, this city really does have something for everyone.
As in many big cities, Buenos Aires has its edgy side and so choosing where you stay can make a real difference to your enjoyment of the city. There are bohemian quarters, business quarters, the hustle and bustle of the city centre and safer neighbourhoods with bars and cafes. Where you choose to stay will be a very personal choice depending on how you enjoy cities, the style of hotel you feel most comfortable in and the length of time you have to enjoy this vibrant, diverse city.
Within each neighbourhood you can find:
Something special

: hotels that ooze character and pull out all the stops to make your experience in the city extraordinary. These hotels will add to your experience rather than just being a place to rest your head.

Upmarket

: the classic 4-5 star city hotel, excellent quality and staff, good location but sometimes perhaps lacking its own individual style.

Boutique

: individual, quirky and comfortable hotels, well located but lacking the polish of the hotels in our something special category. Their character and history will almost certainly add to your experience of the city.

No frills

: exactly this, functional, comfy, well located and a great base from which to explore.
Swoop says
Please be aware that hotels do get booked in advance during Patagonia's peak season, so we would absolutely recommend that you book anywhere you're definitely keen to stay ahead of travelling, or risk disappointment!

Palermo
Palermo is very pleasant and bursting with character, with great food and a relaxed, charming feel. It has some historic buildings dating from the 1920s and is a more relaxed and safer neighbourhood than the MicroCentro or San Telmo. It is residential yet with an abundance of bars and restaurants. What it lacks are the main historic sights and museums, but these are easily and quickly accessed by the metro.

Something Special
Legado Mitico
This luxury hotel offers a totally unique experience. With just nine rooms, it offers a very intimate, peaceful experience. The hotel rooms all have different names (rather than numbers) and themes.
One of the rooms is called 'La Primer Dama' ('The First Lady'), a room totally themed around Evita Peron. The touches are subtle and include photos of her life, a cabinet above the bath of replica possessions and a bodice with pearls above the fireplace.
There is a spacious outside terrace on the ground level and a sun deck on the roof (which is perhaps too small to mention). The hotel is located close to bars, restaurants and the subway.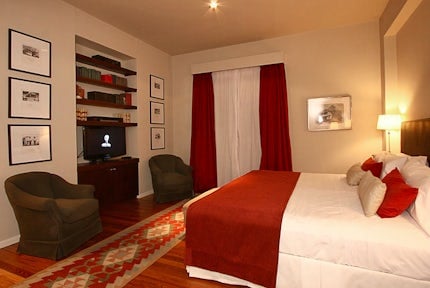 Nuss
Located in a converted convent, this 22-room hotel is chic and trendy. It has a rooftop plunge pool and sun deck and is just around the corner from the main bars and restaurants of Palermo Soho.
We don't advise staying on a Friday or Saturday night unless you plan to be out with the night owls. It was lovingly restored in 2009 and does an excellent job of combining the classic Spanish style with the modern touches and styles of Buenos Aires.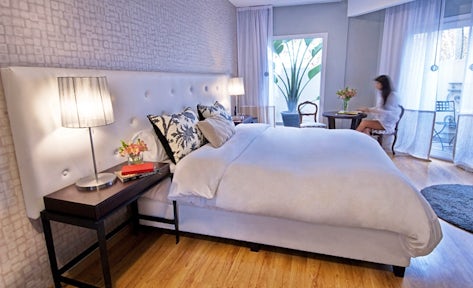 Boutique
Casa Sur Palermo

A well-located, artistically-styled hotel with cheery staff and generously sized rooms. Escape the high-rises in charming Palermo and enjoy some of the city's best restaurants on your doorstep, or borrow a (free) bike and explore further afield. Casa Sur, with its rooftop bar, pool and modern restaurant, is swish but welcoming.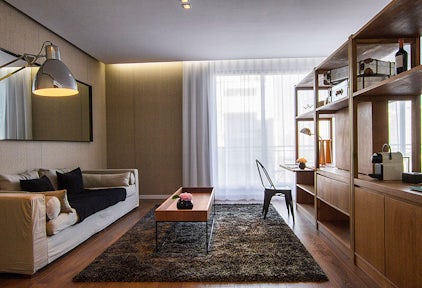 Mine
Located in central Palermo Soho, with just 20 rooms, Mine has a cosy, homely feel but still manages to capture the fun bohemian buzz of Palermo. It has a garden with a pool and also a bar/restaurant that offers a happy hour. The hotel is filled with natural light and is very colourful. The rooms are quite small for a 3-4* hotel but the location and atmosphere outweigh this.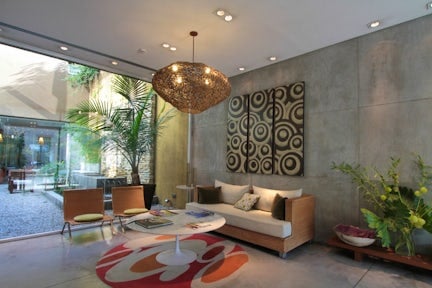 No frills
Hotel Clásico
Set across the street from the main hub of restaurants of Palermo Hollywood, this is a quirkily designed boutique hotel without the price tag of other upmarket accommodations. It has small and functional but characterful rooms, enthusiastic owners and a great breakfast. A great option for guests looking for a little bit of Buenos Aires character without too much luxury, and a great location for evening entertainment.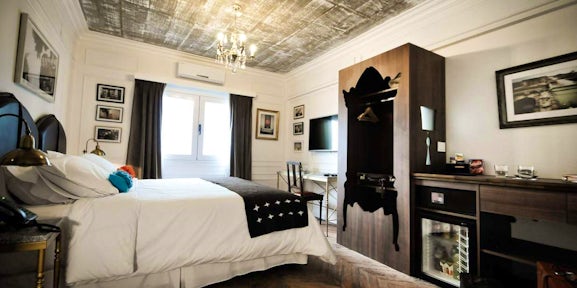 Dazzler Palermo
Large, functional and well located, this hotel offers a great low-cost offer in Palermo whilst still offering clean, spacious and private rooms. There is an outdoor pool and a large, bright dining area where breakfast is served. As with any large hotel, it offers the usual services which aren't always available in the smaller boutique hotels. This hotel is great for those on a limited budget but still looking to get under the skin of trendy Palermo.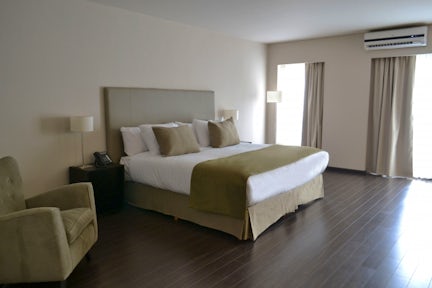 David says
If it is your first visit to the city and you are looking for a smaller boutique hotel, close to excellent cafes and restaurants, Palermo is a really great neighbourhood to base yourselves. If you would prefer something a little less "bohemian" and more central, then choose Recoleta.

David Hilton Patagonia Product & Partnership Manager
Recoleta
Safe, sophisticated and historic with wide avenues, tall buildings and long-established cafes, Recoleta certainly gives any visitor a sense of the grand and affluent past of Buenos Aires.
What it lacks in modern trendy eateries, it certainly makes up for in gold doorways, shops filled with polo paraphernalia and easy walking access to the famous 9th July Avenue and the Recoleta Cemetery.
If you only have one or two nights in the city and want to be within a stone's throw of the main historic sights, then consider Recoleta.

Something special
Alvear Palace
The Alvear Palace is, without question, the most famous hotel in Buenos Aires – even just walking into the lobby is an experience in itself. Built in 1932 to accommodate the increasing numbers of European visitors, the hotel has been a symbol of the city ever since.
Its high ceilings, enormous chandeliers, decadent classic French decor and opulent dining rooms certainly give any guest the feeling they have arrived in the 'Paris of the South'.
It is centrally located within easy walking distance of historic sights. It is however a large hotel, so if you are looking for a more intimate experience then you might consider a hotel in Palermo.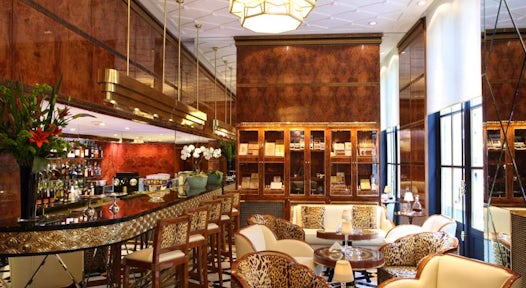 Upmarket
Sofitel

A wonderful 5* option in the heart of the city combining the best of Argentine and European culture in its cuisine and decor.
Start the day with elegant blends of tea and coffee or a French artisan pastry, and choose from a range of fine Argentine wines in the brick bar by evening
Relaxation opportunities are particularly plentiful with a gym, indoor swimming pool, sauna and massage room. This is a great choice for those looking for luxury and comfort either for their one-night stopover or during a multiple-day stay in the city.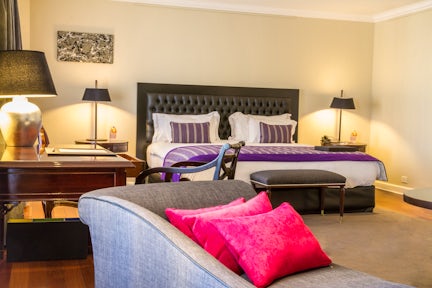 Recoleta Grand
With modern spacious rooms and large reception areas, this hotel, with just 88 rooms, is a great upmarket option in Recoleta.
What it lacks in the boutique feel of quirky Palermo hotels it makes up for in its very central location in this sophisticated neighbourhood, just a few minutes' walk to the famous Recoleta Cemetery and 9th July Avenue.
A great option if you're short of time in this big metropolis and if your stay in Buenos Aires falls at the start of your trip. A real highlight is the wine-scented complimentary toiletries!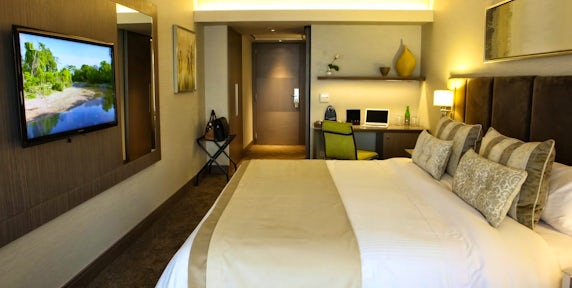 Boutique
Casa Sur Recoleta
The sister property of the Casa Sur in Palermo, a step down from the Alvear Palace or Sofitel, but still a great choice in the centre of Recoleta. Casa Sur Recoleta is artistic, characterful and well-located. It is just a stone's throw from the buzzing restaurants and parks of Recoleta.
No Frills
Intersur
Large, functional and well-located, the Intersur is a good lower-cost option in Recoleta, which offers clean, spacious and private rooms. If you are looking for a central base and a quiet place to stay, this hotel is a great option and has everything that you'd expect of a hotel of this standard.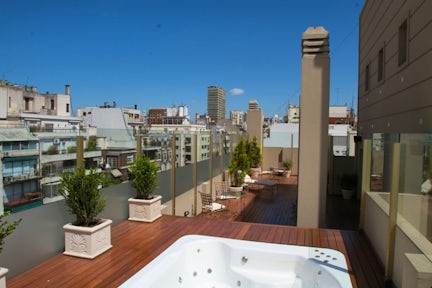 Swoop says
If you have a few nights in Buenos Aires at the start and end of your trip, consider staying in two different neighbourhoods to really get a sense of the diversity and individuality of the different parts of the city.

San Telmo
San Telmo was once a poor neighbourhood (and parts of it still are), but vast amounts of money have been invested resulting in the arrival of boutique hotels, restaurants, bars, cafes and clothes shops. It also has the lovely Plaza Dorrego, which is buzzing with life until at least 1am.
It gives you the historic 'barrio' feel but is also just a stone's throw from the city centre (5 blocks). Although culturally more interesting with its historic cafes, facades and cobbles street, it might feel a little dirty and daunting if you've just stepped off the plane.
It is definitely not as polished or affluent as other neighbourhoods like Palermo or Recoleta, so if you are visiting Buenos Aires at the start and end of your trip consider Palermo or Recoleta at the start and then perhaps venture into San Telmo for the end.
Something Special
San Telmo Luxury Suites
The only real high-end choice in San Telmo. The hotel houses some stunning antiques and well-thought-out lounges and patios. The rooms are all on split levels offering a suites feel. The hotel has historic bars and cafes just around the corner, so combines luxury and excellent service with the bohemian quirkiness of San Telmo.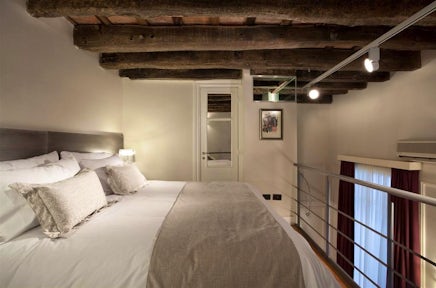 Boutique
Hotel Babel Boutique
Hotel Babel is located in a 200-year-old building in the San Telmo district, just a stone's throw from Plaza Dorega. Its combination of old and new features creates a funky but comfortable setting. The reception is hung with paintings from their artist in residence; a role given to emerging artists who each take a month-long turn.
The nine rooms on the ground and the first floor are set around a courtyard. Each room has an en suite bathroom with a hot, powerful shower and plenty of mirrors. Suite rooms have king-size beds whilst standard rooms have queen-size.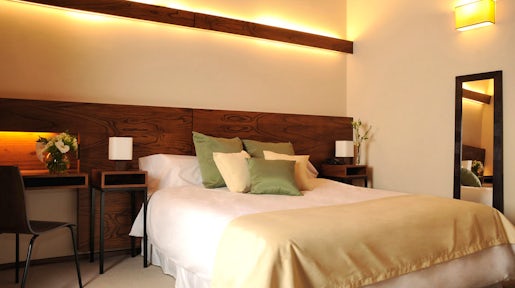 Los Patios de San Telmo

With its labyrinth of outdoor patios and balconies, this hotel is a historic gem and a fascinating look into what life must have been like in the late 1800s. There is a great cafe next door where breakfast is served.
It is well located near to the main square of San Telmo and allows for a taste of boutique without the expense.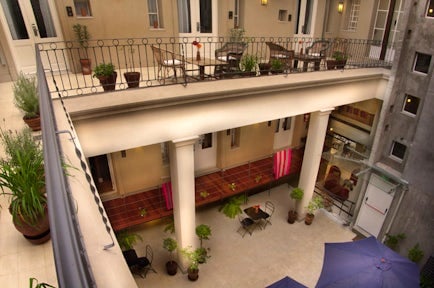 What our customers think of Buenos Aires accommodation
We stayed at Casa Sur hotel and really liked it. Good location, helpful staff and good breakfast choice. We used their free bikes and navigated the cycle ways around the city.

Travelled: February 2017
The Nuss hotel was perfect and we both said "we'd never have found such a good place on our own." Read the full review

Travelled: December 2018
Mindy De Hooge - United States Of America
Clásico is a great hotel with such lovely decor and a beautiful breakfast room. We loved the hotel and found it convenient to restaurants and public transport. The staff were really helpful and friendly. Read the full review

Travelled: December 2017
Jo McGrouther - Australia
Micro Centro
This is the business district of the city where you also find the Plaza de Mayo, the Government Palace and the Obelisco. The streets are small, cramped and rather unfriendly to pedestrians but if you have just one night (midweek), then staying right in the heart of the city has its attractions.

Upmarket
Continental 725
If your stopover is brief in the city, this hotel is a good choice. Located right in the centre with stunning views from its rooftop bar, it's a two-minute walk from the main historic sights and right in the thick of the hustle and bustle that drives this city.
There aren't that many places to eat close by, so we'd recommend enjoying a tango show to complete your time in the city.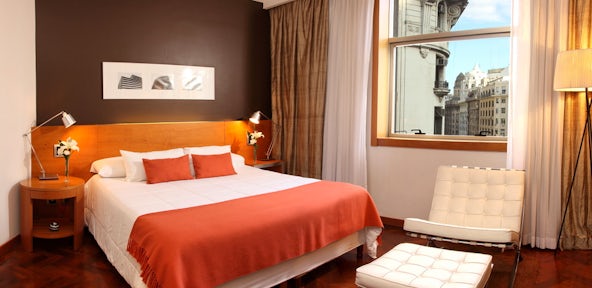 FAQs about Buenos Aires accommodation
Yes, it is. There is a really good and easy-to-navigate metro system, a new bus system (slightly harder to work out) and lots of cheap taxis. Buenos Aires is also a great city to get out and walk; the grid system makes it easy to work out how far you are walking – one block is 100 metres, so it's hard to get lost.

Palermo and San Telmo both have a great network of restaurants and bars. Palermo tops the list thanks to its historic restaurants, hip bars, microbreweries, and cakes to die for!

Three nights is a really good length of time and gives you two full days in the city, enough time to do a whistle-stop 1/2 day city tour, explore some museums, and then head to some of the less visited areas.