Modern Santiago
This cosmopolitan and fast-changing city, considered by many as a culinary hotspot, is one of Latin America's rising stars, with so much to offer every type of visitor.
World-renowned wine regions, mountainous landscapes for adventure activities, and the eclectic UNESCO coastal city of Valparaíso are all within a short drive of Santiago. Make the most of your time in Chile's capital as part of your Patagonian adventure.
Dinner views in Santiago
Swoop says
Please be aware that hotels do get booked in advance during Patagonia's peak season, so we would absolutely recommend that you book anywhere you're definitely keen to stay ahead of travelling, or risk disappointment!

Swoop says
The historic centre of the city, known as Casco Historico, really shuts down at night. We recommend staying in other districts that are more alive with restaurants, bars and commercial services, such as Providencia or Las Condes, or the more residential Vitacura.

Providencia & Vitacura
Providencia and Vitacura are safe and elegant residential neighbourhoods located close to the centre of Santiago. They're well served by road to the airport and with the nearby metro, it's only a short trip to the historical sights of the capital. Quieter than some of the other touristic districts, these neighbourhoods have a relaxed feel with plenty of bars, restaurants, cafés and modern up-and-coming gastronomic offerings.

Boutique
Hotel Bidasoa
A beautiful and welcoming boutique hotel located near some great restaurants and cafés in a quiet and relaxing part of Santiago. The hotel boasts 87 spacious and well-lit rooms with a homely feel, friendly service from its staff, and ample and verdant outdoor space with a pool for relaxing in the heat of a Santiago summer.
Bidasoa is very proud of its sustainable principles and excellent vegan food.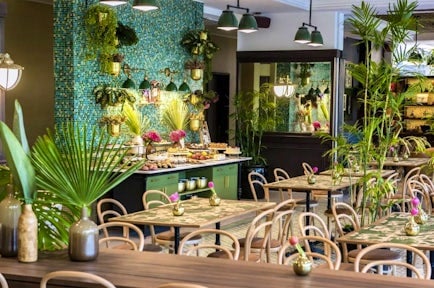 Hotel Bidasoa, Santiago
Le Reve
This boutique hotel – which is strategically located in central Providencia near the metro and many restaurants and shops – is an ideal base for visitors to the city. Le Reve combines French architecture with a contemporary style, making it very appealing.
With over 30 rooms, some overlooking the interior garden, and all equipped with air-conditioning and a full set of amenities, this hotel suits all types of travellers.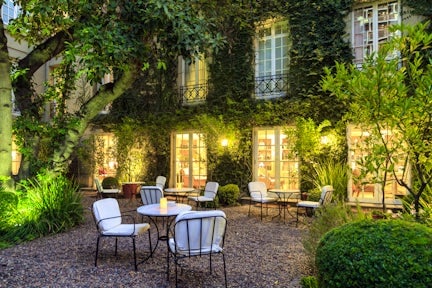 Le Reve Hotel
Maison Italia 1029
This boutique hotel is located in the Barrio Italia area of Providencia. This relaxed area has numerous Italian restaurants and wine bars centred on Santa Isabel St.
The hotel has just six guest rooms, most with private terraces. There is contemporary decor throughout and the well-appointed rooms have WIFI, air-conditioning, and safe boxes. On the ground floor is a stylish café serving breakfasts, lunches, and snacks.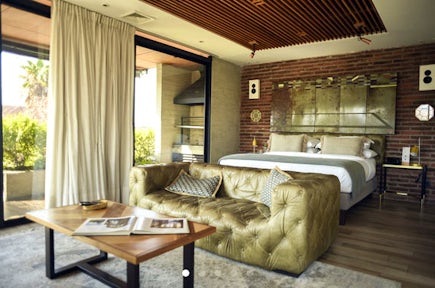 Maison Italia 1029
Upmarket
Hotel Solace

Located near the metro, this 4-star hotel has 108 uniquely styled modern and spacious rooms. The highlight is undoubtedly its rooftop terrace with a pool and bar, providing one of the best places to see the sunset and the city's stunning skyline.
With a noteworthy in-house Mediterranean restaurant, this modern hotel is both comfortable and great value for your time in Santiago.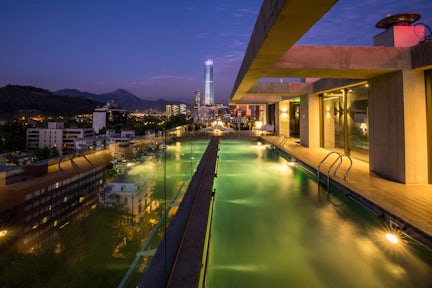 Swimming pool at the Hotel Solace, Santiago
Noi Vitacura

A stay at Noi is refined and sophisticated. Relax in the spa, enjoy exquisite dining and experience sunset from the rooftop pool and bar. This hotel feels 5-star, but without the associated price tag, and its modern architecture is an attraction in itself.
Situated close to both Bicentenary Park and San Cristobal Hill, you're never far away from the green lungs of the capital.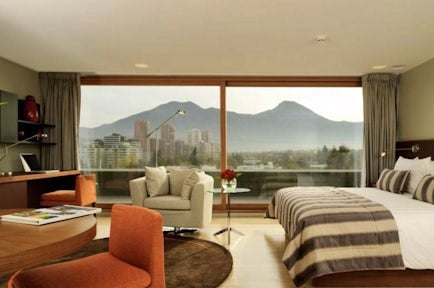 Noi Vitacura, Santiago
No frills
Hotel Ladera

This hotel is in a great location at the foot of San Cristobal Hill. It's close to many bars and restaurants and only a short walk from the metro station.
Sleekly designed, its 36 rooms are practical and well-equipped, and the sun terrace and rooftop pool provide a welcome break from the Santiago heat during summer. It's a great value option for travellers to Santiago, especially those who will be out exploring the city for most of the day.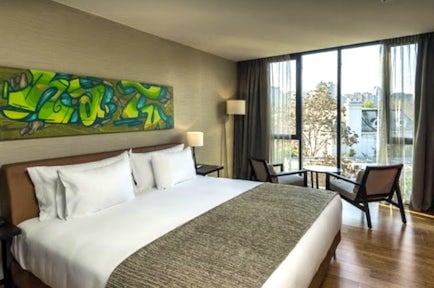 Hotel Director
This hotel offers 96 spacious rooms with contemporary minimalist decor in a great location in Vitacura. As well as the excellent service, you can enjoy cooling off in the outdoor pool or unwinding in the sauna.
Rooms have views of the mountains and city and some are specially designed for people with reduced mobility.
Hotel Director, Santiago
Swoop says
The historic centre of the city, known as Casco Historico, really shuts down at night and can feel quite desolate. We recommend staying in other districts that are more alive at night with restaurants, bars and commercial services such as Providencia or Las Condes, or the more residential Vitacura.
Lastarria
This old, historic neighbourhood, which is little more than a few streets, has a village-like feel, nestled in the hustle and bustle of the centre of Santiago. It has great restaurants and cafés, artistic independent shops, and is within walking distance of Plaza de Armas, Museo de Bellas Artes (fine art museum) and the neighbourhood of Bellavista. On Saturdays and Sundays, it also has a fun little antiques market.

Upmarket
The Singular
A large, modern hotel, very well located in the city centre on the lovely streets of the Lastarria neighbourhood. With a rooftop terrace and outdoor pool, you can enjoy beautiful views over the city before returning to your spacious room.
This hotel lacks a certain amount of local character and the service is naturally quite impersonal, but if you're looking for a luxurious base for a night or two in Santiago, this is a great option.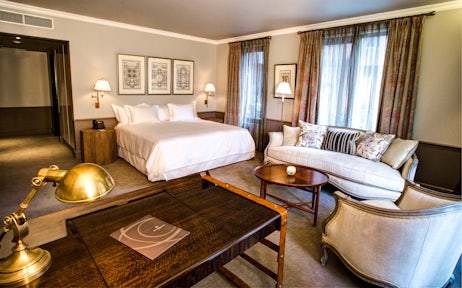 David says
Bellavista
Nestled under the Saint Christopher Hill, Bellavista is a neighbourhood of contrasts. Famous for being a Bohemian neighbourhood with artist studios, there are student bars selling cheap beer in litre bottles, fine dining and live music.

Castillo Rojo
As the name suggests, this castle-looking building looks like something out of a fairytale with turrets and balconies.
Recently restored and open for just one year, the interior of this building retains all of its original charm original features, antiques and furniture made and sourced in Chile.
The rooms vary in size, but all offer character and comfort.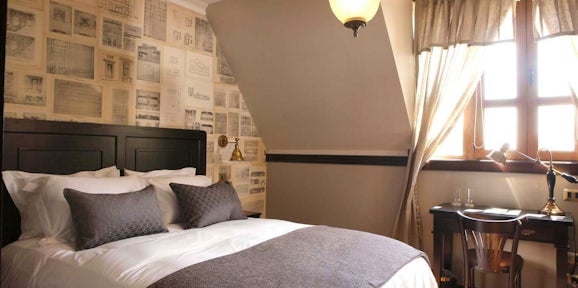 Airport hotels
Upmarket
Santiago Airport Holiday Inn
The perfect place for any late-night or early-morning flights, the Holiday Inn can be found right outside Santiago's international airport.
Whilst not as charming or unique as other options, the ease and practicality of walking off of a long-haul flight and into your hotel room late at night is certainly worth considering.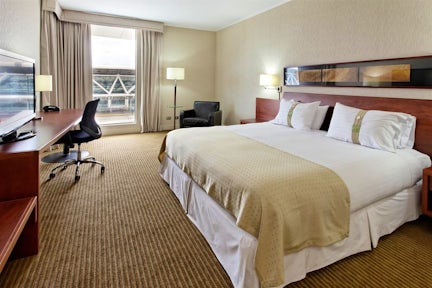 Swoop says
If you're taking a taxi during the weekday rush hour – 5-7pm approximately – give yourself extra time for getting to the airport or elsewhere around Santiago. This two-hour window is referred to locally as 'taco' and can make a 30-minute journey take three times as long.

Vineyards
Matetic Vineyard
Why not stay in a winery estate just 50 miles from Santiago airport?
This peaceful all-inclusive retreat, just outside bustling Santiago, is ideal if you're a wine lover or simply want some R&R at the start, or end, of your adventure.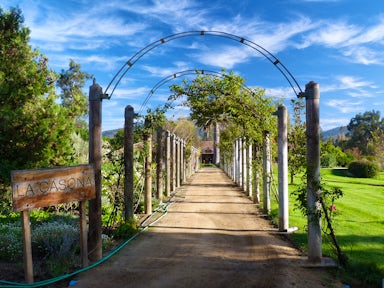 Santa Rita Vineyard
This vineyard is located to the southeast of Santiago, just 45 mins from the international airport. It is the winery where the Carmenere grape was 'rediscovered' in 1993.
Located in a beautiful walled 40-hectare park, designed by leading French landscape gardener Guillaume Renner, Casa Real hotel is unique in Chile. There are just sixteen rooms, tastefully decorated with late-19th-century furniture, heirloom paintings and tapestries. Guests can make use of two outdoor swimming pools and a snooker room. Service and food are of excellent quality and reminiscent of an 'old-school' 5-star European hotel.
During your stay, you can walk in the park amongst peach, olive and almond trees, or through the rose gardens and palm trees by the lakes. There is also a winery tour that includes the cellar – a national monument where you can gain insight into the role Casa Real played during the fight for independence from the Spanish.
Not to be missed is the Museo Andino, a pre-Columbus ethnographic museum, which is on par with the National Museum and run by the Clara Real Foundation charity.