Life before Swoop
Before my time at Swoop I had the privilege of living for 5 wonderful years in Puerto Natales, Chile - a pristine corner of Southern Patagonia - where I helped create authentic adventures & experiences that connected travellers to local communities, cultures, and one-of-a-kind landscapes.

I also served as an AmeriCorps member for 2 years in rural southeast Ohio where my service helped support sustainable communities & healthy environments in Appalachian Ohio.

My Patagonia experience
I first travelled to Patagonia in 2016 as a backpacker conquering the 'O' circuit. It was upon my arrival to Torres del Paine where I truly felt that I was visiting a very unique place on Earth - I really felt that I was at the world's end. During my time exploring I fell deeply in love with the pristine landscapes, sporadic weather, generous and kind people, and the delicious food.

After returning home to the states, I decided to make a big life change and moved to Chile where I lived in Punta Arenas for a short while before moving to Puerto Natales where I spent 5 consecutive years living and enjoying the rhythm of Patagonian life. During those years I was able to take time to appreciate some of Patagonia's precious destinations such as Kawésqar National Park, Canal de las Montañas, Carretera Austral, Rincón Bonito, El Chaltén & El Calafate, among other beautiful destinations. My adventure travel experience grew from hiking and backpacking to kayaking, ice hiking, horseback riding, biking, and taking time to enjoy slow travel navigating Patagonia's channels and fjords.

Day to day at Swoop
As a Patagonia Customer Experience Coordinator, my role is to ensure that clients are being taken care of in every way possible leading up to their Swoop Patagonia adventure including once their journey is complete and they've returned home.

Memorable customer service experiences enrich an adventure and are key to successful journeys.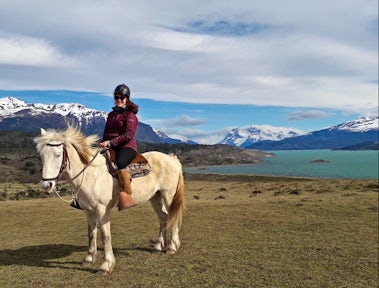 The next adventure
Staying close to home, I continually love exploring more and more of West Virginia which is my favourite place to appreciate wild and wonderful wilderness! I love sharing small moments and big adventures with my daughter and doggo.
Setting my sights on my next big adventures, I would love to travel to the Pacific Northwest & Alaska, Ireland, Spain and France.