Life before Swoop
Travel has also been a huge passion and priority in my life, and my lifestyle of living on a canal boat allows me to explore different parts of the UK on a regular basis.
Before I joined Swoop, I was working for one of the UK's leading electric bike retailers during the pandemic. Pre pandemic, I was arranging cycling holidays across Europe with a strong focus on road cycling and more leisurely cycling trips around some of Europe's top wine destinations.
Mirador del Coll de Rates, Spain
My Patagonian experience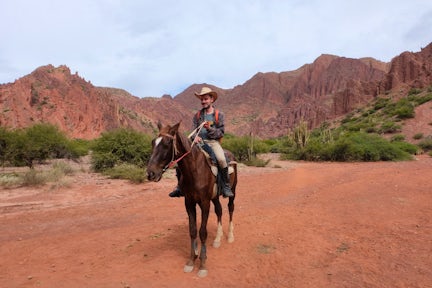 Horse riding near Salta, Argentina
South America and Patagonia made up the last part of a two-year career break (and my honeymoon).
Starting in Ushuaia, we quickly realised that we had already burned through too much of our budget to do the Ushuaia to Punta Arenas cruise, so we settled for a day cruise taking in the magnificent wildlife and fjords.
We then headed up through Torres del Paine and on to Perito Moreno Glacier and El Chalten, where the weather was more favourable to take day hikes such as Lagunas Los Tres.
We continued our adventure in Bariloche, in the Argentinian Lake District, taking on the numerous mountain biking trails and kayaking on the lakes.
To finish, we continued through northern Argentina through Salta and into Bolivia and Peru. Ever since I have been dreaming of going back and exploring Chilean Patagonia.
Day to day at Swoop
Working for the Patagonia Customer Experience Team allows me to connect with Patagonia on a daily basis and share my knowledge with our customers.
I focus on adventures with an enhanced level of service, which means leaving no stone unturned to make your trip run smoothly and ensure you are fully prepared for the adventure ahead.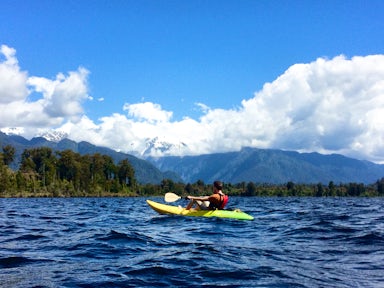 Kayaking in Nahuel Huapi National Park
Why I love Patagonia
The ocean along the coast of Patagonia has one of the most healthy and diverse ecosystems in the world, so the wildlife is outstanding and has an end-of-the-world feel.
The sheer remoteness of Patagonia allows you to fully switch off and reconnect with nature!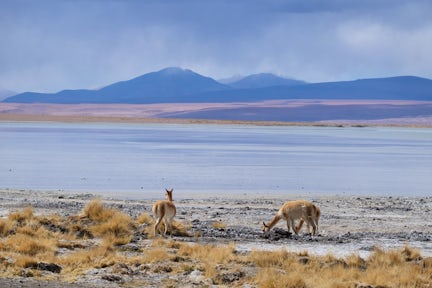 Guanacos in the Atacama Desert, Chile

What our customers think of Lewis
Chloe and Lewis provided their suggestions, attention and care in building our itinerary to match our interests and wishes. Together with our guides they helped to make this an amazing adventure! Read the full review

Travelled: February 2023
The advice and service of Sydney and Lewis were outstanding. Read the full review

Travelled: February 2023
Matthew Clarke - Australia
My experience was excellent working with Danny and Lewis Read the full review

Travelled: December 2022