Life before Swoop
When I was 17 years old, I moved from northern Chile, my home country, to Italy for a life-changing two-year studying experience. Afterwards, life would never be the same for me, as I was always eager to connect with new places and people.
It was a drive for me to learn new languages and eventually start a career in the travel industry. I moved to Patagonia, attracted by a sense of adventure, and immediately fell in love with the rugged landscapes of "the far south". Here, I found the dream place to pursue my passions, namely, horseback riding, spending time in nature and simply getting along with friendly people.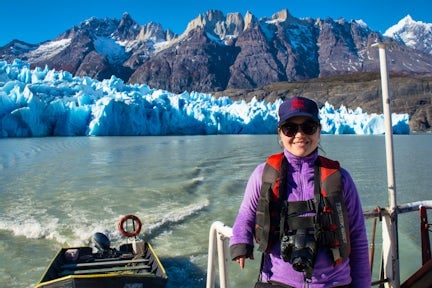 Grey Glacier
My Patagonia experience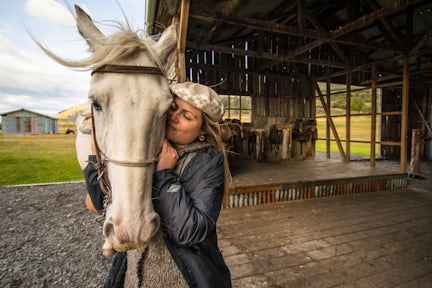 The horses from Estancia La Peninsula, Chile
I have been inhabiting Patagonia's vast landscapes for almost 10 years. I have wandered through most of the iconic trails of both Chile and Argentina, such as in El Chalten and Torres del Paine National Park, where I have worked for 8 years. I love hiking and have done the W Trek in the heart of the austral Autumn (April), my favourite time of the year. I'm often found horseback riding through Patagonia's plains, forests and mountains, a passion I have pursued for years.
I have completed the most epic road trip in Chile twice, the 1,200km Carretera Austral ('southern highway'), once in the heart of winter. I spent days exploring the mystic Chiloe Island, sailing through Patagonia's remote channels, exploring the mesmerizing national parks of Chile's Aysen region, and meeting the whales and penguins of the Magellan Strait.
I have seen hundreds of sunrises as I was working in some of the most renowned hotels in Torres del Paine, namely EcoCamp Patagonia and Explora. I often say Patagonia has the most stunning sunrises on Earth, and that in Patagonia every dawn brings thousands of incredible surprises for the day.
Why I love Patagonia
I have always had a fascination with the unspoiled. For me, Patagonia is the very definition of "unspoiled", with untouched scenery, abundant wildlife and some of the world's most spectacular national parks. From the very first day I reached Chile's Magallanes region, I fell in love with the uniqueness of Patagonia's pristine nature and the great diversity of landscapes, from the windy steppe to the glorious granite spires of Torres del Paine.
I currently live in Puerto Natales with my husband and daughter, the perfect base to go explore the surrounding wild places and to raise and educate the future guardians of nature.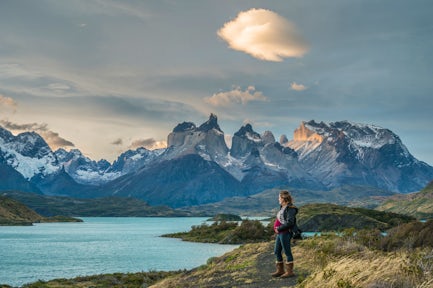 Best view of the massif, Torres del Paine National Park
Day-to-day at Swoop
I joined Swoop in September 2022, as part of the Customer Experience Team. My role involves helping travellers make their Patagonian adventure come true with the highest level of safety, comfort and genuine hospitality. I'm always eager to help and share tips and advice from a local perspective.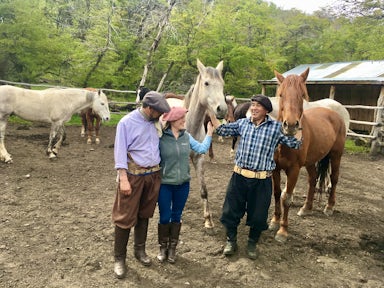 Laughing with gauchos after a horseback riding