Life before Swoop
I have been inspired by the outdoors for as long as I can remember. My father was a volunteer ranger, and we went hiking as a family regularly. Although I required bribing with chocolate as a child, I quickly fell in love with mountains. As I got older, our family holidays took us to peaks all over the world and ignited a lifetime obsession with these landscapes.
By the time I was 19, I knew I needed to get out and live in the landscapes I was so inspired by, so I booked a one-way ticket to New Zealand and flew out by myself to pursue my dream. I settled in Wanaka in the South Island and never looked back. I've spent the last 15 years living, travelling and adventuring around he world, spending most of my time in New Zealand, Australia, Austria, Norway, Portugal, and my adopted home of Canada, where I now live on the Sunshine Coast of beautiful British Columbia. I learnt to snowboard, studied adventure tourism, became a kayak guide, fell in love with multi-day hiking, and took up cycling, trail running and alpine climbing. I met so many inspiring people from all over the world who were pursuing their passion relentlessly, and I felt empowered to do the same.
I have been fascinated by Patagonia since first seeing a picture of Torres del Paine as a teenager, and have been itching to explore these landscapes for years. I plan to spend half the year combining my work with travelling, hiking and kayaking myself around this beautiful, wild corner of the world.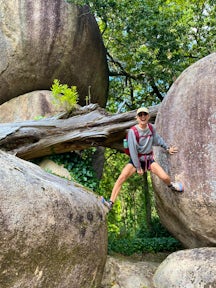 Bouldering in Sintra, Portugal
Day to day at Swoop
I am a Customer Experience Coordinator here at Swoop, helping you get prepared for your travels and adventures in Patagonia. I love using my experience to advise, to help foster a deep love of this region, make sure you have the time of your life, creating memories to last a lifetime.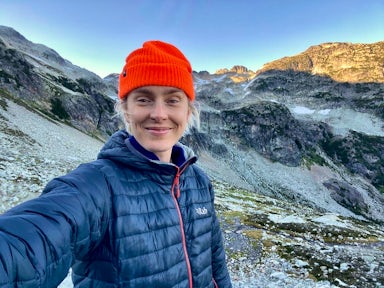 Camping in the Whistler backcountry
The next adventure
This summer, I plan on hiking the Sunshine Coast Trail (180km) and exploring Desolation Sound by kayak. Later in the year, I will be heading to Patagonia to continue the adventures while based in the Lake District of Argentina.

Getting my Paddle Canada Certs in Whistler