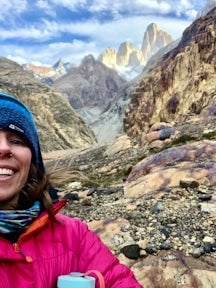 Valle de los Catorce with Fitz Roy in the background
Life before Swoop
Prior to joining Swoop, I spent many years living in Puerto Natales and working as a trekking guide in and around Torres del Paine National Park. Although guiding was my dream job, I knew it wasn't for forever so after the 2019/2020 season (and Covid), I started looking for a new challenge that would allow me to use my expertise and passion for Patagonia in a different way - and let me sleep in my own bed!
Apart from exploring Aysén's magnificent mountains, I love to rock climb, drink mate, open-water swim and simply enjoy my day-to-day life here in Patagonia!

My Patagonian experience
Living in Patagonia is not always easy but life here teaches you to adapt, to never take things too seriously and to be resourceful. Having been here now for many years, I feel very privileged to be living my life in such a unique, pristine and diverse part of the world. Patagonia holds a lifetime of adventure and there is so much still undiscovered.
Patagonia is not a bucket list destination but rather an ongoing opportunity to connect with nature, culture and oneself.
Day to day at Swoop
I work as Swoop's go-to trekking specialist and I'm always on the lookout for more unique and exciting adventures around the region!
Nothing excites me more than finding motivated travellers the perfect off-the-beaten-track trekking and mountaineering experiences in Chile, Argentina and Tierra del Fuego! Whether you're interested in an expedition to the Southern Patagonia Ice Field, an exploratory trek to the heart of Tierra del Fuego or a multi-day backpacking trip in Cerro Castillo here in Aysén - I'm here to help!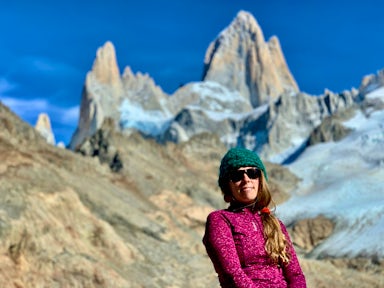 Swoop specialist, Sarah, completing the Cerro Torre & Mt. Fitz Roy Trek in Chalten
Why I love Patagonia
Having travelled from the highest peaks of the Himalayas to the Arctic fjords of Norway, to me, there is no place as beautiful and dramatic as Patagonia. The wild, unpredictable weather, along with its diverse and pristine mountain backdrops make Patagonia an ideal destination for any outdoor enthusiast and, well, that's why I stayed!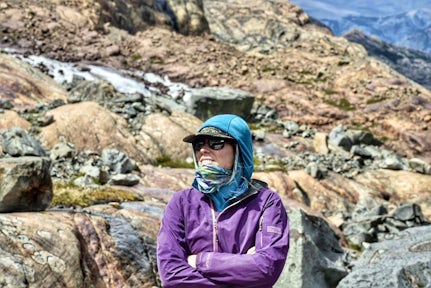 Just another day in Los Glaciares National Park

What our customers think of Sarah
The next adventure
I'll continue in my very own backyard! I've been living in the Aysén region for close to two years now and I've barely scratched the surface in all that there is to explore! I'm also always looking for an excuse to return to El Chaltén and Los Glaciares National Park - the mountaineering and climbing options are endless! To make things more interesting, perhaps the next time I cross the border I'll take the ferry from Villa O'Higgins to Candelario Mancilla and arrive in El Chaltén by foot! Let's go!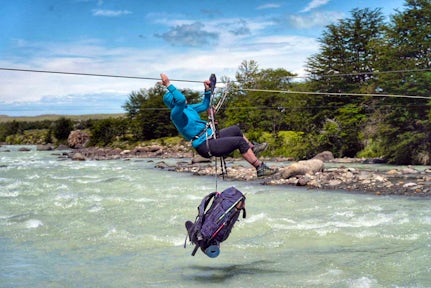 Zip line in Los Glaciares National Park