About me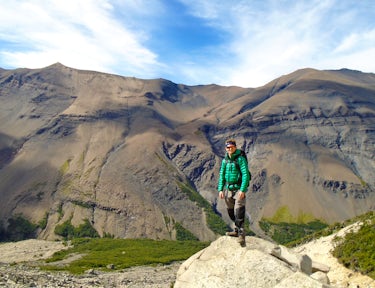 Life before Swoop

I graduated in 2013 with a BA in War, Peace and International Relations. Seizing my newfound freedom I bought a one-way ticket to Bangkok and spent two months backpacking around South-East Asia. Eventually running out of money, I made my way to Australia and worked there for a year trying my hand at sheep farming and harvesting olives. Through friends I made in Australia, I landed a job in a Japanese ski resort where I was lucky enough to ski powder to my heart's content.
I was accepted to volunteer at the Hillary Outdoor Centre in Tongariro, New Zealand and spent several months travelling in a place I had longed to visit since I was a teenager. After several more seasons with holiday companies in the Austrian and Finnish mountains, I finally settled back in the UK and my life with Swoop began in earnest.
I'm happiest when I'm out on long treks and have completed both the Camino de Santiago and the GR20. I've been eyeing up the Haute route for a long time and would like to discover what the Julian Alps in Slovenia has to offer. When I'm not out hiking, you'll often find me running and cycling through Bristol, or frantically bounding around the squash court.
My Patagonian experience
My first visit to Patagonia was in February 2017. I couldn't contain my excitement and barely slept the night before or on the flight from London to Santiago.
I spent 4 days in Santiago and Valparaiso getting a feel for the cities. I loved exploring the quirky and colourful streets of Valparaiso and sampling its delicious seafood - the La Concepcion restaurant is well worth a visit. I then hiked for 11 days in Torres del Paine, combining the Full Circuit with a 3-day exploration of the Pingo Valley. I really enjoyed seeing the main sights that makes this part of Patagonia so famous, with some more 'off the beaten track' trails where I saw no one else at all.
Moving into Argentinian Patagonia, I hiked the Huemul Circuit in El Chalten which was easily the highlight of my trip. Such a beautiful and varied trek with stunning campsites. I also tried my hand at some horse riding and rafting which were both very exhilarating.
On my second trip to Patagonia in February 2018, I plunged into the depths of Tierra del Fuego and completed the Dientes de Navarino Trek and the Sierra Valdivieso Trek near Ushuaia. I'd never been trekking in remote as areas as these and it gave me a newfound appreciation of what off trail bushwhacking really means! I loved the sense of freedom that comes with pitching your tent wherever you like and experiencing nature in its most primitive form.
Day to day at Swoop
My main role at Swoop is to help our customers to book directly with our partners. I specialise in Torres del Paine, El Chalten and Tierra del Fuego. If anyone wants to know more about ski opportunities in Patagonia then I can assist with that as well. I love helping my customers find the right trip and guide for them. Putting them in touch with our partners directly and hearing about adventure when they're home is very rewarding.

Why I love Patagonia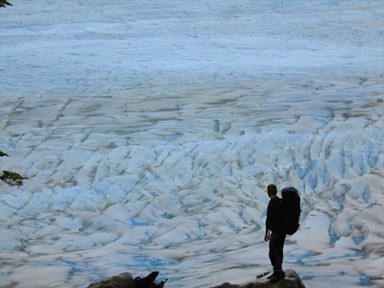 The jaw-dropping scenery of Patagonia is incomparable to anywhere I've ever been before. The huge granite rock faces, twisted metamorphic mountains, peppermint blue rivers and lagoons, vast glaciers and rolling steppe make for a truly unique landscape. Strapping on a pair of hiking boots and walking amongst this pre-historic world is an incredibly special experience. You come back feeling like you've really been to the back and beyond.
Travel tips from my blog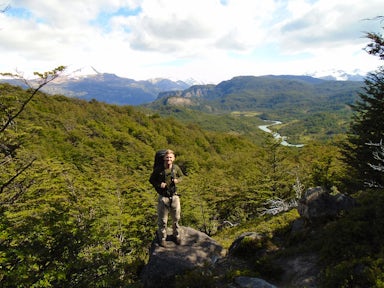 Want to know whether to use a guide when trekking in Patagonia?
Read my review of John Pilkington's book:

What our customers think of Tom
It was great to get detailed service from Swoop, we spent a lot of time discussing with Tom the perfect option for us, as we didn't have the luxury of tons of time but we wanted to see a lot. We finally agreed on doing the W with one night with a guide in the Bader valley and it was wonderful.

Travelled: November 2017

I'm already looking at some future trips that I can take with Swoop. I feel confident that I will find just the right one with Tom as my go to guy.

Travelled: January 2017

Kudos to Tom. He went above and beyond to find me a spot in the dates that I needed. It was pure VIP service. I wish that I would have discovered Swoop and Tom earlier.

Travelled: January 2017
I emailed a variety of trip providers but Tom from swoop was the first and most 'on it' person I corresponded with. Great guy.

Travelled: December 2017
Tom was great with the advice and super patient with all my enquiries, great guy! I'm happy I went with Swoop. Read the full review

Travelled: November 2017
Pauline Marcato - United States Of America
Tom was very helpful with the planning, answering questions, and ultimately directing us to the local partner. My group went into the trip having a good idea of what we were about to experience.

Travelled: October 2017
David - Washington, D.C. USA
The service was great, Tom was very attentive and timely.

Travelled: January 2017
Tom was very knowledgeable and very quick to respond to our questions (even with the time difference!). He tailored a great trip for us and set us up with the perfect company at an extremely reasonable price.

Travelled: January 2017
Swoop did a wonderful and thorough service from the very first day. Kudos to Tom

Travelled: January 2017
Tom was an absolute pleasure to work with. He knew exactly what we were looking for and recommended what we needed. I highly enjoyed my experience with Swoop and would certainly recommend to others.

Travelled: January 2017
Tom was an absolute pleasure to work with. He knew exactly what we were looking for and recommended what we needed. I highly enjoyed my experience with Swoop and would certainly recommend others.

Travelled: January 2017
Next adventure
I came away from my recent recce feeling incredibly proud that Swoop specialises in this extraordinary part of the world and I can't wait to go back for more. I'm intrigued to explore the Lake District as I know the scenery here is very different to that of southern Patagonia.