Customer Profile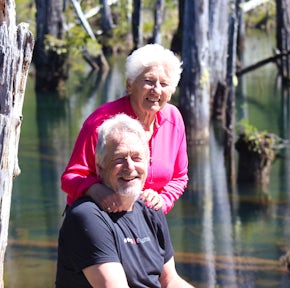 Peter & Mary, from the UK
Keen botanists who celebrated their 20th wedding anniversary in Patagonia.
Budget:
USD $550 per person per day for all activities, transfers and accommodation, plus USD $600 for all domestic flights. Peter & Mary chose to arrange their own international flights.
Their brief to us:
With 26 days on their hands, Peter and Mary were keen to combine seeing Patagonia's highlights with the lesser-visited areas. With plenty of camping and "roughing it" under their belts and a budget that allowed them to splurge, they wanted to celebrate their anniversary in style and stay in hotels and lodges that allowed them to explore during the day and enjoy comforts at night. As enthusiastic gardeners they also wanted to discover local flora and fauna.
We helped them to plan a trip where they could spend time independently in Northern Patagonia and just the right amount of time in the more popular Torres del Paine National Park and Chilean Fjords.
Peter & Mary's Itinerary
Week 1
Valparaiso and the Atacama Desert
Peter and Mary started their holiday in the pretty port of Valparaiso - just an hour away from Santiago - staying in a boutique hotel and exploring the city independently for a few days.
After a short flight north (we recommended the best seats for the incredible views of the Andes), they arrived in the small oasis town of San Pedro de Atacama, where their hotel transfer was waiting for them.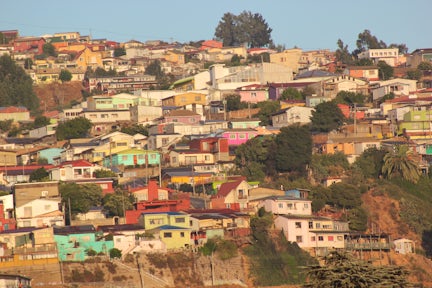 Day 4 of their trip, and the fun really began! Peter and Mary stayed at the Alto Atacama, a spectacularly designed hotel that almost seamlessly merges with the canyon on which it sits. Incredible sunsets, climbing sand dunes and fine dining were on the menu.
They arranged their own daily excursions with the guides, including visiting ancient petrographs, sand and stone formations at Valle de la Luna, a redundant salt mine and flamingo spotting on the salt flats.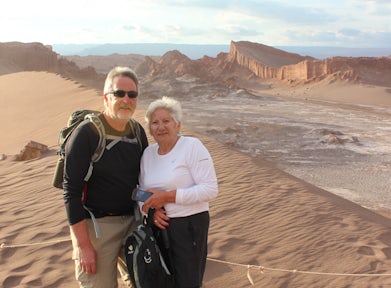 Each room has its own terrace facing the imposing desert landscape. Fine dining and wines keep all 'diets' at bay!

Travelled: March 2016
The landscape in Torres del Paine is impossible to ignore. The ever-changing light constantly offers vibrant and delightful images.

Travelled: March 2016
Week 2
The Chilean Lake District
After two short flights to Temuco we arranged for Peter and Mary to collect a car for their drive down to Pucon - the gateway to the Chilean Lake District. Unfortunately, due to a flight delay they weren't able to climb the Villaricca Volcano, but they more than made up for it by exploring the mountains by car and spending some time relaxing by the pool at their hotel, the Antumalal.
They left the bright lights of Pucon for the Huilo Huilo Biological Reserve in the heart of the Lake District, known for it's incredible waterfalls. They stayed in a hotel renowned for it's unusual architecture.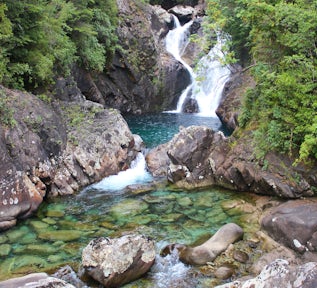 On day 11, we arranged for Peter and Mary to be collected from their hotel and travel to the shores of the turquoise Tagua Tagua Lake which we recommended due to their interest in botany.
With three nights to enjoy at a lodge, Peter and Mary spent a guided day hiking through virgin forest - spotting birds and fungi - and a few days relaxing and watching the clouds pass by, before enjoying a boat ride up the Puelo river on their last night.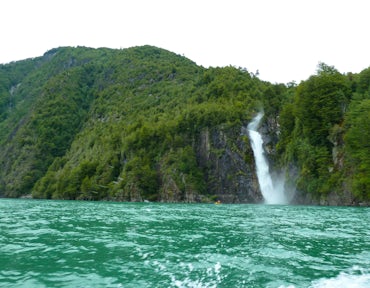 The array of ferns, fungi and birds made the challenging hike into the Tagua Tagua Park worthwhile.

Travelled: March 2016
Week 3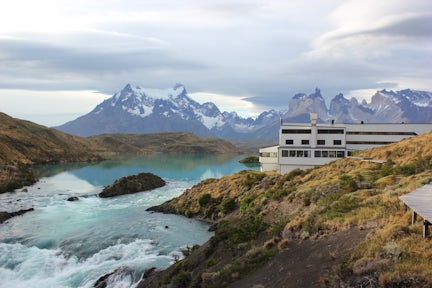 Punta Arenas and Torres del Paine
We booked Peter and Mary into a window seat on their flight down to Punta Arenas, so with hardly any clouds they enjoyed uninterrupted views of the large Patagonian ice sheets and the enormous glaciers flowing down into the fjords and lakes.
It was Peter and Mary's dream to stay in the Explora Hotel, so we duly made it their base in Torres del Paine.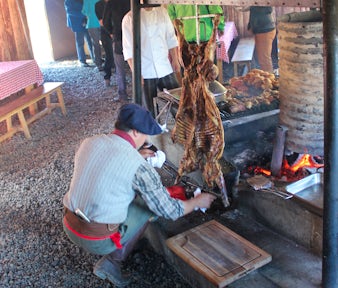 Peter and Mary made good use of the hotel's own guides and on their first day opted for a tour of the park, which gave them lots of opportunity to take photos of the famous granite towers and wildlife. A ranch BBQ with the gauchos was waiting for them after a long day.
After some strenuous hikes the previous week, Peter and Mary decided to explore the park at a gentler pace and went in search of the elusive puma, discovering cave paintings along the way. Their Torres del Paine highlight was horse riding, which they described as an amazing experience - particularly for Mary who had never been on a horse before!

The landscape in Torres del Paine is impossible to ignore. The ever-changing light constantly offers vibrant and delightful images.

Travelled: March 2016
Week 4
The Chilean Fjords & Buenos Aires
Peter and Mary boarded an expeditionary cruise ship at Punta Arenas, for a 4-night wildlife and glacier trip around Tierra del Fuego. The ship sailed up Admiralty Sound, along the Beagle Channel, through Glacier Alley and to Cape Horn.
Despite initial hesitation at the thought of a cruise, we persuaded Peter and Mary that it was the best way to discover the Chilean Fjords, with plenty of opportunity to get up close to wildlife and to explore the islands via Zodiac boat.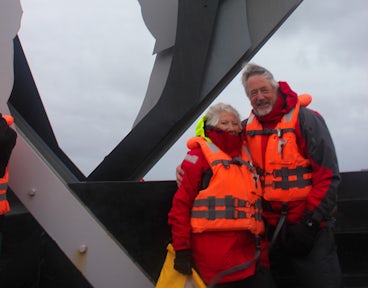 Peter and Mary took advantage of the guided excursions on offer and spotted Magellan penguins, enjoyed panoramic views of the Pia Glacier, discovered the museum at Wulaia Bay and visited the lighthouse at Cape Horn.

We based Peter and Mary in a boutique hotel in Buenos Aires for their last night in South America. They described the city as "a really pleasant surprise - with wide boulevards and many open spaces". A night in the city gave them time to prepare for their flight home to London the next day.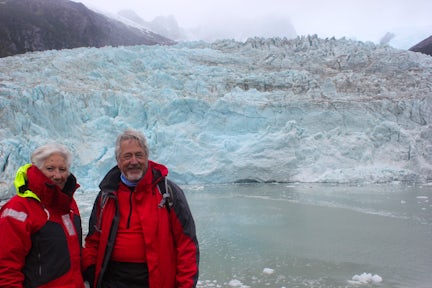 Adventure cruise, Patagonian Fjords

A Few Words from Peter & Mary of Peter & Mary's 'Authentic & Luxurious' Road Trip

Swoop were careful to ask us not just what we wanted from our trip but also what we didn't want, and clearly listened to what we said. The only point of 'conflict' with the proposal was the cruise at the end of the trip - Sally persuaded us it was a 'cruise for people that didn't do cruises' and as with the whole trip, she was right.

Travelled: March 2016

The sort of detail Sally went into included things like which side of the aircraft to sit during transfers. Timings and transfers were well planned and executed. When our luggage did go missing, a call to the local handling agent booked by Swoop enabled a positive resolution.

Travelled: March 2016

This was a 'once in a lifetime' experience. The Flora and fauna, again so different across the trip, really provided us with what we had asked for. We are passionate gardeners with a love of plants trees fungi and ferns, all spectacularly displayed across the trip. We would certainly use Swoop again.

Travelled: March 2016
Tempted by a Tailormade Adventure?
1
Listen
We'll spend some time listening to your aspirations, then discuss the kind of experience that might suit you.
2
Match
Next we'll discuss the options, shortlist the best trips for you and present you our impartial recommendations.
3
Reserve
We'll place a 24 hour hold on your preferred option - without obligation - whilst we talk through the details.
Get in touch today to talk about your dreams for your trip.
Whether it's a 2-week or 2-month adventure, you're travelling independently or in a big group, you want to see Patagonia in comfort or discover challenging hikes, we'd love to help.
1-855-369-7866