Customer Profile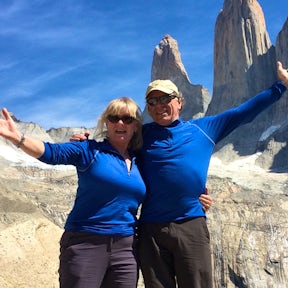 Neil & Sally, from the UK
Neil is a keen cyclist and Sally horse-rides. They both love to travel.
Budget:
USD $390 per person per day for all activities, transfers and accommodation, plus USD $400 for all domestic flights. Neil & Sally chose to arrange their own international flights.
Their brief to us:
Neil and Sally were originally inspired by the idea of a 3-week road trip, but after speaking to them we realised that they really wanted to get under the skin of Patagonia by spending longer in each place. We helped them plan a trip where they could meet interesting, local people and stay in extraordinary places - either because of the people that ran them or the location - but didn't always blow the budget (many places only cost $50 per night). We arranged for them to travel on public buses and overland wherever possible. 3 weeks turned into 26 days!
Neil & Sally's Itinerary
Week 1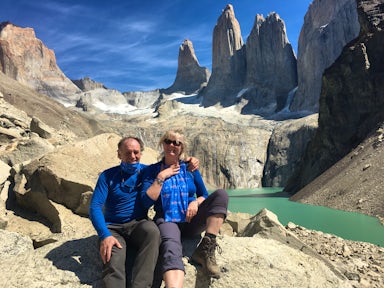 Valparaiso & Torres del Paine
After a couple of days exploring colourful Valparaiso, Neil and Sally toured a vineyard in the San Antonio Valley and enjoyed a night in a boutique hotel in Santiago before flying down to Patagonia.
Keen to experience Patagonia like locals, we arranged for Neil and Sally to take a 3-hour public bus ride from Punta Arenas to Puerto Natales - the gateway to Torres del Paine National Park. They spent their first day trekking past glaciers and waterfalls and their first night in a refugio.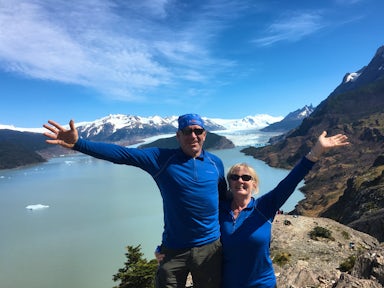 On day 6, we arranged for one of our partners to take Neil and Sally to the west side of the Torres del Paine National park, where they took a catamaran ride before an 'out and back' trek. Accommodation was a refugio on the shores of Lake Pehoe.
Neil and Sally topped off their first week in Patagonia with an early morning hike to the Grey Glacier. A winding narrow path lead them to Laguna Negra, for a glimpse of the Southern Patagonia Ice Field.

Feedback From Neil & Sally of Neil & Sally's 'Under the Skin of Patagonia' Trip
Torres del Paine can only be described as spectacular, and more than worth every step of the arduous hike.

Travelled: February 2016
Week 2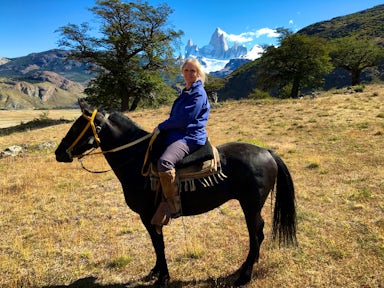 Chilean Fjords & Tierra del Fuego
After a week of hiking, Neil and Sally moved to horse back - for Neil's first ever horse ride!
Starting in Pudeto, they crossed the Serrano River, camped on the shores of Lake Brush, rode through Bernardo O'Higgins National Park and even had time to hop off their horses for an easy walk up to a glacier. We arranged for them to take a boat through glaciers and canals on their way back down to Puerto Natales.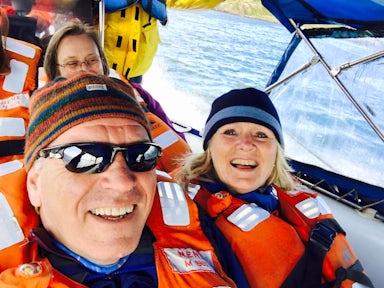 Neil & Sally took a short flight down to Tierra del Fuego ('Land of Fire'), where they stayed at Lakutaia Lodge, set in a wonderful location on an island south of Tierra del Fuego at the tip of South America. We arranged a wildlife-spotting cruise to Wulaia Bay where they saw penguins, dolphins, seals and albatrosses.
Week two came to a close with a boat trip over the Beagle Channel into Ushuaia, Argentina, which they described as their "most exhilarating immigration experience!".

Feedback From Neil & Sally of Neil & Sally's 'Under the Skin of Patagonia' Trip
How often do you travel for several days without sight or sound of another human, vehicle or plane trails in the sky?

Travelled: February 2016
Week 3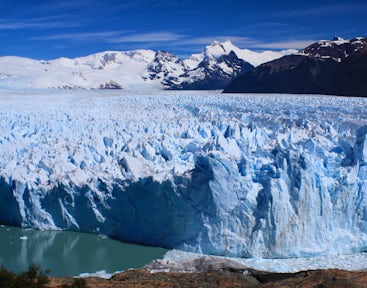 Perito Moreno & Fitzroy
After flying up to El Calafate, Neil and Sally explored Los Glaciares National Park. First on the list was Perito Moreno Glacier, the most impressive in the area. They then took a public bus further into the park to El Chalten (we recommended sitting on the left hand side for the best views), where we based them at bed and breakfast Northofagus.
At this point in their itinerary, we allowed for them to spend a day relaxing and doing laundry before their next excursion.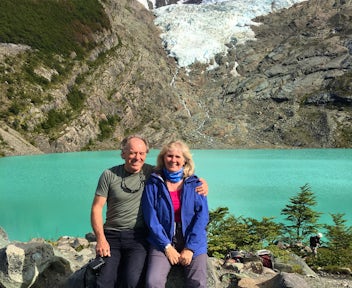 Neil and Sally spent the next 3 days hiking in Los Glaciares National Park, camping and staying in a refugio, carrying only what they needed and leaving their main luggage in the bed & breakfast.
On day 1, they walked along the Electrico Valley through an enchanting forest. Day 2 brought yet another glacier and a river crossing via large boulders, and the breathtaking views of Mount Fitz Roy from the Laguna de Los Tres viewpoint.

Feedback From Neil & Sally of Neil & Sally's 'Under the Skin of Patagonia' Trip
From experiencing the force of the Patagonian winds, to forging glacier fed rivers and camping in the hills - this week had everything. Stunning!

Travelled: February 2016
Week 4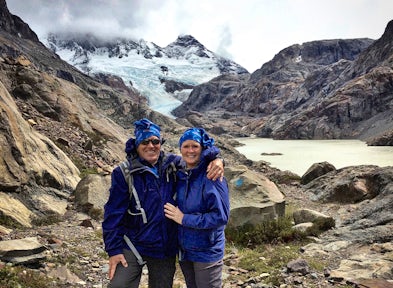 Los Glaciares & Buenos Aires
An early start on their last day in Los Glaciares National Park allowed Neil and Sally to see Mount Fitz Roy at sunrise - a breathtaking, beautiful hue of red. After breakfast they hiked through to Mount Torre and had lunch on the shore of Laguna Torre.
The following day we arranged a minibus to Laguna del Desierto, where Neil and Sally took a boat over the lagoon to Aguas Arriba Lodge: a secluded, 6-bedroom lodge only accessible by boat or 3-hour hike.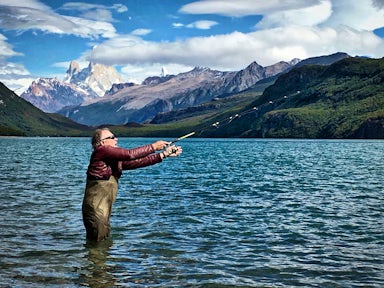 Neil and Sally spent 3 nights at Aguas Arriba Lodge, absorbing and reflecting on their trip. In between watching the clouds go by, they hiked over the far side of the lake, and - another first for Neil - went fishing. It's best not to ask Neil how many fish he caught...
After a final night in a boutique bed and breakfast in Buenos Aires, Neil and Sally flew home to the UK, feeling like "Patagonia was everything we ever thought it would be - and more."

A Few Words from Neil & Sally of Neil & Sally's 'Under the Skin of Patagonia' Trip
The trip was breathtaking, thought provoking, magical, calming, exciting, adventurous and far exceeded our expectations.

Travelled: February 2016
Arrangements were seamless and worked perfectly. On the one occasion when we needed to alter our schedule changes were made swiftly and very efficiently.

Travelled: February 2016
Thank you to everyone at Swoop and your partners in Patagonia. You gave us an experience that we will never forget.

Travelled: February 2016
Tempted by a Tailormade Adventure?
1
Listen
We'll spend some time listening to your aspirations, then discuss the kind of experience that might suit you.
2
Match
Next we'll discuss the options, shortlist the best trips for you and present you our impartial recommendations.
3
Reserve
We'll place a 24 hour hold on your preferred option - without obligation - whilst we talk through the details.
Get in touch today to talk about your dreams for your trip.
Whether it's a 2-week or 2-month adventure, you're travelling independently or in a big group, you want to see Patagonia in comfort or discover challenging hikes, we'd love to help.
1-855-369-7866