Trip Summary and Itinerary Map
Sail in and out of Puerto Montt, Chile, over six days of exploring Chile's largely inaccessible northern Patagonian coast. Visit remote villages and other stunning wild locations, only accessible by sea.
Enjoy the expedition cruising experience with small boat excursions and shore landings to get you as close as possible to the wildlife and scenery.
Onboard talks given, with evening games played - you'll learn and have fun with an authentically Chilean experience.
Sit back and relax on board with all meals and drinks included from start to finish, all of which are served with great Chilean hospitality.
You'll visit hot-springs, remote glaciers, local markets and islands teeming with wildlife on this very dynamic and varied small ship cruising experience.
Landmarks visited on Northern Patagonia Fjords Cruise
Operator's Itinerary
Day 1: Embark from Puerto Montt through the Llanquihue Archipelago
After embarking from Puerto Montt, we'll navigate through the Llanquihue Archipelago with views of Calbuco and the Ancud Gulf.
In the late afternoon we'll arrive in Quemchi on the island of Chiloé and disembark on small boats towards the picturesque village where you can visit a handicraft market, cafés, the museum of the Chilean author Francisco Coloane and stroll around the beautiful streets.
From the early evening we'll continue sailing south along the archipelago of Chiloé, crossing the Gulf of Corcovado at midnight.
Meals: Dinner
Accommodation: Skorpios II ship
---
Day 2: Puerto Aguirre; Moraleda Channel; Islote Barrientos
We'll sail to Puerto Aguirre before lunch and disembark at this fishing village enclosed by the Chonos archipelago. We'll explore the streets and pass a typical Patagonian rainforest before arriving at a viewpoint.
After lunch we'll be back onboard and navigating through the scenic channels of Ferronave, Pilcomayo and Casma before arriving at Islote Barrientos in the late afternoon. We'll disembark to smaller boats and approach the rock formations to visit one of the largest bird colonies in Chile, home to kelp gulls, rock shags, red-legged shags and imperial shags. We'll also see South American fur seals here.
Once back onboard, we'll head south towards Caleta Quesahuen or Punta Leopardos, about 20 nautical miles from the Glacier San Rafael. We'll arrive there in the late evening.
Meals: Breakfast, lunch, dinner
Accommodation: Skorpios II ship

---
Day 3: Tempanos Channel; Glacier San Rafael
Early in the morning our vessel will drop anchor 2km from the stunning Glacier San Rafael. We'll take boat excursions among the multicoloured icebergs, as the weather conditions allow.
By the late afternoon we'll be back onboard and setting sail in the direction of beautiful Quitralco Fjord.
Meals: Breakfast, lunch, dinner
Accommodation: Skorpios II ship

---
Day 4: Quitralco hot springs
After breakfast we can enjoy the warm waters of the Quitralco hot springs whose temperatures range between 32-38 degrees centigrade. If weather permits there will also be boat trips into the fjord.
In the late afternoon we'll start sailing towards Chiloé Island, navigating through the scenic channels of Moraleda and Perez Norte.
Meals: Breakfast, lunch, dinner
Accommodation: Skorpios II ship

---
Day 5: Islote Conejos and Dalcahue
If we're lucky we might see humpbacks or blue whales today as we continue sailing along the east coast of Chiloé Island, arriving in the later morning at the tiny Islote Conejos in the Queilen Channel. Here we'll disembark on small boats to visit the Magellanic penguins and birds on the island.
After lunch we'll continue sailing, by the islands of Lemuy and Chelin, until the late afternoon when we'll arrive in the fascinating town of Dalcahue. There is a fantastic handicraft market here which is well worth visiting. Take a look at the church and stroll along the promenade.
This evening there will be a farewell party and captain's dinner. We'll set sail to Puerto Montt late in the evening.
Meals: Breakfast, lunch, dinner
Accommodation: Skorpios II ship

---
Day 6: Disembark in Puerto Montt
We'll arrive in Puerto Montt early in the morning and, after breakfast, you'll disembark.
Meals: Breakfast
Why Swoop
We've got our feet on the ground
Impartial advice and a bespoke service to make your trip perfect.
Deep Roots in Patagonia
We are former guides, tour leaders, outdoor enthusiasts & adventurers.
For The Ends Of The Earth
Swoop is proud to be B Corp Certified as we know sustainability is more than our carbon footprint (but we're reducing that too).
We're With You At Every Step
We'll make sure you have the adventure of a lifetime.
About The Ship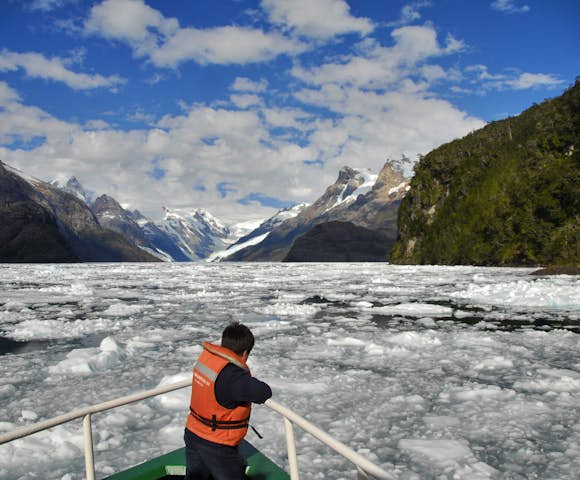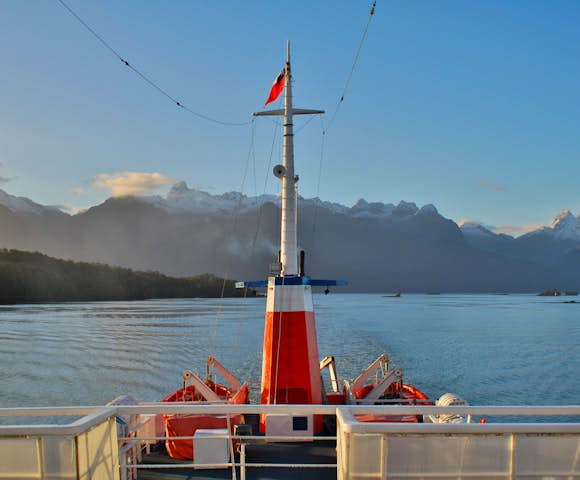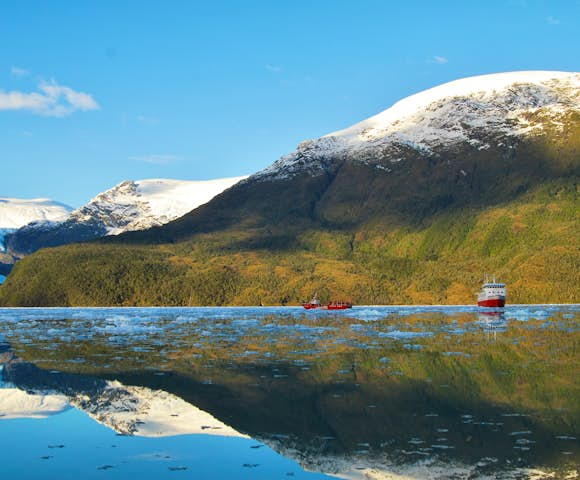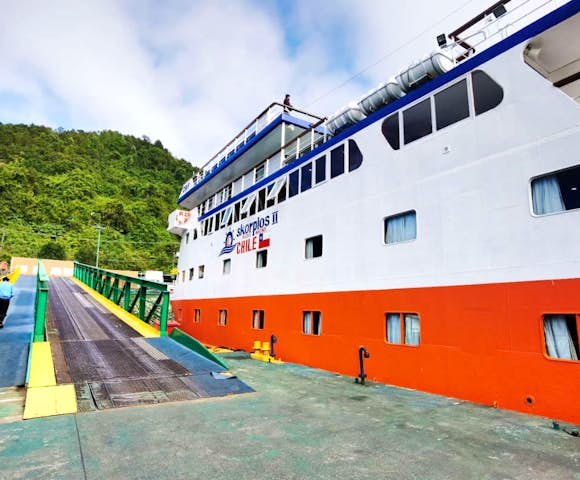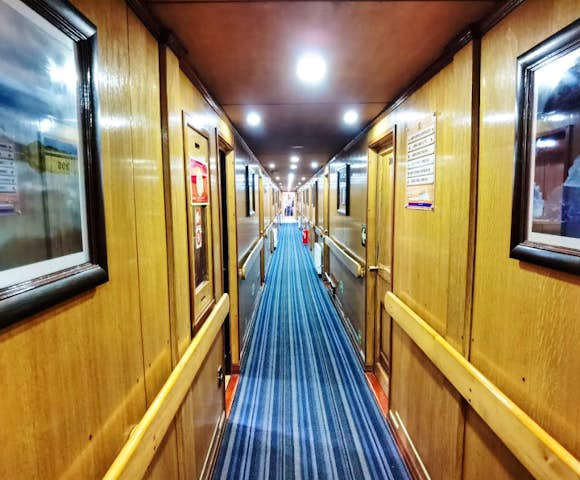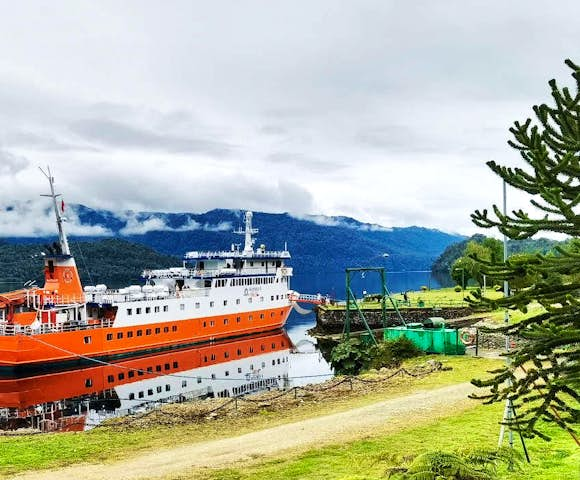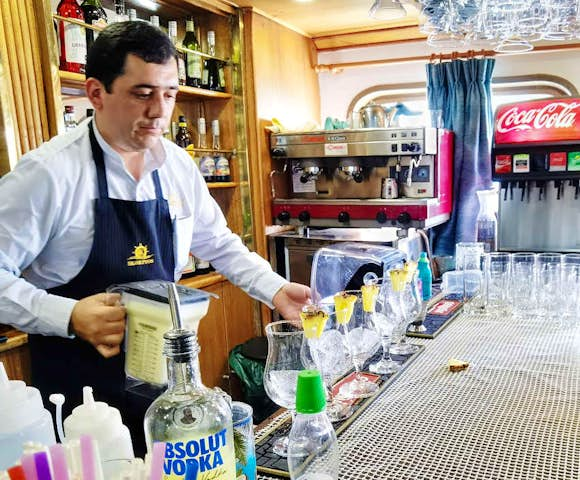 This A1 Ice Class Small expedition ship, with only 53 cabins and remodelled in 2008, provides the ideal base from which to explore the remote and stunning waterways of northern Patagonia's fjords, glaciers and villages.
Your guides team will ensure you're briefed, educated and well looked after on all of your excursions, either from small boats or by foot.
With all-inclusive freshly-prepared meals and an open bar, enjoy an excellent onboard experience.

Northern Patagonia Fjords Cruise
Prices, Departures and Inclusions
Please contact us to discuss your preferred departure date.

Additional Notes
Extra beds – It is possible to turn certain cabins into triple cabins. The cost for an additional bed is USD $1,450-1,780.

Child policy – From 1 to 5 years old, free of charge sharing bed. From 6 to 11 years old, 50% discount for children sharing a cabin with two adults. From 12 years old, normal rate.
Optional extras – You can stay onboard the night before your cruise for USD $160 per person.
Lectures – All lectures are translated live into English, and transmitted to guests via audio-boxes/earpieces (provided on board).

Includes
Meals: 5 breakfasts, 4 lunches, 5 dinners
Drinks: all drinks during bar opening hours (alcoholic and non-alcoholic)
All drinking water as requested
Accommodation: 5 nights in cabin as requested
All safety equipment (life jackets) for zodiac excursions
All shipboard excursions and activities (as detailed in itinerary)
All excursions (as detailed in itinerary)
Excludes
Meals not indicated in itinerary
Any extra/optional excursions
Transfer between Puerto Montt Airport and ferry port, round trip price is USD $44 per passenger
Port taxes of USD $70 per passenger
Personal Equipment (request our recommended kit list)
Personal travel insurance
Gratuities/tips
International and domestic/in country flights
Any visa, passport and vaccination expenses


Questions about this Voyage?