Trip Summary and Itinerary Map
Day 1: Depart from Punta Arenas
Day 2: Ainsworth Bay to Tucker Islets
Day 3: Pia Glacier to Glacier Alley (Beagle Channel)
Day 4: Cape Horn to Wulaia Bay
Day 5: Arrive in Ushuaia
Landmarks visited on Wildlife, Glaciers & Cape Horn Cruise
Operator's Itinerary
Day 1: Depart from Punta Arenas
The starting point of the expedition cruise is the port city of Punta Arenas in southernmost Chile. You'll board the ship this afternoon and have some time to get to know your beautiful small expedition vessel.
With a capacity of 210 passengers, your home for the next five days will feel intimate, comfortable and practical. Every staff member on board will be dedicated to making your trip one of a lifetime.

Departure is usually at 6pm and on the first evening on board you'll enjoy a first-class dinner and an introductory talk from the expedition leader to get to know the captain, his crew and the expedition team.

After dinner you might like to enjoy the open-bar featuring stunning panoramic windows for you to appreciate the immense landscapes of the Strait of Magellan. All drinks (alcoholic or not), are included on this voyage.

You are unlikely to come across any other cruise ships on your voyage given that very few operators have permission to sail in these magnificent waters, let alone have the shallow-drafted ship design to enter the fjords and canals through which you'll be sailing.

Meals: Dinner
---
Day 2: Ainsworth Bay to Tucker Islets*
At dawn the ship will navigate its way through Almirantazgo Sound to arrive at Ainsworth Bay in Alberto De Agostini National Park. This is the perfect spot from which to see the Marinelli Glacier descending from the Darwin Mountain Range in the distance and to appreciate how the land returns to life after glacial retreat.
Hikes taken on the excursions are usually divided by language spoken and physical strenuousness and this will be communciated by your expedition staff ahead of time.
At Ainsworth Bay you'll be guided through sub-polar Magellanic Forest, possibly crossing rivers and creeks, learning about this unique ecosystem at the end of the world. Alternatively you may be guided along the beach area where there's a good chance of sighting southern elephant seals, though bear in mind that sightings cannot be guaranteed due to the colony's unpredictable movements. After two or three hours on shore, you'll return to your ship for lunch.
In the afternoon your expedition team plan to take you on a zodiac boat excursion to the Tucker Islets* for close-up sightings of the endemic Magellanic penguins that nest here from October to March. Other birds you'll see are cormorants and possibly skuas, petrels and even the odd albatross if you're lucky.
* In September and April, this excursion is replaced by a short walk to a nearby glacier at Brookes Bay.
Meals: Breakfast, lunch, dinner
---
Day 3: Pia Glacier to Glacier Alley (Beagle Channel)
The day will begin by navigating the northwest arm of the Beagle Channel before disembarking at the truly stunning Pia Fjord, for many travellers a real highlight to the expedition cruise.
Here you will disembark by zodiac, and select one of two hikes. The first is a shorter hike to a panoramic viewpoint to enjoy spectacular views of the awe-inspiring Pia Glacier whose main tongue extends from the mountaintops down to the sea. The second hike is a longer, more challenging ascent of a lateral moraine of the Pia Glacier.
Both options are clearly briefed ahead of time by your expedition staff and are guided in small groups. You will have the chance to 'listen' to the glacier and hopefully witness some calving as you take in the remoteness of this wonderful location.
More stunning scenery accompanies you when, back on board, the vessel continues along the Beagle Channel through the Glacier Alley. A number of impressive tidewater glaciers flowing down from the Darwin Mountain range and its ice sheet can be observed. Most of them are named after European countries, including Holland, Spain, Germany, France and Italy. The expedition staff will ensure each glacier is identified to you and the whole experience is enhanced with a 'treat' at each one.
Meals: Breakfast, lunch, dinner

---
Day 4: Cape Horn to Wulaia Bay
During the morning you'll sail the most southerly course, through Nassau Bay to reach the monumental Cape Horn National Park, where, weather permitting, you'll go ashore. The legendary Cape Horn, discovered in 1616, is a sheer 425m (1,394ft) high rocky promontory which marks the end of the South American continent and the meeting place of the Pacific, Southern and Atlantic oceans.
For many years it was an important, albeit notoriously treacherous navigation route and is often referred to as the 'End of the Earth'. It was declared a World Biosphere Reserve in 2005 by Unesco. Very few vessels are permitted to land at Cape Horn, so once more, your ship will be the only one in the vicinity. You'll have the opportunity to explore the albatross monument and spend time at the lighthouse, meeting its resident family and hiking in the world's southernmost national park.
In the afternoon the ship will navigate northwards to the Murray Channel bringing you to your second landing of the day, on the shore of historical Wulaia Bay. Originally the site of one of the region's largest Yamana aboriginal settlements, Charles Darwin arrived here in 1833 during his voyage on the HMS Beagle while circumnavigating the globe.
This area is also famous for the spectacular beauty of its vegetation and geography and a choice of hikes are offered to walk through the Magellan Forest of southern beech trees, winter's bark and numerous ferns to reach beautiful panoramic viewpoints. Alternatively, you could stroll around the museum area with your guide.
Tonight you can enjoy your last night on board with a captain's dinner, in the company of your fellow travellers with whom you will have shared five memorable days on expedition.
Meals: Breakfast, lunch, dinner

---
Day 5: Arrive in Ushuaia
Today you'll sail into Argentine waters and dock in Ushuaia, the capital of Tierra del Fuego and the southernmost city in the world.
After saying goodbye to your expedition team members, you'll disembark the vessel between 8.30am and 9:30am.
Meals: Breakfast
---
Please note that the same route can be taken in the opposite direction – see full details.


Why Swoop
We've got our feet on the ground
Impartial advice and a bespoke service to make your trip perfect.
Deep Roots in Patagonia
We are former guides, tour leaders, outdoor enthusiasts & adventurers.
For The Ends Of The Earth
Swoop is proud to be B Corp Certified as we know sustainability is more than our carbon footprint (but we're reducing that too).
We're With You At Every Step
We'll make sure you have the adventure of a lifetime.

What our customers think of Wildlife, Glaciers & Cape Horn Cruise
Wildlife, Glaciers & Cape Horn Cruise trips scored 4.6/5 from 50 reviews
The Heumal Circuit trek was a real highlight because athough it is very close to the very populated El Chalten it feels like truly remote wilderness. We met just 8 other trekkers during the whole of the 4 days and then only in passing.

Travelled: March 2021
As we were nearing the end of the Base of the Towers hike in Torres del Paine, I wasn't sure my legs were going to let me finish the hike. I then looked up and saw a condor soaring above my head. It was awe-inspiring to see this majestic creature against such an incredible backdrop. It was as if the condor was there to encourage me on, my energy spiked and my body was ready to continue to the base. What a magical experience!

Travelled: December 2019
Overall our trip was wonderful, with only a few snags. The highlights of Argentinian Patagonia were the Perito Moreno Glacier and the Estancia Christina in El Calafate, and the Fitzroy hike in El Calafate. The Perito Moreno Glacier is breathtaking, and easily accessible from the raised walkway in the park. We also did the boat tour, which offers history and closer view of the glacier. Beware though, once you see it, other glaciers in Patagonia will seem less impressive. Estancia Christina was fantastic, but only because we opted for the fossil hike. Others on the excursion had lots of waiting around and did not seems as impressed. Not so great- The scheduling from El Calafate to EL Chalten- we would have preferred a later transfer. With the sun setting so late, you can easily hike until 7 PM...therefore there was no reason to leave so early for Chalten. Chalten was beautiful. Liked the wild dogs and friendly locals. The Fitzroy hike was spectacular....we were on the trail early so it wasn't too crowded but I imagine during peak season it was be a little unpleasant as it is narrow and you need to step aside to let people pass. Our best meal in Chalten was at La Tapera, wish it had been recommended. Avoid La Senyera, worst meal of our entire trip. Australis Cruise- This was a mistake. After having days filled with hiking and enjoying the riches of nature, being confined to a boat was very frustrating. The boat itself was nice, the rooms clean and comfortable but the excursions were short and underwhelming and most of the time on the boat was spent waiting....waiting for a short presentation, waiting for lunch, waiting to get off the boat, waiting to get on the boat etc....The penguins were the highlight of the cruise but, we found out you can take a day trip from Puntas Arenas to visit them. That would have been nice to have known. Highlight of the entire trip was Torres del Paine. The Explora hotel is beautiful and the hiking on the W was the best we experienced. The spa, the guides, the surroundings were all unbelievable. If I could redo the trip I would nix the cruise and spend an extra 3 nights at Explora.

Travelled: March 2021
Highlight was ecocamp and our guide for the trek there. The food at ecocamp far exceeded any other food we had on the trip. Amazing vegan options at every meal. The biggest surprise was how hard it was to understand Chilean accented Spanish (I speak but mostly with Mexican speakers)! Our most magical moment was surprise live folk music at ecocamp on the evening of the summer solstice. We LOVE American and Celtic folk music, it was amazing to hear and see a new flavor.

Travelled: March 2021
The trip was unbelievable! No matter where you were, everywhere around you was breathtaking. Being on the water during the cruise was the most memorable portion. There were never ending waterfalls, the more you looked the more you saw! Each day we had at least one rainbow. We got to see the penguins, albatross, humpback whales, sea lions, and dolphins! The vegetation on all of the islands, areas and on Cape Horn was a huge surprise. The guides were so informative and reinforced each of the teachings over the course of the trip to make sure all of the guests learned as much as possible, and all of our questions were answered. Not only were we educated on the history but also present time varying from animals, flora, natives, and explorers. Absolutely loved the trip!

Travelled: April 2023
highlights: Hiking to the blue towers in Torres del Paine and hiking to base of Fitz Roy in El Chalten. Landscapes in Torres del Paine (Cordillero, lakes, glaciers) were stunning. no wildlife to speak of on the W Trek. The Trek afforded us the ability to meet like minded trekkers, willing to get up early and challenge themselves on steep trails through wind, rain, sun , all for the the love of the outdoors. Most magical moment was kayaking 21km on the Rio del las Vueltas, with crystal blue skies, views and reflections on Fitz Roy, Cerr Torre on the river! Booked when we arrived in El Chalten, not through Swoop.

Travelled: March 2021
Standing at the Albatross monument with Cape Horn in the background.

Travelled: January 2023
Cape Horn on the Ventis Australis

Travelled: November 2022
Visiting the Pia Glacier, seeing Glacier Alley, excursion to Cape Horn, hikes and excursions. Cruise was well organized and personnel professional and friendly. We also very much enjoyed the 1 day adventurous Crossing of the Andes arranged by SWOOP. So many memorable moments!

Travelled: November 2022
Experiencing strong winds while looking out at beautiful El Bote Bay, as we began the exclusive Patagonia Camp Los Maitenes Peninsula hike.

Travelled: January 2022
Lake Deseado was memorable in so many moments! We didn't have high expectations because it was a fill-in when Covid canceled our cruise from Ushuaia, but the lake was exquisite from our first glimpse. Then, the lodge itself (very isolated) was lovely in every detail. The view from our windows was of pristine waters with mountains in the distance. The short path to the dining facilities took us past beautiful birds, a brook and a beaver dam. Andres and the staff were welcoming, very helpful and genuine. We were a family of 14, joining one another from many parts of the United States and the only ones at the lodge. We were amazed at the menu, and managed to order everything from brie with local berries to guanaco, everything delicious. We over-80 grandparents got plenty of help so we could climb some trails and coast down the mountain on a bike. We also loved the library's collection of books about Patagonia. Our teens found challenging trails. Thank you to everyone including the gracious owners of Deseado Lodge!

Travelled: January 2022
Walking into our Explora guest room for the first time. Unbelievable.

Travelled: February 2020
Penguins are always going to be memorable. All the boat and ship captains on our trip were highly skilled seamen. However, our top memories will be tied to our abbreviated Dientes Trek, with Days 3 and 4 being the most impactful. Day 4 where we went down Valle Bronces to the end of the trek (instead of Virginia Pass for one more night of camping) taught us a lot about ourselves and our excellent guides. It pushed and tested us mentally and physically. When we reached the end and realized everyone had emerged mostly unscathed was the biggest victory of our entire trip.

Travelled: April 2023
Too many highlights. The landscapes are extraordinary. The Chilean were very welcoming, and all the other travelers I met along the way were super friendly. There were a few magical moments, riding into a rainbow, or experiencing a storm in Cape horn, or watching the pinguins.

Travelled: March 2021
Kayaking Serono River was amazing. I've never been so close to a glacier while on the water. Saw so many animals -- rhea, puma, penguins.... I liked that fellow travelers had selected Patagonia as a destination -- no one was just 'passing through'.

Travelled: March 2021
Landing at Cape Horn. Cruising down Glacier Alley. The hike in Wulaia Bay. And the unexpected dolphin show near Tucker Isle.

Travelled: March 2021
Cruising the fjords, so majestic!

Travelled: October 2022
Kayaking on Lago Toro at Patagonia Camp

Travelled: January 2023
There wasn't a "most memorable moment". It was an overall, ongoing fluid number of multiple moments. The trip was planned in such a way that we experienced the sheer vastness and beauty of nature for 7 days straight; landscape, animals, scenery, weather. The city visits (Valparaiso and Buenos Aires ) were guided in a way that we felt we understood all about each city's energy and culture. Having said all of the above, the providers at each piece of our trip were excellent! Above and beyond customer service was demonstrated in all avenues. My favorite place to be was Camp Patagonia! The food was 5 star.

Travelled: November 2023
Excursions were interesting but honestly left quite a bit to be desired for the active traveler. However, the people we met and the experience onboard was unparalleled and totally made up for it. I was blown away at the thoughtfullness that went into the experience and the level of service and consideration towards the guest. I greatly appreciated the historic/informative talks and movies, and the onship library was a treat.

Travelled: March 2021
About The Ship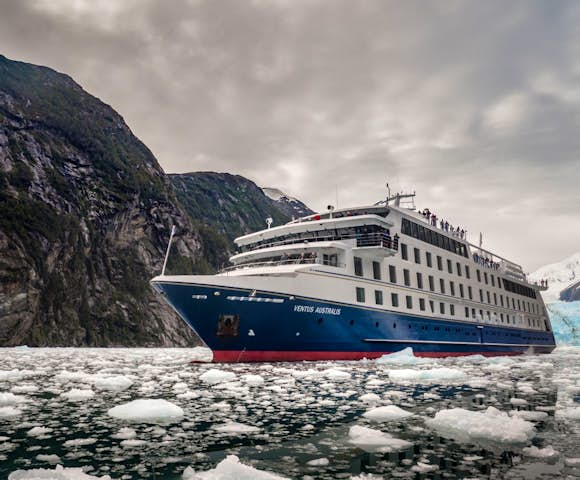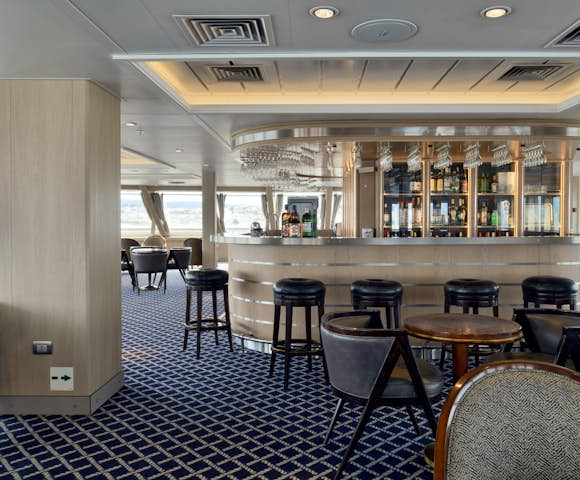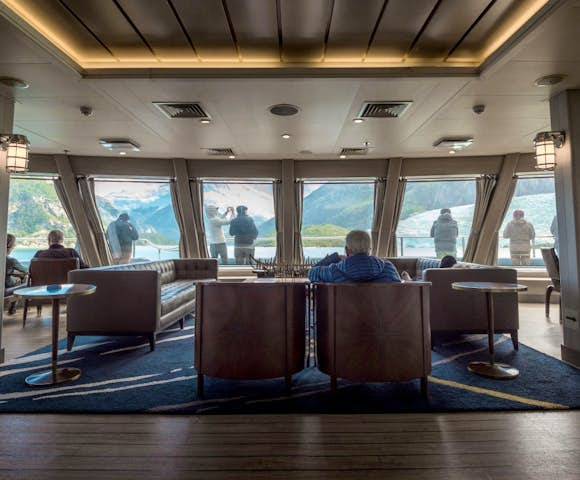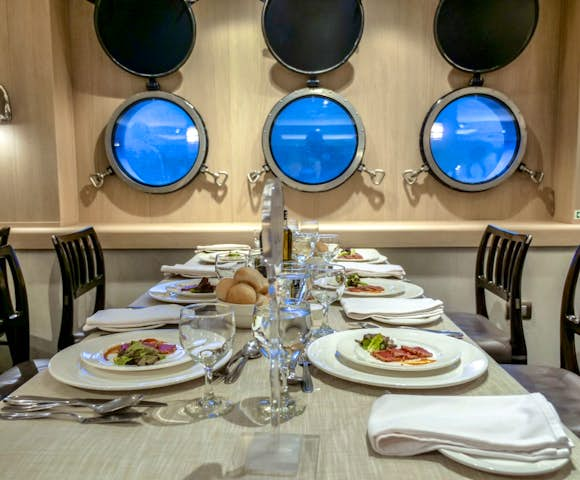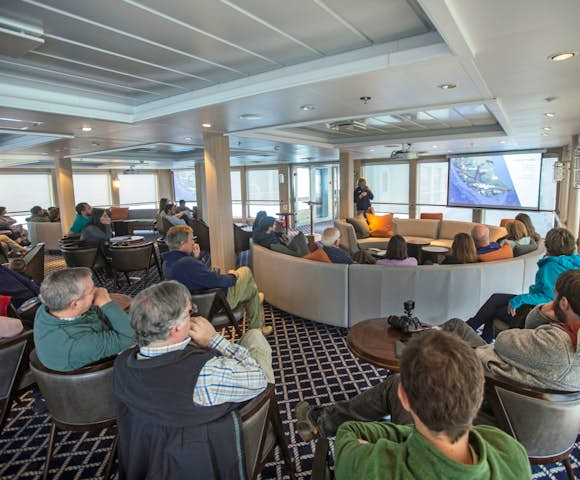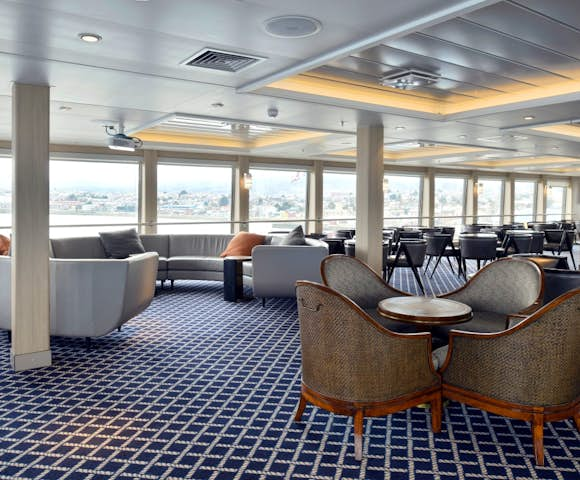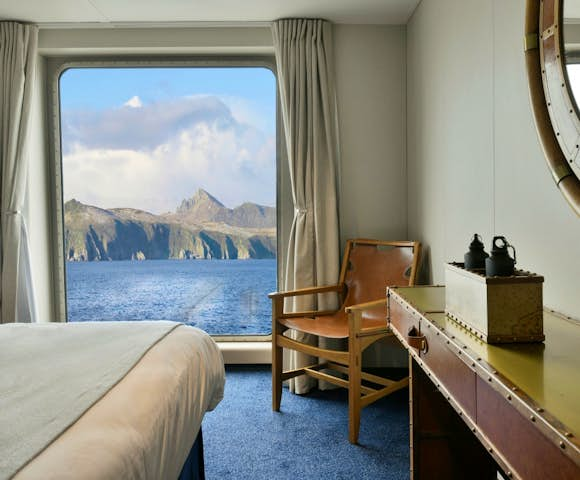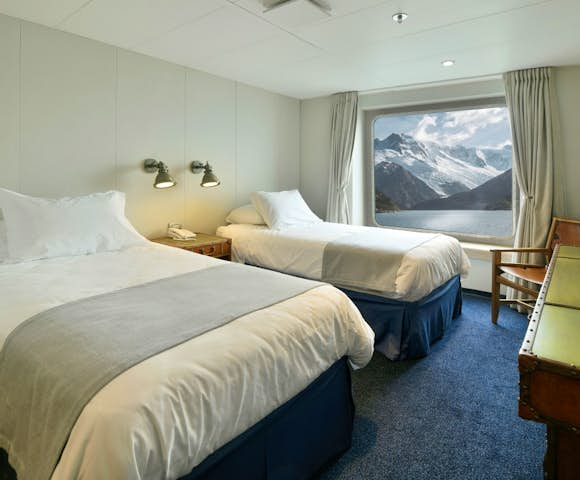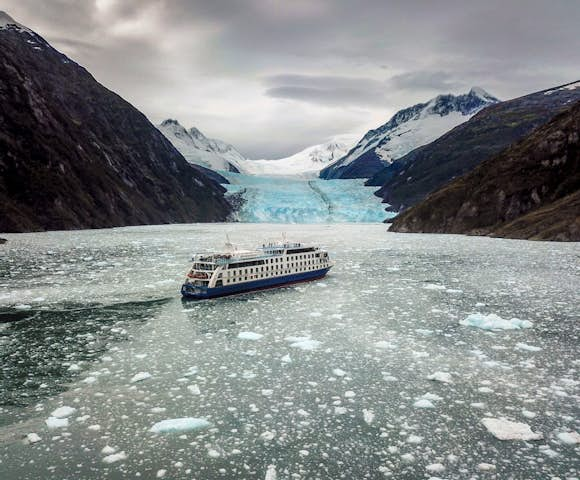 Both of the company's sister ships that operate this route offer the same design, capacity and level of comfort with only 210 passengers on board. Built specifically for expedition cruising, these ships are engineered to explore the remote southern tip of South America and have features such as a shallow draft, reinforced hull for ice navigation, perfect manoeuvrability and great access to the fleet of zodiacs which are used for every landing. There are no better vessels and crew for sailing through the narrow fjords and channels of the Tierra del Fuego archipelago, where other ships dare not venture.
Wildlife, Glaciers & Cape Horn Cruise
Prices, Departures and Inclusions
Prices are per person, based on a double-occupancy basis.
-
Please contact us for more information, terms and conditions and details of any cabins recently made available.

Additional Notes
Seasons – Promotional season is September and April; Low season is October, and March 20th to 31st; High season is November to March 19th
Excursion notes – Cape Horn Landing is subject to weather conditions. In September & April, due to penguin migration, the excursion to Tuckers Islets is replaced by a trekking expedition near a glacier in Brookes Bay.

Cabin details – Please contact us for further details of the different cabin types. In short:
There are a limited number of 'B' cabins on the lowest deck which tend to get booked up a long time in advance
'AAA' cabins are on a higher deck than 'AA' and 'A' cabins
Superior cabins ('S') are approximately 25% larger
Cruise route – Please note that the same route can be taken in the opposite direction – see full details.
Single Supplement And Child Policy
Single supplement and solo travellers – The cruise operator does not have a 'willing to share' policy. If you are a solo traveller, or would like a single cabin, there is a 50% surcharge.
Baby policy – 0 to 3-year-olds travel for free if sharing a bed with parents. Please ask for availability of a complementary travel cots. Please note, they will still be charged the port tax.
Child policy – 3 to 12-year-olds receive a 50% discount when sharing a cabin with an adult.
Extra beds – It is possible to turn certain cabins into triple cabins; for availability and rates please contact us.
Includes
Meals: Four buffet breakfasts, three buffet lunches, four dinners with table service

Drinks: all alcoholic and non alcoholic drinks during the entire duration of the cruise
All drinking water as requested - you are gifted a complimentary metallic water bottle which you can refill at the numerous stations around the ship
All safety equipment (life jackets) for zodiac excursions
Accommodation: cabin as requested (four nights)
All shore excursions and shipboard activities (as detailed in itinerary)
On-board activities and lectures from your expedition staff
All national park entrance fees, as per itinerary
Excludes
Port tax (USD $105 per person for 2023-24 season)

Port tax (USD $120 per person for 2024-25 season)
Meals not indicated in itinerary
Any extra/optional excursions
Transfers to/from cruise port terminal at Punta Arenas/Ushuaia
Personal equipment (see our recommended kit list), especially waterproof clothing required for shore excursions
Personal travel insurance
Gratuities/tips
International and domestic/in-country flights
Any visa, passport and vaccination expenses
Questions about this Voyage?