Trip Itinerary: Paine & Fitz Roy Classic
Torres del Paine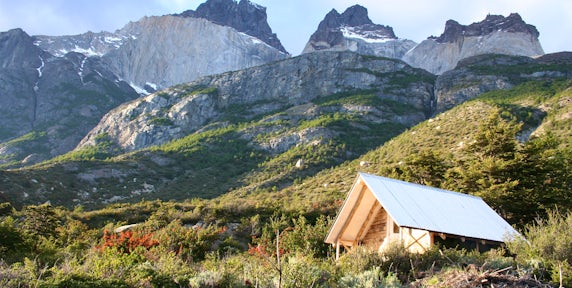 Day 1: Travel by bus from Punta Arenas to Puerto Natales (3h)
Hotel in Puerto Natales
Day 2: Leaving from Puerto Natales at 12pm or from Cerro Castillo at 1pm, we drive all the way to Torres del Paine National Park. We will drive through open pampas and past huge estancias (ranches), and chances are we will be able to observe one of the most typical animals in this area, the nandu, (rare South American ostrich). We will follow an unpaved road heading to Refugio Las Torres to spend our first night. Upon entering the park we will have excellent photographic and bird-watching opportunities as we drive alongside lagoons frequented by Chilean flamingos and black-necked swans. Today's hike is on a gentle trail following the border of the park and offers opportunities to see guanacos (from the llama family) and the Andean condor.
Hike duration: 2 hours - intensity: low, Accommodation: Refugio Las Torres
Day 3: We will start our first day trekking to the base of the Towers, following the Ascencio River to enter the Ascencio Valley. Our walk will be uphill for one hour before stopping to observe the first glimpses of the valley surrounded by unbelievable beech forests (Nothofagus family), glaciers and waterfalls. We'll continue through the valley for another hour and a half before ascending a huge terminal moraine to a lookout (900m), excellent for picture taking. At this point we will be surrounded by three giant granite towers (2850m) and a lagoon with slurry waters due to erosion produced by glaciers. This amazing view will be accompanied by lunch to add to the enjoyment. After being awed by the towers we'll start our descent, following the same path back to the hut. Hike duration: 7-8 hours 18 km
Hike duration: 7-8 hours (18km), Accommodation: Refugio Las Torres
Day 4: We will start early morning to enjoy, weather permitting, a magnificent dawn filled with orange-pink colours. As we leave the campground we will arrive at Inge Lagoon. Chances are, on this path, we may see the flight of an Andean condor or eagles hunting hares and small rodents. We follow a well marked trail ascending from the base of Almirante Nieto Mountain (2750m), crossing the Bader River to arrive at Refugio Los Cuernos where we will stay overnight. (Optional upgrade to private cabins with two beds, a shared bathroom and free hot tub access for USD $80 per single occupancy or USD $40 per double occupancy)
Hike duration: 5 hours (11km) , Accommodation: Refugio Los Cuernos
---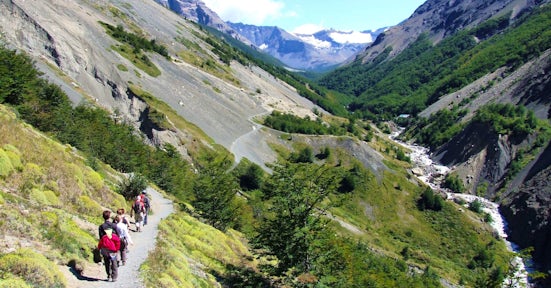 Day 5: We will start our day with a 2-hour walk going to an undulating path until we reach the French River for our first glimpses of the hanging glacier. Then we will ascend (300m) for one hour through a surreal Japanese garden landscape, crossing beech forests, to reach the French Valley viewpoint gifting us with a magnificent view of both mountains and lakes. We will lunch here with a good possibility of seeing avalanches from the hanging glacier or simply observing the west side of the Cuernos (2600m), Espada (2400m) and Fortaleza (2800m). Our return journey will be the same until we reach the entrance of the valley where we will continue on a different path around the south-west side of Paine Grande, the highest peak in the park, through native forests of Chilean fire bush and evergreen beech (Nothofagus Bethuloides), up to the shore of Pehoe Lake.
Hike duration: 6 hours (18 km), Accommodation: Refugio Paine Grande
Day 6: We will begin in the early morning with our hike to the Grey Glacier. Initially ascending 200m up a winding narrow path leading us to Laguna Negra, a place where we will observe the first glimpses of the South Patagonia Ice Field with its many unclimbed mountains. We will advance through forests and rivers, with possible sightings of spectacle and flying steamer ducks, up to the glacier viewpoint. We will stop for lunch here and if we are lucky enough, watch ice calving from the huge glacier wall. Right after lunch we start an exciting adventure by boat. We will navigate for a while in front of the glacier in the hope of seeing icebergs calve. Our return journey offers views of Paine Grande with its impressive ice mushrooms and we will sail through icebergs of different tones of blue. Then we will take a transfer back to Puerto Natales.
Hike duration: 4 hours (13 km), Sailing duration: 2 hours, Transfer duration: 2 hours, Accommodation:Hotel Puerto Natales
Day 7: Travel by bus to El Calafate (5h) and on to El Chalten (3h)
Accommodation: Hotel El Chalten
---
Los Glaciares National Park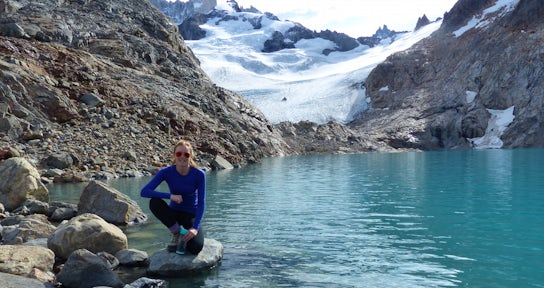 Laguna de los Tres hike
Day 8: The day starts with a 30 minute transfer from El Chalten to Rio Electrico. From here we start walking along the Electrico valley, through an enchanting lenga forest until we arrive at Piedra del Fraile, about 2 hours later. This will be our home for the night. After a short break and some lunch we continue along the valley towards the Pollone Glacier. The trek here is against the prevailing winds from the Continental Ice field. We are able to appreciate raw nature at its best; pure rock and ice. Along the way we admire a different angle of Mount Fitz Roy; its northern face. After a short break at the hidden lagoon at the base of the mountains we return to our refuge to enjoy a hot meal and rest.
Hike duration: 6 hours (15 km), Accommodation:Refugio Piedra del Fraile
Day 9: After breakfast we will head off towards the Piedras Blancas glacier and river. We will complete a river crossing over large boulders. We will then arrive at Rio Blanco campsite. From here the path ascends steeply up to Laguna de los Tres, the closest we can get to Fitz Roy without doing anything technical. The effort is all made worthwhile by the breathtaking views we get at the top; of Mount Fitz Roy, its satellite mountains and the view of the valley we have been walking along. Weather permitting; we will have lunch at the lagoon. We will then start the descent towards Laguna Capri, our next camp and another very photogenic spot in the national park.
Hike duration: 7-8 hours (17 km), Accommodation:Poincenot Camping
Day 10: If you're an early riser, you will already have captured beautiful sunrise photos of Mount Fitz Roy in a beautiful hue of red, reflected on Laguna Capri before breakfast! Today, we will continue through the beautiful lenga forests past the lagoons Madre, Hija and Nieta. The path is quite flat, a welcome break after the climbing of the day before. After a couple of hours we will drop in to the glacial valley that takes us towards Laguna Torre. This valley is loved by geologists and photographers for its perfect "U" shape. At the end of the valley we will find Laguna Torre, its glacier and the famous Mount Torre - considered one of the most difficult mountains in the world to climb. After lunch at the lagoon we head back towards El Chalten along the Fitz Roy River valley. We will catch the 6pm bus to El Calafate (3h).
Hike duration: 6 hours (18 km), Accommodation: Hotel El Calafate
---
Perito Moreno Glacier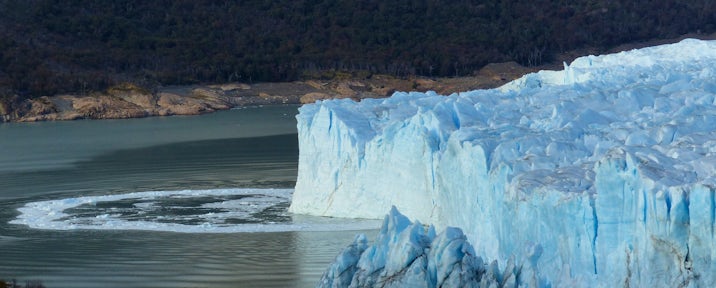 Day 11:

Option 1: Viewing Balconies + Boat Trip
You'll be met at your hotel, driven out to the glacier aboard a bus and have several hours to enjoy the walkways with their different perspectives on the glacier. Chances are you'll get to see huge chunks of ice calve off the face of this advancing glacier and crash into the water below. You can also add on an hour long boat trip up to the face of the glacier which gives you a different perspective and allows you to get that much closer to both the icebergs and the glacier itself.
Option 2: Viewing Balconies + Boat Trip + Ice Hike on the Glacier
If you've never donned crampons or used an ice axe then this could be your chance! Witness the glacier from the viewing balconies and then go and climb across it as well. See the crevasses and ice formations up close. No previous experienced required. There are two different options for ice hiking, both of which require a full day and include your transport from/to from El Calafate, the boat trip across to the glacier and time to enjoy the view from the balconies as well.
With the first ice hike option you'll have around 1h 40mins on the ice itself as part of a two hour guided tour (available August to June). The other ice hike option is suited to more active visitors and gives you around 3h 30mins on the ice including your lunch (available September to April). Age restrictions apply: 10-65 years old for the shorter trip, 18-50 years old for the longer.
Accommodation: Hotel El Calafate
---
Day 12: Onward travel from Calafate

Ready to plan your Patagonia adventure?
1
Listen
We'll spend some time listening to your aspirations, then discuss the kind of experience that might suit you.
2
Match
Next we'll discuss the options, shortlist the best trips for you and present you our impartial recommendations.
3
Reserve
We'll place a 24 hour hold on your preferred option - without obligation - whilst we talk through the details.
Whatever your budget, group size, length of stay, preferred activity or appetite for adventure, we can help.
1-855-369-7866