Trip Itinerary:  Trekking Northern Patagonia    
Volcanoes & Lakes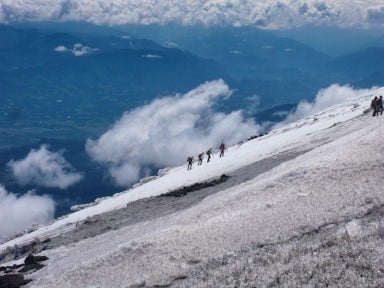 Villarica Volcano Pucon
Day 1 - On arrival into Santiago you will take a 2 hour domestic flight south to the heart of the Chilean Lake District where your local guide will be waiting to receive you. The lakeside town of Pucon will be your base for the coming days.
Day 2 - Start your Patagonian trekking experience with a day hike into the the Huequehue National Park with its hidden lakes, forests of monkey puzzle trees and stunning views out of the Villarica Volcano - tomorrow's challenge.
Day 3 - After an early start and a short drive to the base of the volcano, you will start your ascent up the 2840 metre high, active volcano. Once you reach the snow line you will put on crampons and continue your zig zag ascent until you reach the crater. You'll sit and eat your lunch at the crater looking out onto other snow peaked volcanoes, glistening lakes and deep valleys. Spend the evening relaxing in hot springs, well deserved after your days achievement.
Accommodation: Posada del Rio, Pucon, all three nights
---
Chile's Yosemite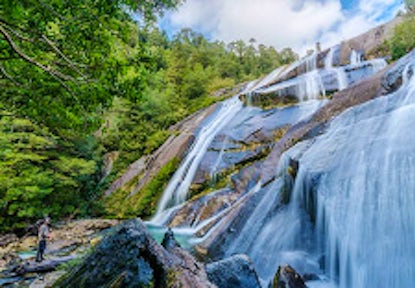 Day 4- Take a morning bus 4 hours south to the lakeside town of Puerto Varas. Spend the afternoon white water rafting down the emerald rapids of the Petrohue river.
Accommodation: Estancia 440
Day 5 - You'll be transported in the morning to the town of Cochamo which sits on the Reloncavi Fjord where your local guide will meet you. Once the horses are loaded with gear, your trek begins through valleys of forests with spectacular views of granite walls.
Accommodation: Hiking hut
Day 6 - Today you will hike up and into native forests and use two fixed ropes to climb part of the trail (easy and safe to do) and after 5 hours you will find yourself in the highlands of the Cochamo mountains surrounded by sheer walls of granite and soaring condors. After lunch we will walk back to the refuge to celebrate the day.
Accommodation: Hiking hut
Day 7 - Today as you go up in the valley and you will see a different view of Cochamó. You will cross many rivers, pass through alerce forests and visit a peculiar rock formation called El Arco. Camp and free afternoon to explore.
Accommodation: Camp
Day 8 - You will go deeper into the Andean Range, crossing rivers and passing through old alerce forests. While you ascend you will find the beautiful lenga forest that surrounds the Andean Lake where we will set up camp, make a bonfire and enjoy the silence of the place.
Accommodation: Camp
Day 9 - Passing this lake we encounter marshes where you will find traces of early settlers (early 1900´s). You will finally reach Vidal Gomez Lake, meet a family who lives there and set camp by the lake.
Accommodation: Camp
Day 10 - Today you will hike for 3 hours to get to the south side of the lake and meet Panchito Soto and his family who will show you some rock paintings that indigenous people made 800 years ago when they used to live in this territory. In the afternoon you will set camp and enjoy the river next to you.
Accommodation: Camp
Day 11 - Start the morning with some mate, a traditional tea, and go down the valley of the Manso River. You will visit several families on our way and cross quite a few hanging bridges built by the community to avoid isolation when rivers flood during heavy rain days. You will visit the home of Don Juan, set up camp there and enjoy a hot bath, toilets and Don Juan's hospitality.
Accommodation: Camp
Day 12- You will leave early to take the ferry that crosses the Tagua Tagua Lake and sail these waters which are used by local people to transport all kinds of goods, including animals. After a few hours you will get to the Manso River Bridge where you will catch the bus back to Puerto Varas. Enjoy seafood and some luxury as you celebrate your hike.
Accommodation: Camp
---
Argentinean Lakes, Hut-to-Hut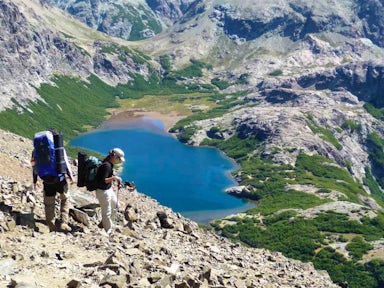 Trekking Northern Patagonia
Day 13 - Take a full day bus up and over the Andes into Argentina to reach the lakeside town of Bariloche.
Accommodation: Las Marianas
Day 14 - Free day to choose either a bike excursion, a horse ride or simply relax and unwind beside the lake ready for your next hike.
Accommodation: Las Marianas
Day 15 - Begin your hike with a gradual hike along the valley before you begin your ascent deep into the mountains to end your day surrounded by a circle of granite spires.
Accommodation: Hiking hut (Refugio Frey)
Day 16 - Today you will hike along the Toncek lagoon then ascend until you reach the Cathedral mountain ridge, passing along more glistening lagoons and the so-called 'cancha de fútbol' (football pitch). From the ridge the view is magnificent deep into valleys beyond with the majestic Mount Tronador in the background.
Accommodation: Hiking hut (Refugio San Martin)
Day 17 - After breakfast you continue hiking past lagoons to the Refugio peak. This part may be the most technically difficult section of the traverse, trekking through the Los Inocentes Andes ridge to Cerro Navidad, descending to the stream that comes from the Negra lagoon. From there, the last part of the hike is an ascent to your hut for the evening.
Accommodation: Hiking hut (Refugio Italia)
Day 18 - For your final day of hiking, you will hike along Negra lagoon, with some rocky parts and then continue hiking, ascending through a wide valley to Negro mountain ridge for your final stunning views of this incredible range. By late afternoon you will have returned to Bariloche to for your final evening in Patagonia.
Accommodation: Las Marianas
---
Buenos Aires
Day 19 - Leave the wilds of Patagonia on a mid morning flight to the steamy, hot capital city. When you arrive into bustling Buenos Aires, you will be met by a local guide who will transfer you to your hotel and then take you out into the city to see the main sites
Day 20 - Spend a day exploring this incredible, diverse and captivating city. See the Pink Palace where Evita spoke to her masses, visit art galleries, the stunning Opera House or simply relax and sip Malbec at one of the many street side cafes as you watch the world go by.
Accommodation: Dandi Royal, for both nights
Day 21 - Transfer to the airport to catch your return flight home.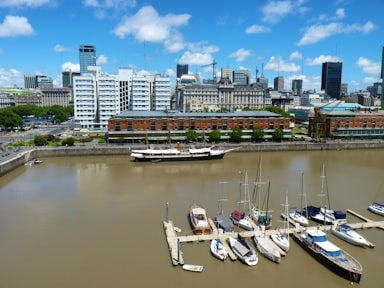 Puerto Madero, Buenos Aires
Tailor-made Holidays
Patagonia is a vast and varied region, with a wealth of things to see and do, a range of places to stay and a limited transport network.
Why not let us do the hard work for you? Our team of experts will work with you to design an adventure to your exact requirements, from hiking and horse-riding trips to wine-tasting tours and undiscovered lodges.
We'll work around your budget and arrange flights, transfers and buses, to create your perfect trip.
More About Tailor-made
Ready to plan your Patagonia adventure?
1
Listen
We'll spend some time listening to your aspirations, then discuss the kind of experience that might suit you.
2
Match
Next we'll discuss the options, shortlist the best trips for you and present you our impartial recommendations.
3
Reserve
We'll place a 24 hour hold on your preferred option - without obligation - whilst we talk through the details.
Whatever your budget, group size, length of stay, preferred activity or appetite for adventure, we can help.
1-855-369-7866