Trip Summary and Itinerary Map
Exclusive access to the fjords and glaciers of the Southern Ice Field - the world's third largest water reserve. Explore remote and wild landscapes in a region that remains completely untouched.
Sail on Southern Patagonia's only A1 Ice Class vessel, with close ice navigation and extreme proximity to many of the area's large glaciers and unique wildlife - an unforgettable experience.
Sail through internal channels and fjords on a smooth navigation, suitable for all types of cruise passengers, including those who usually suffer from motion sickness.
Enjoy excellent onboard levels of service with fresh, local gastronomy and premium Chilean wines served, all of which are included in your trip.
With regular departures throughout the Austral summer, you can plan ahead and perfectly combine this trip with visiting world renowned Torres del Paine - one of the world's most stunning national parks.
Landmarks visited on Southern Patagonia Glaciers Cruise
Operator's Itinerary
Day 1: Embark from Puerto Natales
In the mid-morning we start our embarkment procedures and will depart from the Skorpios terminal in the early afternoon. There will be a ship safety talk before lunch.
We'll first navigate the picturesque Almirante Montt Gulf and arrive at Caleta Juarez in the Guardramiro Fjord in the late afternoon. Here we'll disembark on boats for a fantastic up-close view of a colony of elephant seals.
Once back on board we depart, crossing the Kirke Narrows, Morla Vicuna, Union, Collingwood, and Sarmiento channels.
Meals: Lunch, dinner
Accommodation: Skorpios III ship
---
Day 2: Guillard Glacier and Sarratea Bay

In the early morning we continue sailing north through the Pitt Channel and with Chatham Island on the port side, we'll enter the scenic Guillard Fjord.
We'll navigate through the fjord to the stunning Guillard Glacier and disembark at the glacier for a hike. Lunch will be served back on board, and in the mid-afternoon we'll disembark once more for a tour through the channels of the glacier.
We'll navigate to open expanse of Sarratea Bay and arrive in the early evening. Here we'll disembark for a boat ride, though this excursions depends on sunlight and weather conditions.
We'll return to the ship and enjoy a another delicious dinner on board around 8pm. At midnight we'll depart southbound through the Pitt Channel.
Meals: Breakfast, lunch, afternoon tea, dinner
Accommodation: Skorpios III ship

---
Day 3: Amalia and El Brujo Glaciers; Calvo Fjord

We'll approach the Amalia Glacier in the early morning and have a panoramic view from the ship. Later we'll disembark at a nearby beach to take a gentle hike through sand, vegetation, and rocks, reaching a viewpoint from where you can see this beautiful glacier.
The navigation to El Brujo (the Warlock) Glacier begins in the late morning and we'll arrive after lunch. If weather and ice conditions allow it, you can go down to see this glacier from a nearby rock.
Once back on board we'll depart for the spectacular Calvo Fjord. Here we'll take an excursion in the Capitán Constantino (Captain Constantine) boat which is perfect for navigating among the ice. We'll take a unique trip to visit Fernando, Capitán Constantino, and Alipio Glaciers, among others.
We'll depart for the Montañas Fjord in the evening.
Meals: Breakfast, lunch, afternoon tea, dinner
Accommodation: Skorpios III ship

---
Day 4: Montañas Fjord and Bernal Glacier

Early in the morning we'll visit the scenic Montañas Fjord, where four stunning glaciers can be observed descending from the Sarmiento Mountain Range to the sea, two of which are in our logbook.
We'll reach the Alsina Glacier first and disembark in our exploration boats to visit this small bay with its eye-catching glacier, appreciating its beauty and the enormous mountains all around.
We'll then return to Skorpios III and continue sailing through Montañas Fjord towards the Bernal Glacier.
We'll disembark here and hike through a small native forest and then cross a path to a small glacial water lagoon. We'll continue the hike over frontal and lateral moraines until we reach the front of the glacier. From here, we'll have the opportunity to touch some ice and observe a glacier in a receding phase that no longer reaches the sea.
Before lunch, passengers return to the ship, which will be taking on supplies of pure, natural water from a waterfall. This is water consumed on board for all the ship's services.
After lunch, Skorpios continues sailing through Montañas Fjord. We will see the final glaciers of the trip from the ship - the Herman and Zamudio glaciers - before crossing the White Narrows in the late afternoon.
In the evening there will be a terrific Captain's dinner and dance while navigating through Almirante Montt Gulf.
Meals: Breakfast, lunch, afternoon tea, dinner
Accommodation: Skorpios III ship
---
Day 5: Disembark in Puerto Natales
You'll disembark from the Skorpios Terminal in the early morning after arriving in Puerto Natales during the night.

Meals: Breakfast

Why Swoop
We've got our feet on the ground
Impartial advice and a bespoke service to make your trip perfect.
Deep Roots in Patagonia
We are former guides, tour leaders, outdoor enthusiasts & adventurers.
For The Ends Of The Earth
Swoop is proud to be B Corp Certified as we know sustainability is more than our carbon footprint (but we're reducing that too).
We're With You At Every Step
We'll make sure you have the adventure of a lifetime.
About The Ship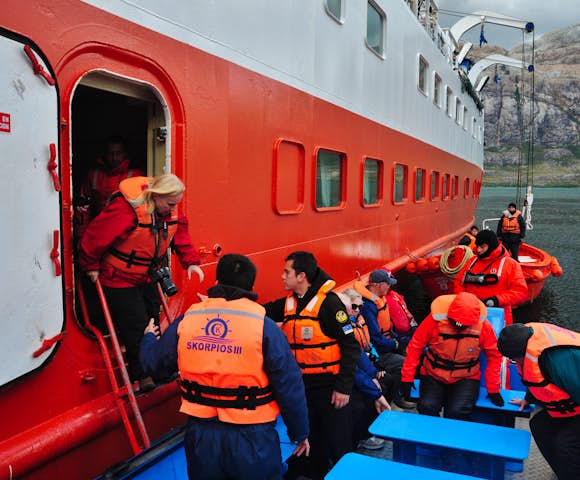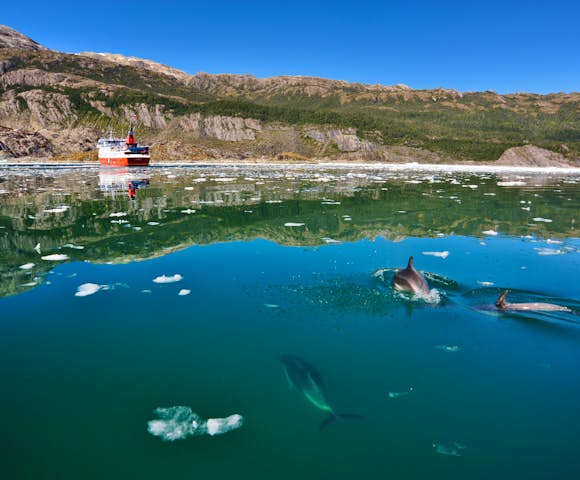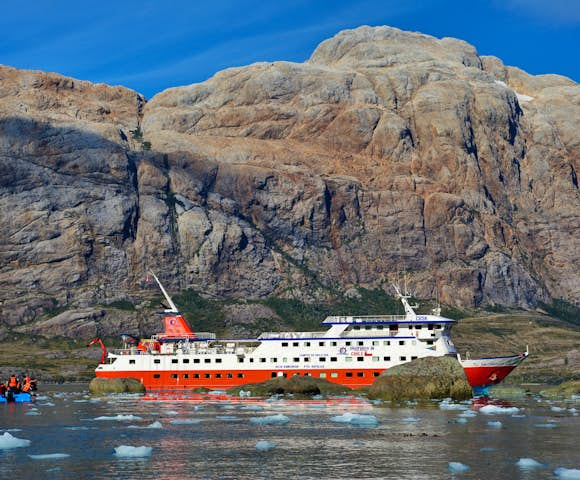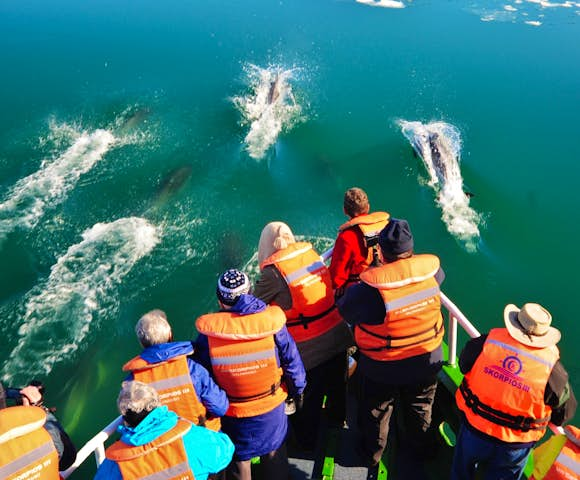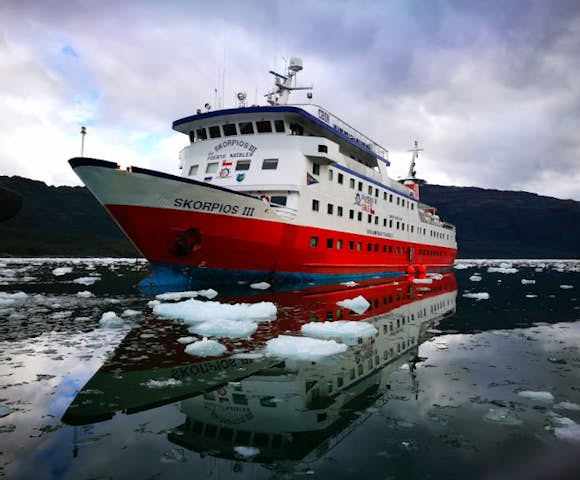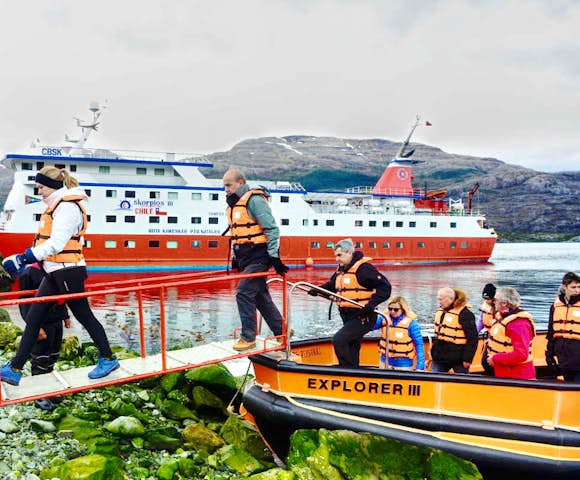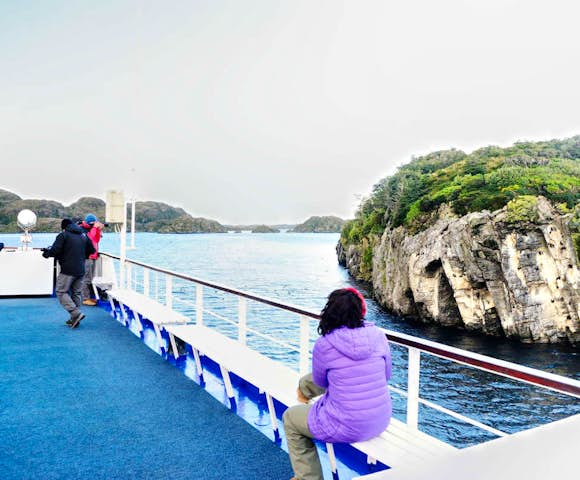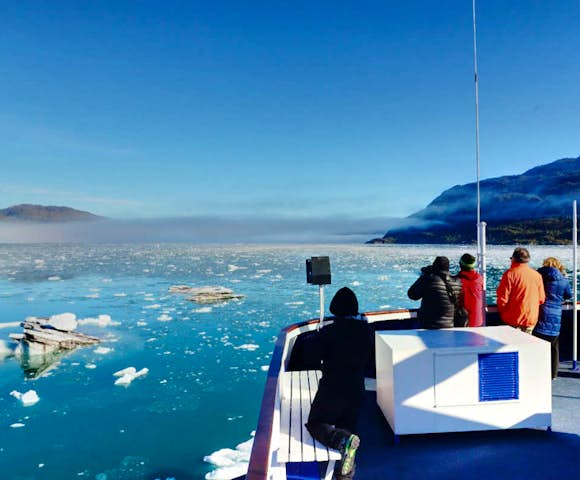 This A1 Ice Class small expedition ship with only 45 cabins, remodelled in 2012, provides the ideal base from which to explore the remote, stunning, waterways of southern Patagonia and get as close to the ice as possible.
Daily, bilingual lectures will ensure you are well-briefed and can make the most of the shore excursions on offer.
With all-inclusive meals and bar, enjoy an excellent onboard experience.

Glaciers of Patagonia Adventure Cruise
Prices, Departures and Inclusions
Please contact us to discuss your preferred departure date.
Additional Notes
Extra beds – It is possible to turn certain cabins into triple cabins. The cost for an additional bed is USD $1,450-1,850 in the 2023/24 season and USD $1,520-1,900 in the 2024/25 season.
Child policy – From 1 to 5 years old, free of charge sharing bed. From 6 years old and up, normal rate.

Optional extras – You can stay onboard the night before your cruise for USD $160 per person.

Includes
Meals: 4 breakfasts, 4 lunches, 3 afternoon teas, 4 dinners
Drinks: all drinks during bar opening hours (alcoholic and non-alcoholic)
All drinking water as requested
Accommodation: 4 nights in cabin as requested
All safety equipment (life jackets) for zodiac excursions
All shipboard excursions and activities (as detailed in itinerary)
Excursions: 3 per day (as detailed in itinerary)
Excludes
Meals not indicated in itinerary
Any extra/optional excursions
Transfer between Punta Arenas Airport and ferry port, round trip price is USD $77 per passenger.

Port taxes of USD $70 per passenger
Personal Equipment (request our recommended kit list)
Personal travel insurance
Gratuities/tips
International and domestic/in country flights
Any visa, passport and vaccination expenses
Questions about this Voyage?