Insider tips
Visit temporary exhibitions at Santiago's cultural centres
The cultural centres are a good source of exhibitions, performances, and cinema.
Three of note are: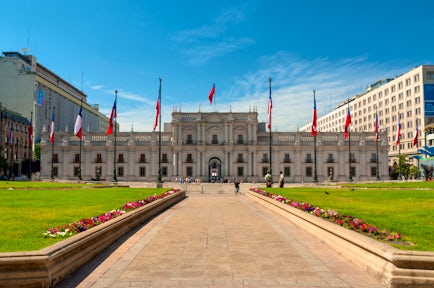 Palacio de La Moneda, or simply La Moneda, is the seat of the President of the Republic of Chile
Try "Mote con Huesillo"
This typical drink is sold by street vendors on hot summer days. Served ice cold, made with peach nectar, a dried whole peach (huesillo), and cooked husk wheat (mote). Watch out for the stone in the peach!
There is a great little kiosk just below the top of the Cerro Santa Lucía that serves it fresh. We recommend taking in the view with this sweet refreshment to hand.
Mote con Huesillo
Shop like a local
Soak up the exciting, bustling market vibes at La Vega. The market is packed with people and incredible food in equal measure; be prepared for the crowds and protect your personal belongings, especially in the mornings.
Sample fresh foods arriving from the desert in the north and the lush green valleys of the Lake District. The experience is an adventure in every sense.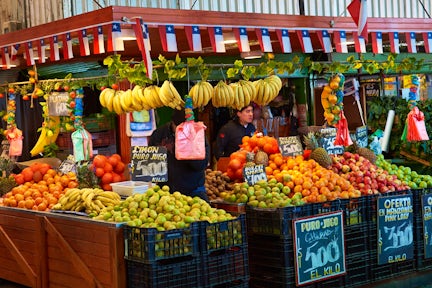 La Vega market in Santiago, Chile
Find the best coffee in Santiago
In a city with an abundance of chain cafes and Nescafé, really good coffee can be hard to find. Here are our top picks for your caffeine fix:
Metissage (Av Vitacura 3187, Vitacura)
Fix Café (Av. Apoquindo 3411, Las Condes)
Castillo Forestal (Parque Forestal, in front of the Museo de Bellas Artes)
Wonderland

Café

(Lastarria)


Patagonia Shocoloand – for the best chocolates and coffee (Las Condes)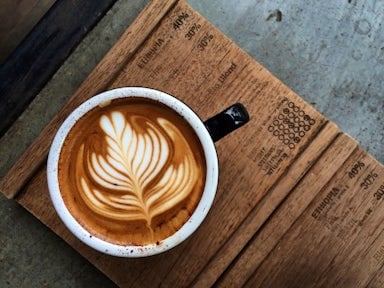 Enjoy panoramic views of the city and mountains
Admire how Santiago really is nestled within a bowl of mountains. To reach Cerro San Cristobal, take the funicular from Bellavista (Pío Nono street) or the cable car from Providencia (Pedro de Valdivia Norte street). Alternatively, visit the Costanera Center – the highest building in Latin America at 300 metres – and take the lift to the top.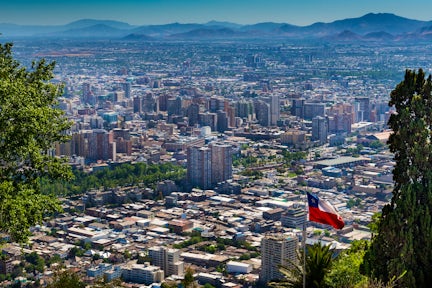 View from Cerro San Cristobal in Santiago, Chile
Immerse yourself in Chilean street art
While Valparaíso is often cited for its amazing street art, Santiago's street art scene is bursting with creativity, talent, and colour. You can see some of the best street art in Santiago at Barrio Bellavista. Expect a fascinating variety of murals, painted both in resistance to the military dictatorship as well as during the New Art Revolution. Visiting during daylight hours is a must!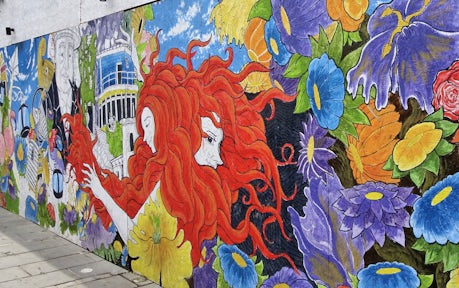 Street art at Barrio Bellavista in Santiago, Chile
Helpful tips
Metro
To use the metro you'll need to buy a 'Bip!' card from any metro station. The minimum top-up is CLP $1,000; a single journey is approx. CLP $680. Trains and platforms are labelled with the end destination, rather than the direction of travel. Avoid rush hour and beware of the pickpockets!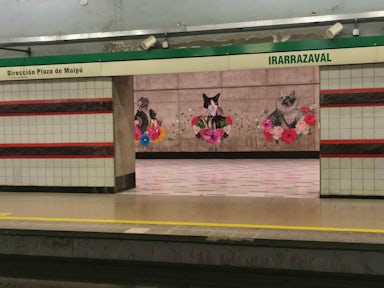 Irarrázaval metro station, Santiago
Taxis
The taxis all run on a meter which starts at about CLP $500 – a short trip in the city will cost you about CLP $3,000. It's normal to round up your fare to leave as a tip. Uber also runs in Santiago.
Language
hola – hello
chau – goodbye
por favor – please
gracias – thank you
permiso – excuse me
habitación – room
calle – street
barrio – neighbourhood
museo – museum
mirador – lookout / viewpoint
cerro – hill
cordillera – mountain range
micro – the public bus
carabineros – police
casa de cambio – money exchange
servicios/baños – toilet
entrada – entrance
salida – exit
hay...? – Do you have...?
donde está...? – Where is...?
desayuno/almuerzo/cena – breakfast/lunch/dinner
la cuenta – the bill
propina – tip
chop – small draft beer
Pisco Sour – local cocktail
copa de vino – glass of wine
jugo - juice
picante - spicy
carne - meat (not including chicken)
pollo - chicken
fish - pescado
queso - cheese
jamon - ham
asado – barbecue
bife de chorizo - sirloin steak
bife de lomo - tenderloin
ojo de bife - rib eye
casi crudo/muy jugoso - blue/rare
a punto/tres cuartos - med/med-well
bien cocido or bien hecho - well done
empanada – meat pastry pie
sopaipilla - Chilean fried doughnut
pastel de choclo - beef & sweetcorn pie
cazuela - stew (more like consumé)
chupe/locro/guiso - stew (thick)
papas - potatoes
palta - avocado
frutilla - strawberry
frambuesa - raspberry
durazno - peach
reineta - southern bream (served filleted)
corvina - Chilean sea bass
centolla - king crab

Museums
Museo Chileno de Arte Precolombino in Santiago, Chile
Museo Chileno de Arte Precolombino in Santiago, Chile
Museo Nacional de Bellas Artes, Santiago
1 – Museo Chileno de Arte Precolombino
Recognised as one of the best archaeological museums in Latin America, exhibiting archaeology from Chile and beyond.
Tues–Sun / 10:00–18:00 / CLP$ 6,000
2 – Museo de la Memoria
Opened in 2012, this museum walks visitors through the period between 1973–1990, the years of Chile's military dictatorship.
Tues–Sun / 10:00–18:00 / Free entry
3 – La Chascona
One of three houses that once belonged to Nobel prize-winning Chilean poet, Pablo Neruda. It houses his extensive library as well as an extraordinary collection of knick-knacks.
Tues–Sun / 10:00–18:00 / CLP$ 7,000
4 – Palacio de La Moneda (Presidential building)
Housing the government since 1846 and restored after fire damage in the 1973 military coup, it now houses the presidential offices. It was also once the city's mint, hence the name – literally, 'the coin'.
Mon–Fri / Guided Tours – 09:30, 11:00, 15:00 & 16:30 / Request 1 week in advance at www.visitasguiadas.presidencia.cl
5 – Museo Nacional de Bellas Artes
Santiago's fine art museum is home to a collection of European art and is also a major centre for Chilean art.
Tues–Sun / 10:00–18:45 / Free entry
6 – Museo Histórico Nacional
In Chile's National History Museum, the majority of exhibits are focused on the period from 1810 (independence) to 1973 (military coup), but there are also interesting exhibits about the indigenous people of Chile.
Tues–Sun / 10:00–18:00 / Free entry

What our customers think of Swoop's guide to Santiago
The Pre-Columbian museum was great. Liked the walkable size of the old city. Read the full review

Travelled: February 2023
We had a very good guide who touched on all the important and practical travel issues such as currency, water, safety etc. He also gave us a good understanding of present day Santiago, and a bit of its history. Read the full review

Travelled: December 2022
Viewpoints
Cerro San Cristobal, Santiago
Nighttime view from Cerro San Cristobal, Santiago
7 – Costanera Center (Gran Torre Santiago)
The highest building in Latin America, this 300-metre tower offers spectacular views of the whole central valley.
Daily / 10:00–20:00 / CLP$ 15,000
8 – Cerro San Cristobal
Accessed either by funicular (from Bellavista) or cable car (from Providencia), this 850-metre hill rises around 300 metres above central Santiago and offers 360-degree views. It's a good idea to get the funicular one way and the cable car the other (or vice versa).
Cable Car (teleférico) – Tues–Sun / 10:00–19:00 (ticket office closes at 18:45) / CLP$ 2,290
Funicular (funicular) – Mon 13:00 –20:00 / Tues–Sun 10:00–20:00 (last descent at 19:45) / CLP$ 1,950
9 – Cerro Santa Lucia
A very small hill of 629 metres (just 69 metres above the city) but easily accessible from downtown or Lastarria. Impressive views and lovely gardens.
Restaurants
Bocanáriz restaurant in Lastarria, Santiago
Liguria restaurant in Lastarria, Santiago
Como Agua para Chocolate in Bellavista, Santiago
Galindo restaurant in Bellavista, Santiago
BordeRio food zone in Vitacura, Santiago
10 – Bocanáriz (Lastarria)
This is the place to experience the very best in Chilean wine – their selection is unrivalled. The food is delicious too. A great addition to the quirky neighbourhood.
José Victorino Lastarria 276 – next to the church
11 – Liguria (Lastarria)
Excellent quality food, a buzzing atmosphere, and a traditional Chilean menu – try the house Pisco Sours. Take your dictionary!
4 locations but the Lastarria option is probably the most convenient to your hotel
12 – Como Agua para Chocolate (Bellavista)
Delicious fish and meat dishes, great wine selection, wonderful decor and atmosphere. Staff generally speak very good English. Vegetarian dishes are available.
Constitución 88 – street parallel to Pio Nono, main street of Bellavista
13 – Galindo (Bellavista)
Sure to serve up large portions of authentic Chilean food, this place is packed with locals, is inexpensive, and is in a fun neighbourhood – perfect for a drink afterwards.
Dardignac 098
14 – Baco (Providencia)
Fantastic wine selection, a range of tapas-type food and great steaks.
Nueva de Lyon 113
15 – Borago (Vitacura)
One of Santiago's most famous restaurants. They have tasting menus from 5-18 courses with an innovative twist on traditional Chilean cuisine – all are wine-paired. Don't miss the rooftop bar of the neighbouring Noi Vitacura hotel.
Nueva Costanera 3467, Vitacura
16 - The BordeRio district (Vitacura)

For a hip, new culinary experience, try the BordeRio district in Vitacura – an upscale food zone overlooking the Mapocho river with over a dozen dining and drinking establishments to suit any taste.
Av San Josemaría Escrivá de Balaguer 6403
Churches
17 – Catedral Metropolitana
Built at the end of the 18th century, this neoclassical Cathedral has endured various earthquakes. It houses a lavishly decorated altar and a beautiful ceiling.
09:00–19:00 / Free entry
18 – Iglesia de San Francisco

Santiago's oldest standing colonial building, dating from 1572, has certainly stood the test of time. Look out for the 27cm–high carving of a virgin on the main altar, brought by Valdivia when he founded Chile in 1540.
Markets
19 – La Vega Market
Offering mainly fruit, vegetables and meat, this vast market is an opportunity to fully immerse yourself in the hustle and bustle. Included in most walking tours. Consider taking a guide to really get the most out of your visit. (Do not visit this area at night).
20 – Mercado Central
Santiago's fish and seafood market also houses lots of fish restaurants. Head to the quieter restaurants around the edge or upstairs for better value.
21 – Los Dominicos

For higher quality handicrafts head to Los Dominicos (last stop on metro line 1). It's really pleasant to stroll around, there are places to eat, and it's a great place to people-watch on a Sunday.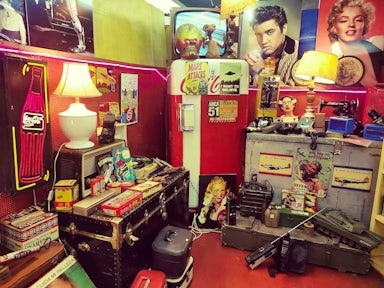 Flee market, Santiago
Download our Santiago city guides
Download our maps and guides below to your phone or tablet, so you can use them while travelling. Travel easy, knowing we're in your pocket if you're ever stuck for an idea for something to do or where to eat, some directions, or a few quick language pointers.