Top 10 things to do in Patagonia
Hike in one of the famous national parks
Sail around Cape Horn
Live like a gaucho and go horse riding from an estancia
Kayak remote glacial rivers in Aysen
Ice hike on a glacier in Los Glaciares
Mountain bike around the lake district
Whale watch in Valdes
Drive the Carretera Austral
Fly fish for trout, salmon, carp and perca
White water raft down Patagonia's mighty rivers
Activities in Patagonia
1. Hiking in Patagonia
The abundance of world-class hikes in Patagonia puts it firmly at the top of most trekkers lists.
In the famous Torres del Paine and Los Glaciares National Park you can explore the ice and granite pinnacles and the extreme of the ice cap. Further north the hiking will bring you face to face with volcanoes in the Lake District, whilst in Aysen you'll be walking amidst the rainforests.
Day hikers will find an abundance of accommodation to return to each night, whereas those seeking multi-day off-the-beaten-track treks will be rewarded with rugged and beautiful wild camping.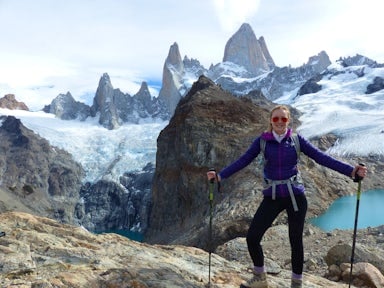 Laguna de los Tres hike, Los Glaciares
2. Adventure cruises in Patagonia
Access areas of Patagonia's rugged, ragged landscape that even the hardiest hiker can't reach. Voyages to the depths of the Chilean fjords or remote Cape Horn run on a range of vessels from four berth yachts to larger liners, with excursions and guides bringing you close to the scenery and wildlife of the region.
These aren't cushy cruises where you hardly leave the boat - these are adventurous, active expeditions. Expect to be out and about each day, cruising on zodiacs amongst fluking whales, or disembarking at a remote bay to explore hidden glaciers.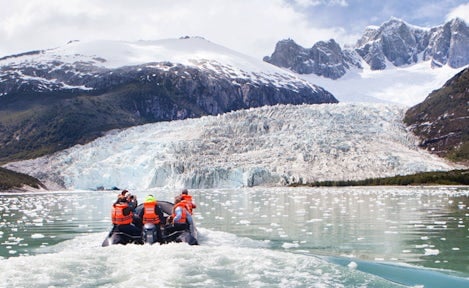 3. Horse riding in Patagonia
The vast landscapes of Patagonia have been explored on horseback for hundreds of years, and horses are still preferred by the gauchos today. For novices or experienced riders, easing into the saddle and setting off towards the horizon is a tantalising slice of Patagonian culture, following in the footsteps of the pioneers who first began to explore this region.
Many estancias offer lodging and other activities such as mountain biking, or traditional sheep shearing and horsemanship demonstrations. Plus, a traditional lamb asado is almost always on the menu, to relax and unwind after your day exploring!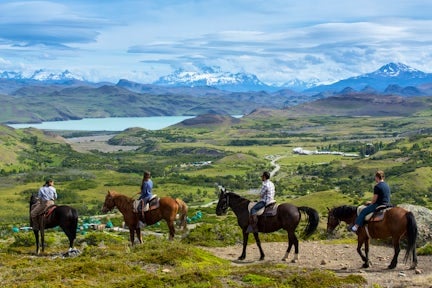 Crossing the terrain by horseback

What our customers think of Things to do in Patagonia
To anyone who feels a quickening of interest at the word "adventure", a little visceral sense of excitement, and who is willing to take things as they come, we would say "go to Patagonia, go".

Travelled: March 2017
Kayaking the Baker River is something I would never go to Patagonia and miss doing. It's an incredible experience! The logistics were great, planned out and flawless. The food was beyond our dreams! We could not have had a greater time on our kayak portion of the trip.

Travelled: November 2016
Julie and Nic - Hawaii, USA
Hiking in El Chalten was beautiful. Even though we had heard that the hikes we did were very popular, we were still surprised about the sheer amount of people hiking.

Travelled: February 2017
Sandra - French Polynesia
I loved trekking in Tierra del Fuego, it was so different from Los Glaciares. We saw a bunch of animals and it was nice how remote everything was, it felt rugged.

Travelled: January 2017
Sailing to Cape Horn was excellent, with great landscapes, wildlife, and charming and highly experienced skipper.

Travelled: December 2016
We could not have planned a holiday like this without Swoop's help. Harriet's intimate knowledge of the routes was invaluable.

Travelled: December 2016
4. Kayaking in Patagonia
Patagonia is surrounded by fjords and divided by rivers...what better way to explore the region than from the water. The rivers in Aysen are a force of nature; immense bodies of water that carry glacial melt from the Ice Cap to the ocean. Sea kayaking these rivers gives access to some wildly remote corners of Aysen, travelling for days without seeing any sign of civilisation.
Elsewhere, you can kayak amongst icebergs in glacial lagoons, through fjords inaccessible by other means, across pristine lakes surrounded by lush forest or Andean peaks, or even take on the white water of some of the world's biggest rivers.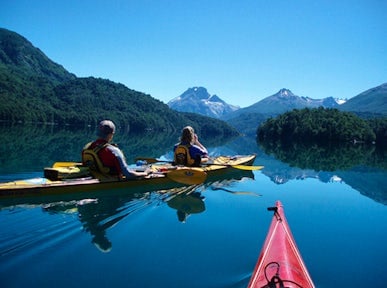 w
5. Mountaineering in Patagonia
Patagonia boasts some of the most adventurous landscapes in all of South America for mountaineering. The jagged peaks of the Andes and the remote pitches of the Patagonian Ice Cap have attracted budding mountaineers for over a century.
Beginners new to mountaineering can don crampons and hike over the top of a glacier, or set out to summit one of the volcanoes in the northern lake district. These hikes are achievable but challenging, often just a day or two at the most, the perfect center point to any adventurer's trip. The jagged Andes also offer some gems for more advanced mountaineers, with expeditions lasting anything from 3 days to 3 weeks.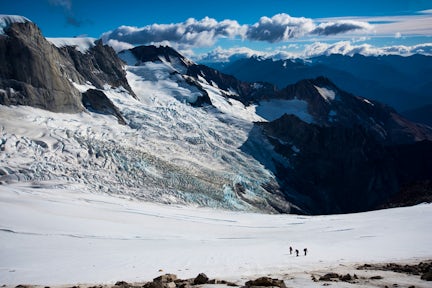 Mountaineering on Mojon Rojo, El Chalten
6. Mountain biking in Patagonia
Some of Patagonia's best scenery requires a little off-the-beaten-track exploring, and cycling along dirt tracks away from the roads is one of the best ways to start.
Many of the national parks have single track trails, so you can hire a bike and go out exploring away from the crowds for a day. It's even possible to weave in a day's cycle ride amongst some hiking, kayaking and horse riding, for a proper multi-activity adventure.
For a multi-day trip, look up to the lake districts around Bariloche and Aysen, where you be fully supported as you cycle from point to point.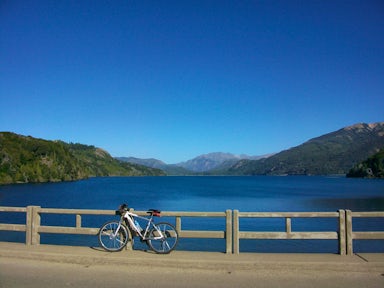 Picnic stop whilst biking the Circuito Chico, Bariloche
7. Whale watching and wildlife spotting in Patagonia
With over 1,100 individual whales counted in September 2016, the Valdes region is one of the most densely populated destinations in the world for whales, making it a very special place indeed both for conservation and encounters with the whales. Both orcas and southern right whales can be seen here, very close to the shore, allowing for incredible sightings by boat, plane, kayak and even onshore.
Whales aren't the only animals to look out for - wildlife lovers will relish the opportunity to walk amongst bustling penguin colonies, and to spy pumas amongst the Patagonian mountains.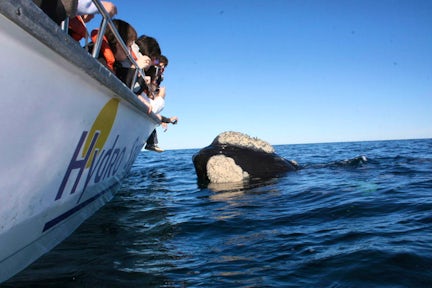 Southern right whale, Peninsula Valdes
Swoop says
Hiking, horse riding, whale-watching... want to do it all? Ask us how to link a few different activities together for the ultimate Patagonian adventure.
8. Road trips in Patagonia
A road trip is possibly the only way to fully appreciate the size of Patagonia. The Carretera Austral in the western mountains and Ruta 40, that runs through the central plains, are most famous. Their scenery is second to none, and they wind through landscapes speckled with homestays and hotels, past huge national parks and mighty rivers.
There are also some shorter routes that link the region's volcanoes and lakes, as well as stunning drives across the Andes. Be prepared for bumpy roads, view for miles and more than a little dose of adventure.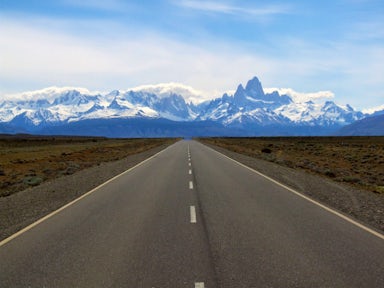 9. Fly fishing in Patagonia
Patagonia offers anglers some of the world's best fly fishing, and some of the most beautiful and varied landscapes in which to do so. The water ranges from tranquil lakes and streams to whitewater rivers. Patagonia is most famous for its Trout (mainly Brown Trout), but there's also opportunity to fish Salmon, Carp and the native Perca. Generally the season runs from mid-November to mid-April.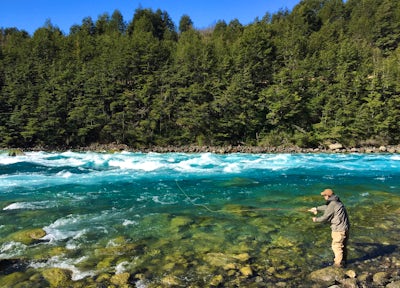 10. White water rafting in Patagonia
As a top destination for white water rafters from all over the world, Patagonia's lush, green Lake Districts on both the Chilean and Argentinian side provide fantastic rivers for this adventure sport.
You don't have to be an expert to enjoy white water rafting in Patagonia. We work with a number of operators that provide easy, medium and difficult trips so that you won't feel out of your depth.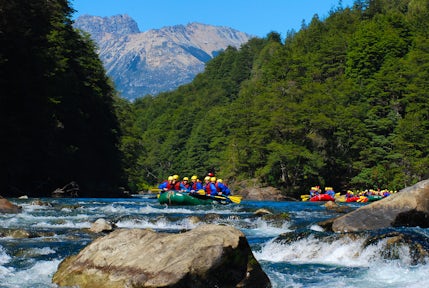 Rafting near Peuma Hue
Tailor-made Holidays
Patagonia is a vast and varied region, with a wealth of things to see and do, a range of places to stay and a limited transport network.
Why not let us do the hard work for you? Our team of experts will work with you to design an adventure to your exact requirements, from hiking and horse-riding trips to wine-tasting tours and undiscovered lodges.
We'll work around your budget and arrange flights, transfers and buses, to create your perfect trip.
More About Tailor-made
Ready to plan your Patagonia adventure?
1
Listen
We'll spend some time listening to your aspirations, then discuss the kind of experience that might suit you.
2
Match
Next we'll discuss the options, shortlist the best trips for you and present you our impartial recommendations.
3
Reserve
We'll place a 24 hour hold on your preferred option - without obligation - whilst we talk through the details.
Whatever your budget, group size, length of stay, preferred activity or appetite for adventure, we can help.
1-855-369-7866