What is it like?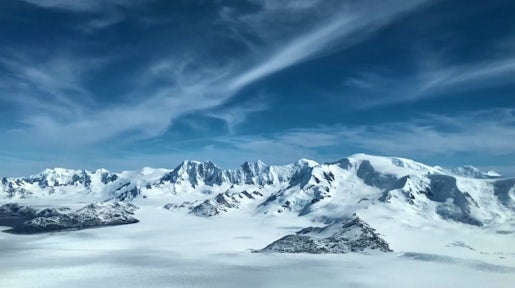 The South Patagonian Ice Field remains one of the least-explored mountain areas in the world, and for good reason; it is a brutal and unforgiving environment which attracts only the hardiest of adventurers. The landscape is dominated by a central desolate icy tundra, becoming more mountainous around its perimeter, where glaciers have carved away the landmass. Climatic conditions on the ice field generate some of the strongest and coldest winds in all of Patagonia, influencing weather patterns along the length of the Andes.
On the Argentine side, where the weather is less violent, there are estancias almost within viewing distance of the glaciers, which descend into the great lakes of Buenos Aires, Argentino and Viedma. On the Chilean Pacific side, the glaciers reach the waters of deep, narrow fjords where there is nothing but ice, rock and tangled forest. Glacial melt creates countless streams and rivers characterised by their milky blue colour, which is caused by glacial sediment suspended in the water.

Trekking expeditions
The South Patagonian Ice Field traverse is widely regarded as the pinnacle of all trekking routes in Patagonia. Along the way, you will explore varied landscapes including the white horizons of the ice field itself, gigantic glacial moraines, mesmerising ice formations, dense lenga forests, turquoise lagoons and towering granite rock faces. It is hard to find a trekking experience that offers such visual intensity anywhere else in the world.
Given El Chalten's proximity to the ice field, it makes for the perfect base to launch an expedition. Most expeditions involve spending 2-3 nights on the ice field, with 3-4 days of approach via the northern and southern valleys. It is essential that there's a safe weather window for the expedition to be a success, and even then you will likely be exposed to savage winds, so mental fortitude is definitely a pre-requisite. The expedition can be extended via Viedma Glacier in the south, or to include a summit attempt of Gorra Blanca (White Mountain) in the north.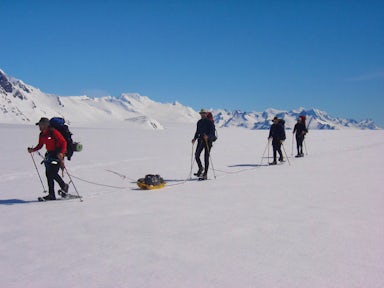 Sarah says
Mountaineering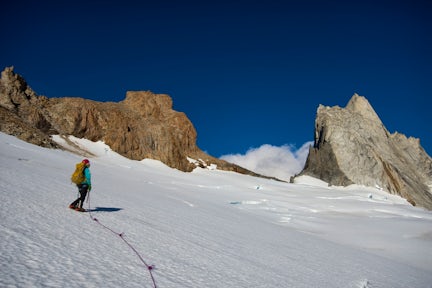 The most accessible mountaineering on the Southern Ice Field is also found straight out of El Chalten. From there, it's a one-day approach to the Marconi Pass, which is the main access point to the ice field.
The Ice Field Traverse is the perfect trip for those seeking to take their trekking to the next level and try some basic mountaineering. You'll familiarise yourself with crampons, crevasse navigation and simple roping techniques. You can also extend the trip to summit Gorra Blanca (2920m) along the way, which is non-technical, but you'll feel the sense of satisfaction that comes with bagging a proper peak.
The world-famous mountains of Mount Fitz Roy and Cerro Torre are really only considered by the most talented climbers, but there are numerous peaks in the same area which can be summited by those with less experience. Possible contenders include Cerro Solo (2121m), Mojo Rojo (2170m), Cerro Electrico (2257m) and Cerro Vespignani (2146m). For those looking to climb far beyond onto the ice field itself, Lauturo Volcano (3380m) and Monte Mariano Moreno (3393m) - Patagonia's third and fourth highest summits - can be attempted as part of a fully-supported Swoop expedition.
On the southern fringes of the ice field, Cerro Zapata (1590m) in Torres del Paine National Park is a beautiful summit to add onto a trek, rewarding successful climbers with impressive views of the ice field itself, as well as Grey Glacier, Pingo Glacier, Tyndall Glacier and Cerro Paine Grande (3050m).

Ice hiking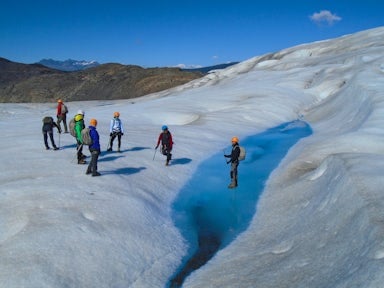 The two main ice hikes on the Southern Ice Field are at Perito Moreno Glacier in Los Glaciares National Park and Grey Glacier in Torres del Paine National Park. The ice hike on Grey Glacier is the more adventurous of the two as you approach the glacier on a zodiac boat and hike across a large nunatak, before reaching the glacier itself. The groups are smaller and the guides will vary the route depending on your appetite for adventure - you may well fix up an anchor point and hang off into a crevasse, or practice your ice climbing on an ice wall. In contrast, the ice hike on Perito Moreno is a little more commercial and you'll be part of a larger group. Nevertheless, the exploration of the ice flows, the various lagoons and the complimentary glass of whisky, chilled with glacial ice, all make for a unique experience.
There is relatively new ice hike on Cagliero Glacier in the Los Huemules Reserve, north of El Chalten, which involves a Via Ferrata (protected climbing route) approach. This is more suited to those who have done an ice hike in the past.
The ice hike on Viedma Glacier is sadly no longer possible due to glacial retreat, and the unstable conditions this has caused.

Boat trips
Glacier Cruise, Southern Patagonia
There are several boat trips that explore the Southern Ice Field from various locations along its length.
The four-day cruise from Puerto Natales in the south covers 380 miles through the fjords, visits up to 15 glaciers and includes a combination of disembarkations onto the moraines, zodiac trips and an icebreaker excursion into the Calvo Fjord.
The boat trips from Punta Bandera near El Calafate are exploratory day trips that take you either up to the Upsala and Spegazzini Glaciers or deep into the waterways and inlets close to the Perito Moreno Glacier.
The ferry crossing from Villa O'Higgins to Candelario Mancilla north of El Chalten is a popular way to cross the border from Chile into Argentina, or vice versa. On certain days of the week, the ferry will also visit Glacier O'Higgins en route.

How to get there
The main airports closest to the Southern Ice Field are in El Calafate on the Argentinian side, and Punta Arenas on the Chilean side. You can fly direct from Santiago to Punta Arenas (approximately 3.5 hours) or from Buenos Aires to El Calafate (approximately 3 hours, 15 minutes).
From Punta Arenas, there's a regular public bus service to Puerto Natales which takes around 3 hours. Puerto Natales is the last town before Torres del Paine National Park, and where the icebreaker cruise departs from. From El Calafate, there's a public bus service that runs three times a day to El Chalten and the journey takes 2.5 hours.
It's also possible to approach the Southern Ice Field from the north through Aysen. This area of Patagonia doesn't have the same efficient public transport infrastructure as southern Patagonia, but if you're happy travelling on a flexible schedule, then it can be done. Balmaceda airport is the main entry point for the region (approximately 2 hours 15 minutes when flying direct from Santiago) and it's roughly a 14-hour drive to Villa O'Higgins (the fishing village closest to El Chalten). If you're travelling through Aysen, then the Northern Ice Field is certainly more practical to visit.


What our customers think of Southern Ice Field
The trip had everything we wanted from ice hill climbs, class 4 scrambling, to day long snowshoeing. Read the full review

Travelled: November 2022
The Southern Ice Field: FAQs
The best time to visit the Ice Cap is between November and March when the weather is less severe than the winter months. November and December are the best months to complete an ice cap expedition. In these months, snow bridges form over the crevasses making it a more direct route.

During January and February, the snow begins to melt and the bridges slowly disappear exposing more crevasses. Ice hikes on Glacier Grey, Cagliero and Perito Moreno are more varied and interesting as a result.

Whilst it is less windy in March and April, there is very little snow cover and the ice cap becomes far more treacherous and challenging to cross. You will likely be hiking in crampons for extended periods. If you're considering boat trips or cruises in the fjords, ice flow will have diminished as most of the dismantled ice from the glaciers will have melted.

On guided expeditions, all technical equipment such as four-season tents, ice axes, crampons, ropes and snowshoes will be provided. You need a good pair of stiff-soled trekking boots with full ankle support.

When visiting any part of the ice cap, you will need to bring your own technical layered clothing that keeps you warm but also allows sweat to wick away from your body. Merino wool is perfect as a base layer, and lightweight down jackets offer a superb warmth-weight ratio.


The Southern Ice Cap can be explored on ice hikes and via boat by anyone with a basic level of fitness, however, full Ice Cap Expeditions are not for everyone. You will need to be mentally resilient, an experienced trekker with camping experience, and accustomed to carrying a loaded pack. Technically you don't need any mountaineering experience, however, some familiarity using ice axes and crampons would be very beneficial. Experience pulling pulks, ski touring or snowshoeing will also stand you in good stead. The weather can be extremely harsh, so you need to be prepared for extreme conditions.

The ice hikes at Perito Moreno and Grey Glacier are suitable for complete beginners and those who haven't worn crampons before. You will be carefully guided and shown to areas of the glacier that are stable and not difficult to walk across.

Ice Cap Expeditions
If you're in good shape, keen to don ice-axe, crampons and snowshoes and aching to get deep into the Patagonian Wilderness, then this is the one for you. The Patagonian Ice Cap is the world's 3rd largest mass of ice after Antarctica and Greenland, split into the Northern and Southern Ice Fields.
DISCOVER MORE
Ready to plan your Patagonia adventure?
1
Listen
We'll spend some time listening to your aspirations, then discuss the kind of experience that might suit you.
2
Match
Next we'll discuss the options, shortlist the best trips for you and present you our impartial recommendations.
3
Reserve
We'll place a 24 hour hold on your preferred option - without obligation - whilst we talk through the details.
Whatever your budget, group size, length of stay, preferred activity or appetite for adventure, we can help.
1-855-369-7866