About the Episodes
Fire & Ice - Friday 25th September 9pm
Discover the secret lives of pumas and hummingbirds. Soar with condors over glacial peaks and explore monkey puzzle forests from the time of dinosaurs. Ride with extreme kayakers over raging waterfalls and with Patagonia's cowboys, gauchos, as they round up wild horses.
Heat & Dust - Friday 2nd October 9.30pm
From the Andes, we follow the path of the relentless wind, sweeping east through Patagonia's dry desert. We discover a weird world of maras - giant guinea pigs - and desert-dwelling penguins, and witness the first faltering steps of baby guanacos - Patagonia's very own camels. People live here too - brave souls who have taken on this arid world and carved out a home.
Life on the Edge - Friday 9th October 9.30pm
This is the story of an awe-inspiring coastline, 4000 miles long. From the cold, fearsome waters of Cape Horn, where brave rockhopper penguins overcome huge challenges to raise their young, to the far north, with huge elephant seals battling for position in the heat of the desert. Orcas ram-raid the beaches, grabbing seal pups to feed their young. People gather the sea's bounty too, but these shores are not for the faint-hearted.
Pumas
The Patagonian Puma, also known as the Cougar or Mountain Lion, is one of the largest of all the puma species. They were once hunted to endangered levels by ranchers protecting their sheep flocks but in 1980 the hunting of pumas was made illegal and their numbers have consequently risen.
The puma is Patagonia's largest predator and may be found in Torres del Paine National Park.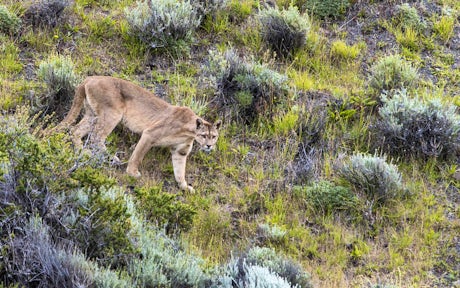 Puma in Torres del Paine
Wildlife
As well as the Puma, Patagonia is home to a wide range of unusual, unique and wondrous wildlife, much of which is endangered. From Guanacos (Llama descendants) and the Andean Condor to Penguins, Whales and Elephant Seals, the wildlife is certainly extraordinary.
Read more about the different species and where you can see them.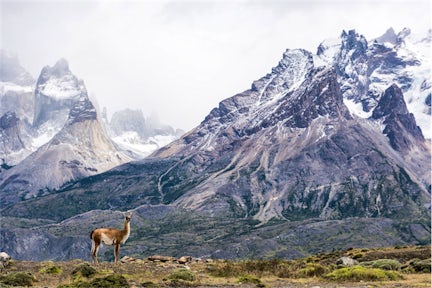 Guanaco in Torres del Paine
Penguins
Patagonia is an incredible place to see Penguins, it is home to the largest penguin colony in South America. You'll find Magellanic, Gentoo, Humbolt & King penguins in penguin reserves throughout Chilean Patagonia. You can see penguins on Magdalana Island, Peninsula Valdes, and Chiloe Island.
Watch two magellanic penguins fighting for burrowing rights & rock hopper penguins avoiding a sea lion near the Cape Horn.

Guanacos
There are thought to be over 1,500 of this descendent of the llama species in Torres del Paine National Park alone. They live in herds for protection and to rear their young. They're very energetic animals who run around chasing one another, and mothers are fiercely protective of their young so it's best not to get too close!
Watch the Guanaco protecting his herd.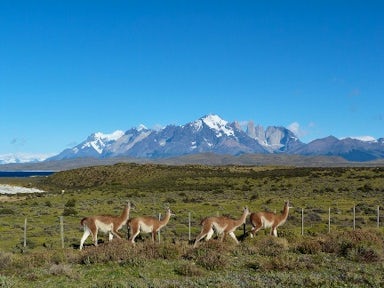 Gauchos
Gauchos and Estancias are at the heart of Patagonian culture and lifestyle.
Traditionally Gauchos ("Cowboys") are the main workers on a Patagonian Estancia (or Ranch). They are excellent horsemen whose job is to herd the cattle. In Argentina the Gaucho is a national symbol with distinctive dress including a poncho and loose-fitting trousers.
Experience a true taste of Gaucho life and the Andean foothills on one of our horse-riding trips.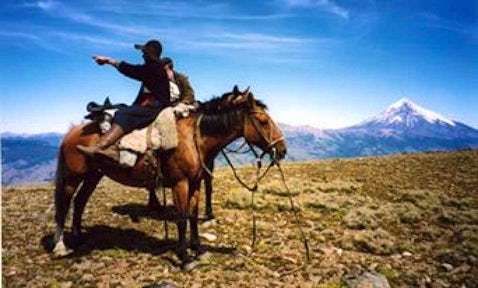 Visit Earth's Secret Paradise
If you've been inspired by the BBC's insight into Earth's Secret Paradise, Patagonia, you might be looking to plan your trip of a lifetime to this remote corner of the earth.
There are many ways in which you can experience Patagonia's hidden gems, whether you enjoy Trekking, Horse-Riding, Kayaking or even if you're in search of the Patagonian Puma, Swoop can put together your perfect itinerary.
Take a look at some sample itineraries.
Swoop's Suggestions
Places to Go
Patagonia's regions are diverse and each area offers something unique. Take a look at our recommended places to go for the activities you want to do, and let us help you to find the perfect destinations for you.

Places to Go
Swoop says
With so many places to go and so much to do, planning your itinerary in Patagonia may seem daunting. Swoop has 10 questions to ask yourself before you book a trip to Patagonia, these will help you in your first stages to decide what kind of trip you're after.

Ready to plan your Patagonia adventure?
1
Listen
We'll spend some time listening to your aspirations, then discuss the kind of experience that might suit you.
2
Match
Next we'll discuss the options, shortlist the best trips for you and present you our impartial recommendations.
3
Reserve
We'll place a 24 hour hold on your preferred option - without obligation - whilst we talk through the details.
Whatever your budget, group size, length of stay, preferred activity or appetite for adventure, we can help.
1-855-369-7866