About me
Life before Swoop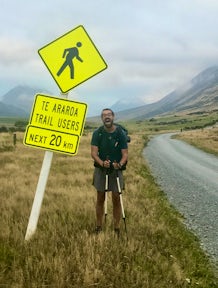 Prior to working at Swoop, I was a teacher with a passion for travel and the outdoors. After several fun 'micro-adventures' outdoors, I had a yearning to do something a little longer. In 2017, I left my job as a teacher and hiked 5,000 miles over the next year in three beautiful continents.

I walked the length of the Pyrenees following the Haute Route, the length of New Zealand following Te Araroa, and the Mexican border to the Canadian border following the Pacific Crest Trail.

The amazing people I met along the way, along with the spectacular scenery, made me fall completely in love with trekking and the outdoors. I joined Swoop so that I can help other people get cracking with their own adventures.

My trekking experience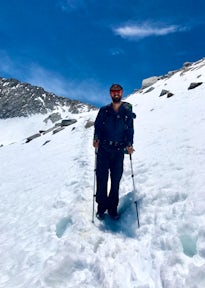 Trekking long distance helped me to learn a great deal. It taught me that the world truly is a beautiful place, and that the more remote and rugged, the more that beauty is brought into focus.

The people I met along the way, both my fellow trekkers and the wonderful locals, were the kindest and most supportive people you could imagine. I also learnt how far a very ordinary person can push their body and keep smiling!

Why Patagonia?
Patagonia is just nature showing off. Sheer granite peaks towering into the sky? Check. Vast glaciers tumbling into aquamarine lakes? Check. Penguins, whales and pumas? Check. The people are amazing. The food is fantastic. Oh, and the wine isn't too bad either!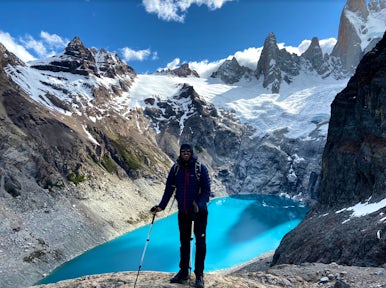 Laguna de Los Tres
Day to day at Swoop
I use my trekking and planning experience to help people book the perfect trip. Booking the adventure of a lifetime is incredibly exciting and I can help answer those burning questions that you're sure to have!

The next adventure
I have an impossibly long bucket list of multi-day hikes to tick off!

How We Can Help You
Tailor-made holidays aren't for everyone. If you really want to arrange your trip yourself, or if you just need help finding the right hike, kayaking trip or lodge, we can still help.
How Swoop Can Help You
Ready to plan your Patagonia adventure?
1
Listen
We'll spend some time listening to your aspirations, then discuss the kind of experience that might suit you.
2
Match
Next we'll discuss the options, shortlist the best trips for you and present you our impartial recommendations.
3
Reserve
We'll place a 24 hour hold on your preferred option - without obligation - whilst we talk through the details.
Whatever your budget, group size, length of stay, preferred activity or appetite for adventure, we can help.
1-855-369-7866