Who are Chile Nativo?
Gonzalo, founder of Chile Nativo
Gonzalo
As founder, Gonzalo is responsible for maintaining and developing the characteristics that Chile Nativo is famous for: top notch service, excellent outdoor programs and a continued commitment to sustainability. Eternally optimistic Gonzalo is an eternal fan of Chile's great south, its sublime landscapes, moody weather and uncharted canals and islands.
Gabriela
From Puerto Natales, Gabriela enjoys freedom, nature, the countryside, horses, horseback riding, mates and flowers, and has a deep knowledge of the regional tourism industry, mainly related to Torres del Paine National Park, El Chaltén, and El Calafate (Argentina). She admires the people who travel from so far away to come to our Patagonia, and that is why she makes every effort to make their trip of a lifetime perfect.
Johana
Johana is from the Los Lagos district, but has lived in Magallanes since she was 18. She is in charge of the operations area, backstage work is what she enjoys most, organising things or the adrenaline of solving last minute problems is what she likes best. Her favourite time of the year to visit Patagonia is the autumn, for the tranquility of the trails and the colours of the trees. She recommends our visitors to come with travel insurance (it's always better to be safe) and try the pastel de choclo, her favourite food!
The team
Gabriela Alvarez, Johana Mansilla and Lorena Bonilla receive guests in the Chile Nativo office in Puerto Natales. They do the trip briefings, answer questions and provide all the relevant information. They also organise the transportation and logistics for all of the trips, taking care of every detail so that the guests have the best experience in Patagonia. They are also the ones who are always on hand to assist our guests with their last-minute queries.
Luis is the driver, who takes our guests from Natales to the different destinations in which Chile Nativo operate in the region. His main mission is to make sure that everyone enjoys the trip and arrives safely at their destination.
Chile Nativo's guides
Once a guide himself, founder Gonzalo created a network of local freelance guides who comply with strict prerequisites: a minimum of two years' experience, constant maintenance of their First Responder credentials and membership in their local professional guides' association. Guides are highly valued, paid above standard salaries, and undergo training to be able to lead new tours with extra challenges.

Tim Conelly
French-born, Tim quickly took to Chile's unofficial national food, the avocado. He happily declares he'd eat avocados (and avocados only!) for the rest of his life. As a guide for Chile Nativo, he adores his job and considers it an honour to be an ambassador for the natural world and introduce travellers to Chile's wilderness and ecosystems.
Patient to his core, the most out-of-character travel thing Tim has ever done was visit Burning Man. However, his best piece of travel advice holds for all: 'Remember that travelling is an investment in yourself'.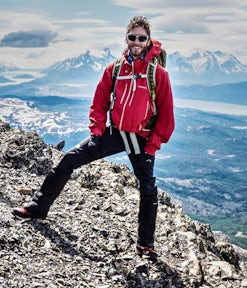 Tim Connelly
Fernando Pozo
Born to Chilean parents in Australia, travel has always been part of Fernando's life. As a guide, his goal is to show guests why Torres del Paine is considered the eighth wonder of the world and to encourage travellers to wander, relax and open their minds to new destinations in Chile.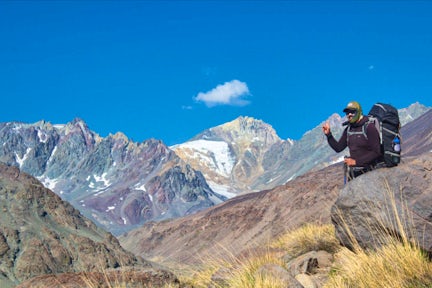 Fernando Pozo
Felipe Carrión
Felipe was born and raised in Talca (Central South Chile). The first time he came to Torres del Paine was in 2015, and since then he has felt an awesome bond with this incredible place. He loves running and competes in local Trail Running races representing the local community. He started guiding when he was 26 and has never stopped.
Being a naturalist guide he feels connected to this place like nowhere else. He believes that wild places like Patagonia are where you really can find yourself and explore your limits as human beings. He thinks that the outdoors is something that all humans should experience in life and this place has it all.
He is very passionate about this place and that passion is felt when people share trails with him. He always makes people feel comfortable, even though they are not in their comfort zone, and he makes that with respect, love and empathy.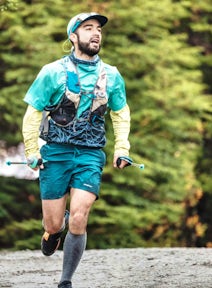 Felipe Carrión
Fiore Pandolffo
Fiore is a simple, calm, and adventurous woman. She has been a guide in Torres del Paine for the last 5 years, and for more than 10 years she has been guiding treks in the north and south of Chile. She is an ecotourism administration graduate, and an IYE yoga teacher; she loves the outdoors and spending time in nature, and has certifications in mountaineering, rock climbing, progression and rescue in glacier, and wilderness first response, among others.
Her heart is in the wilds of Patagonia, where she will guide you through the history, the landscapes and the unique nature of this southern part of the world.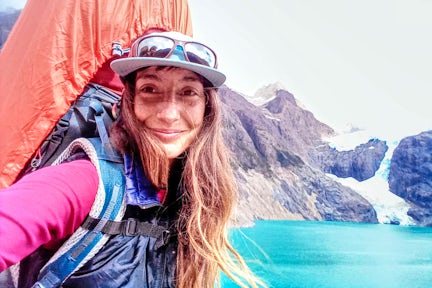 Fiore Pandolffo
Lucile Courant
Lucile was born in France in the city of Nantes where she studied and dedicated herself to education, pedagogy and anthropology, working as an outdoor vacation educator. Since that time she's loved living outside in a camp, cooking with fire, making a shelter, or simply sleeping and listening to the noises of the forest.
At the age of 23, she started traveling alone and visited New Caledonia and several countries in Asia. Her motivation was always to get to know new cultures, customs, and recipes! Her travels took her to Chile and Patagonia. As with many people, she found in Patagonia to be a land of new opportunities, challenges, and a mysterious charm. Lucile decided to stay.
She became passionate about the local culture, the skills of its people, traditions, and legends. Over the years she began to connect her experience as an outdoor educator with her work as a trekking guide and qualified as a guide specialising in mountain environments. She is in a continuous training process to update and deepen her knowledge. When she is not on the trails, Lucile rides horses and learns to take care of them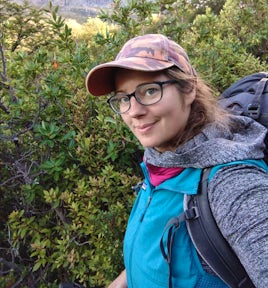 Lucile Courant
Javiera Gómez
Born in Punta Arenas and raised in Puerto Natales, Javiera is an eccentric Magellanic vegetarian, professional adventure tourism guide, lover and defender of nature, and enthusiast of outdoor sports. She's also a yoga instructor, fascinated by the world of mysticism and esotericism.
She enjoys art, traveling, rock climbing, practicing yoga, reading books, doing sudokus, and experiencing new cultures and landscapes. Her weaknesses are chocolate, plants, dogs and cats.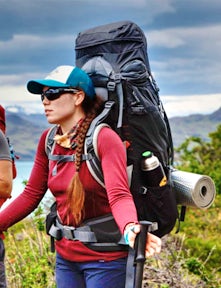 Javiera Gómez
José Roca
Born in Concepción, Chile, José studied graphic design in Santiago, where he worked for several years in marketing and advertising. Bored with the frenzy of the big city, he decided to give it all up and travel.
He traveled around New Zealand for a year and then Thailand for another two years. There he got involved in the world of adventure tourism, travel, and public relations. When he returned to Chile, Torres del Paine appeared in his dreams.
He has a 'Professional Trekking Guide' diploma and since 2016 he has been working in Puerto Natales.
Specialized in the main national park of the country, Torres del Paine, he is passionate about looking for new routes and defines himself as a positive and communicative person, mountaineer and trail runner. He enjoys outdoor sports in remote areas.
For him, touring beautiful Patagonia, away from stress, changed his life. His goal is to share those moments with travelers to help them to get the best experience from their Patagonian trip.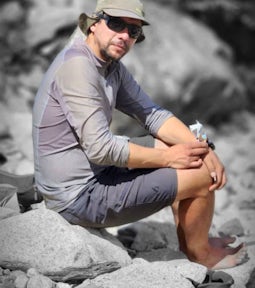 José Roca
Francisco
Born and raised in Puerto Aysén in Northern Patagonia, Francisco began working as a guide in 2004, doing his internship in Tourist Services. He immediately fell in love with this beautiful job that allows him not only to be in constant contact with nature, but also to raise awareness among the people around him about the importance of knowing and understanding Patagonia better and the importance of taking better care of it.
He has 10 years of experience as a guide in marine mammal sighting expeditions and has participated in scientific studies for the Chilean Glaciers Foundation. He lives in Puerto Natales and has been working for several years with Chile Nativo as a trekking guide.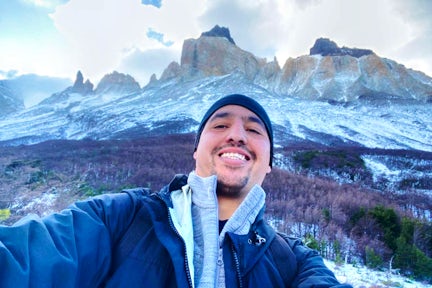 Francisco
Nana Mikkelsen
Originally from Denmark, Nana has lived in Chile since 2016. For the first four years she worked on Chilean farms and estancias - she therefore knows a lot about local sheep farming culture and has extendsive experience herding sheep by horse. She has a keen interest in wildlife and has been lucky to work with a black bear project in Connecticut, USA. Here in Patagonia, tracking and working with pumas is one of her specialties.
Another interest is to get to know all the corners of Patagonia, either on foot or by horse. She recommends visitors to try Chupe de Centolla and the Calafate sour drink, and do at least one tour by horse in Patagonia.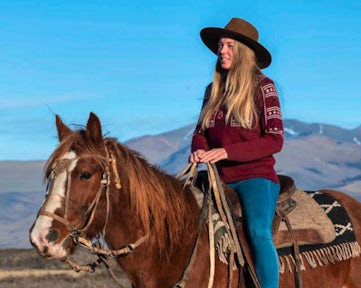 Nana Mikkelsen
Ian Ousbel
Born in Santiago de Chile, Ian first travelled as a child with his family along beaches, deserts, lakes, forests and mountains. This developed his curiosity and made him aware of the importance of caring for the environment.
Pursuing the adventure that the outdoor world gives you, he came to Patagonia to work as a guide to teach people about the respect and care that we must have for nature. That's why if you don't see him guiding an expedition, you'll find him studying, reading, climbing on rock or an icefall, trying to climb a mountain, or skiing a slope with a good powder.
For Ian, being in contact with the environment activates his five senses and reconnects him with that inner child we sometimes forget. If you go hiking with him, you should be open to new experiences and new emotions.
Ian Ousbel
Gerardo Valdivia
Gerardo has been working in Torres del Paine National Park since he was 18 years old, doing numerous different jobs. He has spent the last few years guiding excursions on the Grey Glacier and around the park.
He studied tourism and besides being a guide he is also a climbing instructor. His life revolves around climbing and the mountains. He always travels, looking for these places that fill his heart and soul. He enjoys teaching, sharing with different people, and drinking mate.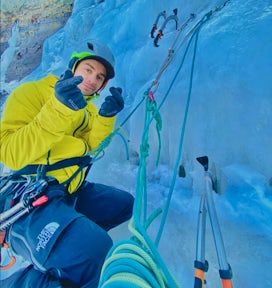 Gerardo Valdivia
Patrick Smith
In the last eight years, Patrick has dedicated a good part of his life to guiding in Torres del Paine National Park, where he has been able to travel and discover the variety of activities that Patagonia has to offer.
His orientation has always been guided towards the rescue of the traditions and history of what is the Eighth Wonder of the World. His approach to guiding has a dynamic, attractive, and cultural style, where he delivers all the knowledge that the park has to offer. He likes to walk through all its ecosystems and observe with his camera the species that compose it, to make this a participatory tourism activity, fresh and full of adventures for our visitors.
He is a person in constant movement and what motivates him the most is to do things that enrich his life. He loves nature and music, this being the combination where he finds the most inspiration.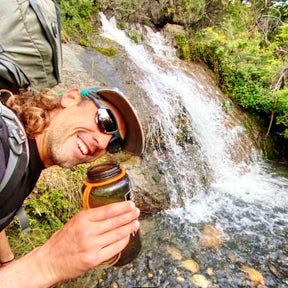 Patrick Smith
Marjorie Loyer
A lover of the Patagonian countryside and gaucho culture, Marjorie is fascinated by the different aspects that this southern region has to offer. Her love of nature has kept her living in the extreme south of Chile for ten years - this is her base camp for many personal adventures and expeditions with tourists, with whom she loves to share her knowledge of biodiversity and create plans to help improve their experience (always attentive to details).
One of her passions is traveling and getting to know new places, always carrying 'Patagonia brava' in her heart. A lover of the mountains and southern ecosystems, a few years ago she began training to swim in icy waters as meditation, copying the ancestral tradition of the Kawésqar Indians, whom she greatly admires.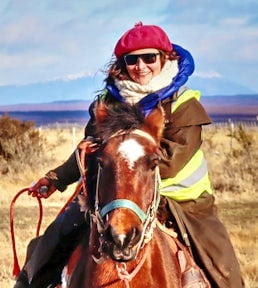 Marjorie Loyer
Chile Nativo office team
Alejandra Covacevich – Marketing & Sustainability Manager
Alejandra joined the team in June 2023 with an exciting mission: to create Chile Nativo's Marketing and Sustainability department; to develop strategies that not only provide our visitors with the best outdoor tourism experience in Patagonia, but also build a long-term sustainable project focused on the balance between tourism and the care of our precious nature. This ensures that every adventure we offer is environmentally friendly and contributes to the well-being of local communities.
A commercial engineer and veterinary doctor by profession, she is also a former national beach volleyball team member and a lover of Patagonia and outdoor activities. As an experienced traveler, she strongly recommends our visitors discover Patagonia during autumn. In this season, they will be able to delight in its unique colours and experience Patagonia with fewer crowds, enjoying moments of contemplation and connection with nature in its full splendour.
Barbara Soto – Sales Executive
Barbara was born in Punta Arenas, a Chilean city of cold, snow, wind and mountains. As a child, she loved outdoor activities and the countryside. As an adult, she loves to travel and see new places. She has traveled the world and wants to continue doing so because she feels that each place is unique and has its charm. She likes Chile very much, because she considers that it still keeps that wild essence and those contrasts from desert in the north to forests and glaciers in the south - these elements make it a unique country.
She enjoys listening to music and going to concerts, trying local food in every place she visits, experiencing new flavours, and going to plays, movies and shows in general. She is motivated by anything that represents a new challenge and considers that every new thing she does is always an experience gained.
María José – Accounting
María José is part of the accounting and human resources area of Chile Nativo. She is from Puerto Natales and loves animals and nature. She advises travellers to Patagonia to come prepared to enjoy every moment of this magical place and to be prepared for the changeable weather that characterises the region.
Marta Márquez – Finance
Marta, who joined Chile Nativo in July 2023, is part of the finance department in the Puerto Natales office. She was born in Ushuaia, Argentina, but her upbringing and life have been in Puerto Natales, a place she loves for the tranquility of its streets and the kindness of its people. She is proud to belong to this place, so far away from the rest of the world and which always has something new to show: landscapes, history and nature!
Marina Bravo – Account Executive
Marina joined the team in July 2023. She is a nature and travel lover who studied Tourism Engineering and has many years of experience in the field in Chile and abroad. She is a single mother of two children (one boy of 10 years old and one special girl of 18 years old). She loves to go out and travel with them, to let them discover the world and learn from life and people more than from books. Her dream is to be able to get a motorhome and travel the world.
She currently lives in Villarrica (south-central Chile) and has lived in many places. She loves the south of Chile and considers Patagonia to be a unique place.
Marina García - Travel Specialist
Born and raised in Mazatlán Sinaloa, México, from her teenage years Marina always felt strongly drawn to photography and travel. Her favourite place was St Petersburg, Russia, and how difficult it was for her to communicate, but still manage to get along. She worked as a photojournalist for years, passionate about landscapes and faces, understanding how customs may vary but deep down we all want the same things.
For Marina, it is admiring nature's beauty and enjoying a big asado by the fire, some red wine, and dark chocolate, always! She also enjoys feeling mesmerised by her surroundings and finding peace of mind through movement.
Marina has lived in Puerto Natales since 2018. She fell in love with the breathtaking landscapes of Patagonia and the calm of living in a small town. But whenever she gets a chance, she spends time out there, getting a glimpse of the sun and new experiences.

What our customers think of Chile Nativo
How to get to your Chile Nativo trip
Chile Nativo trips start and finish in Puerto Natales. There are three ways to get there:
Fly to Puerto Natales from Santiago.
Fly to Punta Arenas from Santiago and we can arrange a bus from there to Puerto Natales and onward transportation to your hotel in Natales. We can also arrange some great wildlife experiences too (see below)!
Take a bus from either El Calafate or Ushuaia in Argentina. We can help you with the bus and border crossing logistics.
Chile Nativo's office is right in the heart of Puerto Natales, the gateway town to Torres del Paine. This is where your pre-trek briefing will be held, where you'll meet your guides, will find out all about timings and logistics, and can get prepared for the coming days. They have a luggage store for the few bits and pieces you don't want to carry during your trek.
Address: Eberhard #230, Puerto Natales, 6160000
Where to stay before and after your trip?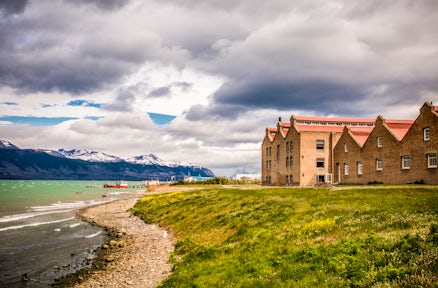 Please see our guide to Hotels in Puerto Natales, Punta Arenas and Santiago for more information about where to stay in these destinations, before and after your trip to Torres del Paine. We can arrange these hotels along with any buses you might need. Please see the pre and post trip packages below.
Add-on hotels and transfers
Puerto Natales Hotel & Bus Package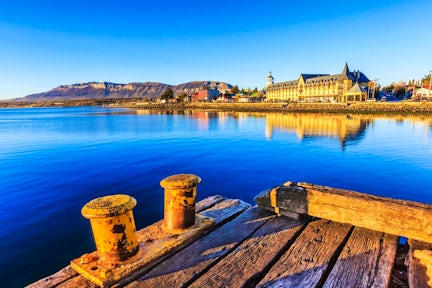 The harbourside, Puerto Natales
Let us take care of your logistics, providing transport between Punta Arenas and Puerto Natales with hotel nights before and after your Paine adventure. Travel by comfortable public coach between the towns (3hrs) and choose between a centrally located mid-range hotel (Hotel Vendaval) or a special high-end hotel (Singular Hotel) in Puerto Natales.
Taxi transfers included, if required.

With a half-day spare, add a guided 3-hour bike tour of this attractive frontier town and its spectacular surroundings from from USD $65 per person (USD$75 if travelling solo).
Note: if you require only pre or post Torres del Paine services, this package is 50% of the price.

Choose either Hotel Vendaval from USD $169, or Hotel Singular from USD $599 | Solo traveller - Hotel Vendaval from USD $295 or Hotel Singular from USD $879
Santiago Transfer & Hotel Package
Santiago skyline
Need to spend one night in this stunningly-set city, and make the most of your time before jetting back home?
From the airport we'll take you to a centrally located hotel (Hotel Noi Vitacura) for the night.
The following day enjoy breakfast followed by a private walking tour of central Santiago in the morning.
See the presidential palace, imposing colonial buildings and the central market, as your guide gives you an insider's view of life in Chile.
In the afternoon transfer by private vehicle to the airport for your homeward flight.
Adios Chile!
Price per person staying in Hotel Noi Vitacura 4* hotel from USD $299 per person | Solo traveller price from USD $369
Active add-ons in Puerto Natales
Full Day Estancia Experience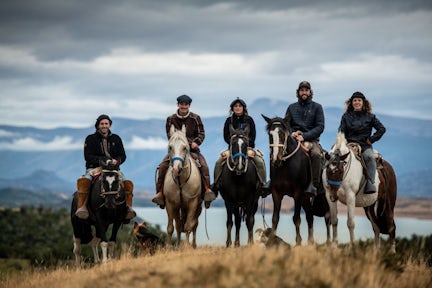 Bahia Esperanza horse-ride
Enjoy a day's outing by visiting a typical estancia (ranch), on the stunning shores of Last Hope Sound.
A short drive and boat ride takes you to Estancia Bahia Esperanza where you'll spend the day getting to know the gauchos, discovering their way of life and taking a horse-ride with them.
Hike to viewpoints or mountain bike across the hills if you prefer; there's plenty to see and do. The day has a relaxed feel, with a sumptuous lamb asado (BBQ), filling both your heart and belly.
Includes 3 nights accommodation in Puerto Natales, and return tickets by public bus (Puerto Natales - Punta Arenas).
Choose either Hotel Vendaval from USD $499, or Hotel Singular from USD $1,145 | Solo traveller - Hotel Vendaval from USD $795, or Hotel Singular from USD $1,695

Fjord Trail: Horseback Wilderness
Horse riding the fjord trail
Horse riding the fjord trail
There can be no cooler way to enter Torres del Paine National Park than by wilderness horse trek. This package built around our fully-assisted Fjord Trail trip is adaptable to any Paine adventure. Experience both remote camping and glamping for two nights, combined with a small boat cruise and two days in the saddle. Start in Puerto Natales and easily combine this with our Hotel & Bus package for Punta Arenas.
This package also includes two nights accommodation at Hotel Vendaval, and transport services between Punta Arenas and Puerto Natales.
From USD $1,495 per person (3 days, 2 nights)
Independent W-trek customers will require an additional private transfer in the park to tie-in with their itinerary; for this please add USD $330 for the vehicle.
Natales Active: Hike or Bike
Mountain biking at Cueva Milodon, Punta Arenas
With a full-day or half-day to spare whilst in Puerto Natales, why not take to the nearby backcountry and explore this stunning region by foot or mountain bike with a local expert.
An outdoor enthusiasts' mecca, we can think of no better way to fill a day in the area. For the same price, enjoy:
Half-day hike (8km) - with superb asado (bbq) lunch to finish
Full-day's hike (14km) - bring your own pack lunch for the trail
Half-day on MTB trails - past lake shores and hills, with asado lunch to finish.
All excursions include equipment, local guide and are enjoyed as a small group experience.
This package also includes 3 nights accommodation in Puerto Natales, and transport services between Puerto Natales and Punta Arenas.
Choose either Hotel Vendaval from USD $675, or Hotel Singular from USD $1,315 | Solo traveller: Hotel Vendaval from USD $875, or Hotel Singular from USD $1,735

Natales Rock Climb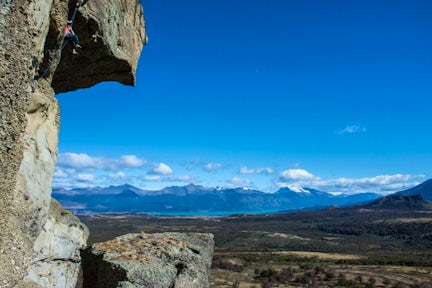 Rock climbing at Cerro Benitez
If getting vertical is your thing, we can organise for a mountain guide to lead you up the local crags in this stunning location for some sports rock climbing.
All equipment is included, excursions are in private and can be for half day or whole day outings.
Note: food and water is not included.
If extending the excursion to a full-day, add USD $100 .
This package also includes three nights accommodation in Puerto Natales, and transport services between Puerto Natales and Punta Arenas.
Choose either Hotel Vendaval from USD $429, or Hotel Singular from USD $1,065 | Solo traveller: Hotel Vendaval from USD $629, or Hotel Singular from USD $1,485

Swoop says
By adding-on a Chile Nativo package to your main trip, you don't have to worry about all the associated logistics. Just book your flights and we'll take care of the rest.

Wildlife add-ons near Punta Arenas
Half-day Magellanic Penguin Experience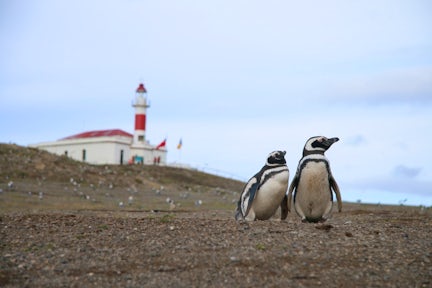 Magellanic penguins on Magdalena Island
Sitting in the Strait of Magellan, a small island harbouring thousands of Magellanic penguins, provides one of the most accessible penguin encounters in Latin America.
Arriving into Punta Arenas Bus station in the afternoon from Paine, you're taken to your hotel, and start out early the following day. First by motor boat (45 minutes) and then set foot on Magdalena island. Your guide will explain to your small group about these beautiful feathered creatures, with the chance to walk around the area for about an hour. Other animals you may see are albatrosses, cormorants, sea lions and dolphins.
Return around midday where you'll be taken to the airport/bus station for onward afternoon travel.
​Choose either Yegua Loca (boutique hotel) or Cabo de Hornos (4* hotel) from USD $375 per person | Solo traveller from USD $500
Full-day King Penguin Encounter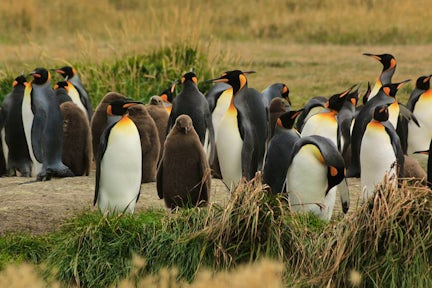 King penguin colony, Tierra del Fuego
The only place to see king penguins on mainland South America; take one full day from Punta Arenas, to visit these beautiful and iconic creatures. Departing early, cross the Strait of Magellan by ferry (2.5hrs) and then travel 2hrs by road in order to reach this unique protected reserve. Your guide will explain about how these animals forge a living in this remote area.
Bring a packed lunch or buy something en-route. Returning around 8:30pm and covering 250 miles (400km) on asphalted roads, this a long, but rewarding experience. Note: the king penguin reserve is closed on Mondays.
This package also includes two hotel nights in Punta Arenas, and transfers to/from your hotel/airport.

​Choose either Yegua Loca (boutique hotel) or Cabo de Hornos (4* hotel) from USD $565 per person | Solo traveller from USD $825

2 Day King Penguin encounter
King penguin colony, Tierra del Fuego
Take two days to cross the Strait of Magellan and explore Tierra del Fuego's famous king penguin colony at a relaxed pace, and absorb incredible landscapes at the End of the World. A similar itinerary to our day-trip, but spend a night in the small town of Porvenir, visit its local museum and enjoy more time at the penguin colony on the second day, arriving there before the day tourists arrive.
Accomodation in this small town is comfortable and simple - perfect for a night's stop. Breakfast is included on day two, and you'll return in the evening to Punta Arenas. Note: the king penguin reserve is closed on Mondays.

Both hotel nights in Punta Arenas, and transfers to/from your hotel/airport are included.

​Choose either Yegua Loca (boutique hotel) or Cabo de Hornos (4* hotel) from USD $995 per person | Solo traveller from USD $1,275

3 Day Whale & Wildlife Watching in Chilean Fjords
Humpback whale breaching, Chilean fjords
Looking for a completely immersive, research-style expedition to sight humpback whales? Look no further. Spend time with whale researchers onboard a small vessel and on a remote island research station, perched at the end of the Strait of Magellan.
Encounter whales and other wildlife such as seals, sea lions and albatross.
The experience at this eco-camp in one of the most pristine environments left on earth, is truly remote and impactful.
Amazingly good value for money, Swoop's package combines our Humpback Whale Watching Adventure with accommodation and transfers before and after in Punta Arenas.

​Choose either Yegua Loca (boutique hotel) or Cabo de Hornos (4* hotel) from USD $1,899 per person | Solo traveller from USD $2,165

How to book a Torres del Paine add-on
Take a look at our descriptions above and see what you might like to do.
Your Swoop specialist can talk you through the different options and help you decide - ask us a question.
Swoop's add-ons are modular, so you can select one or many experiences and we will fit them into your overall travel itinerary.
Once you've decided, we'll inform Chile Nativo who will confirm all the details and we will process payment for everything together.
Our top trips with Chile Nativo